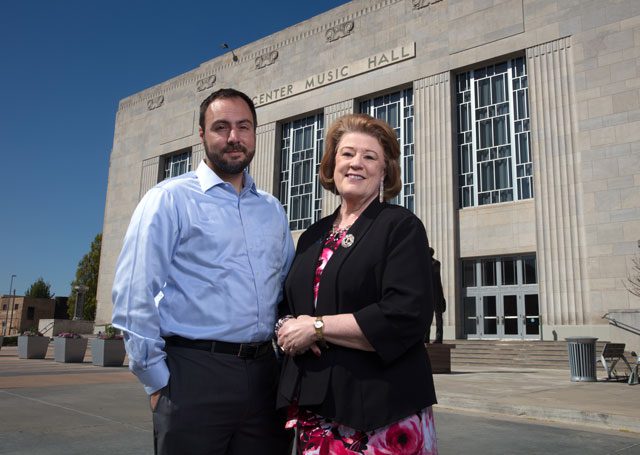 [dropcap]When[/dropcap] we conjure images of opera, several pictures may come to mind: glittering jewelry, tuxedos and top hats, the prestige of a seat in the box. For centuries, opera has been the musical territory of the rich and famous, as much a social event as an art form.
These days, opera has taken a turn for the egalitarian, and audiences no longer need be wealthy to appreciate the beauty of this distinct musical expression. Enter such companies as Painted Sky Opera in Oklahoma City.
Founded in 2015, Painted Sky is a nonprofit organization focused on bringing a rich, comprehensive opera experience to intimate venues, from tiny stages in art museums to rooms in schools and libraries.
"We are following a formula that has been working well for new opera companies in the United States: introducing opera to our community by taking opera to them," says Barbara DeMaio, executive director and co-founder of Painted Sky.
Raised in a musical family – her father was a minister of music, her mother a pianist, her sister a trombone player – DeMaio had a lifelong dream to be an opera singer. She lived in Italy for 16 years and played some of the most illustrious opera houses in the world before returning to Oklahoma to teach at the University of Central Oklahoma as an artist-in-residence. It was at the Edmond college that she met Rob Glaubitz, who shared DeMaio's dream of starting a company that has since become Painted Sky Opera.
The neophyte troupe didn't shy away from challenges during its sold-out inaugural season, which included Joseph Haydn's La Canterina (performed in the cozy auditorium at the Oklahoma City Museum of Art) and an up-close and personal performance of Guiseppe Verdi's La Traviata in the Freede Little Theatre at Civic Center Music Hall.
"We've brought opera to Oklahoma City in a way that has not been done before," DeMaio says, "[in] small, intimate theaters that help the public feel opera in a wonderful, visceral way. We've also brought opera to schools, retirement homes, community groups and public spaces."
DeMaio believes that despite any perceptions or past history, opera is accessible – and enjoyable – for everyone.
"We sincerely believe that if we can get someone into the theater, they are going to like opera," she says. "It is a winning combination of musical theater, orchestra, great singing and fabulous stories. Our sold-out performances are a sure sign that there is already an audience for opera here in Oklahoma City, and our aim is to introduce more Oklahomans to this wonderful art form.
"Children, who don't have preconceived notions, love our performances. As my colleague Rob Glaubitz says, 'You've not lived until you've seen a sixth grader being introduced to opera for the first time.'"
Painted Sky recently wrapped up its auditions for the 2017-18 season, which will include Giacomo Puccini's Tosca; Souvenir, a work about (in)famous "singer" Florence Foster Jenkins and her pianist; and Jake Heggie's Three Decembers, based on Terrence McNally's script Some Christmas Letters.
"We already have an excellent orchestra in the [Oklahoma City] Philharmonic, an outstanding Equity Theatre in CityRep, and a long tradition of musical theater with Lyric Theatre," DeMaio says of OKC's performance culture. "The only thing lacking, up to now, was a professional opera company. We are hoping to fill that gap."