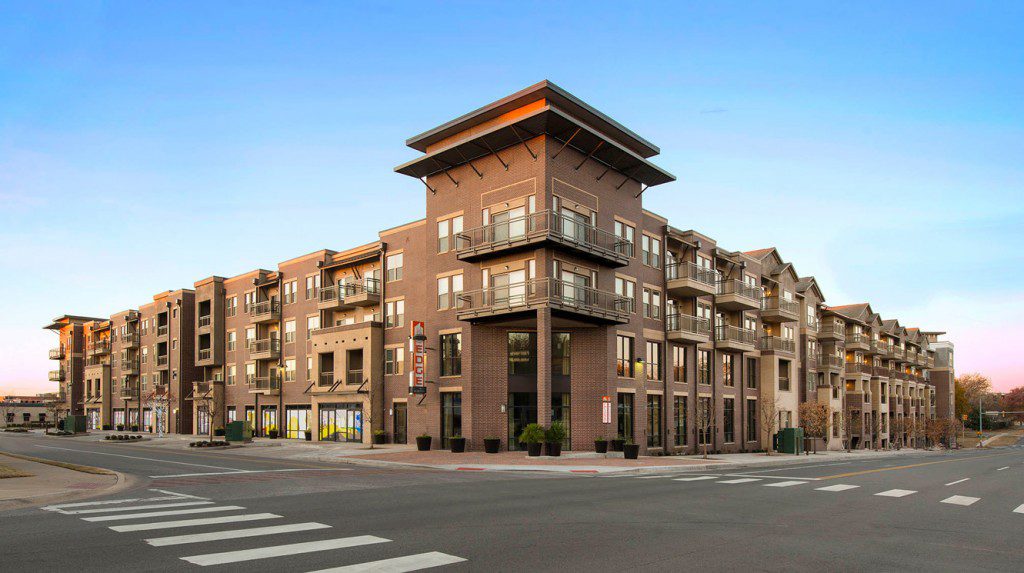 Downtown Oklahoma City is rapidly developing to keep up with the demands of its citizens. It's an exciting place that delivers a combination of historic charm, excellent shopping, fine dining and great entertainment, says A.J. Kirkpatrick, director of planning and operations at Downtown OKC, Inc.
Over the past few years, downtown has seen a lot of growth, both in residential communities and businesses, says Kirkpatrick.
"All of this growth definitely makes it easier for our developers to attract retail and restaurants into ground floor spaces," says Kirkpatrick. "Dating as far back as the early 1980s, we have done a good job of attracting restaurants downtown, but the growth in residents has increased this over the past couple of years; we are actually starting to make the transition to attracting true soft goods retailers (like home goods, clothing, etc.).
"Our best example of this has been the Automobile Alley district, which is centered along Broadway between Fourth and 10th streets," Kirkpatrick continues. "In recent years, we have seen retailers like Schlegel Bikes, Urbane, Plenty and Rawhide willing to take the leap on downtown locations with great success."
When it comes to residential living, downtown Oklahoma City offers a lot of variety. Here is a sampling of what the area has to offer broken down by development name.
The Hill at Bricktown
The Hill design team has created 26 floor plans to complement any lifestyle. The Town Hall, located on the grounds, provides residents with exclusive amenities designed to make downtown Oklahoma City living at The Hill both easy and convenient. There are postal and package services, a fitness center, indoor and outdoor pools, a concierge service and large entertainment spaces connected to terraces overlooking the downtown skyline. This $75 million development features townhomes varying in height from two to four stories and ranging in size from 1,600 square feet to 2,200 square feet and begin at $350,000.
Level & Mosaic Urban Apartments
Level Urban Apartments is a modern, affordable and livable mixed-use community. Level is set in a contemporary four-story building, complete with 228 apartment units, an internal parking garage and retail spaces on the ground level.
Mosaic Urban Apartments is located just across the street from Level in the Deep Deuce district of downtown Oklahoma City. Mosaic is the newest extension of the Level brand and community. It's a contemporary, four-story building complete with 97 units, an internal parking garage and retail space on the ground level. Mosaic offers its tenants a distinctly elegant, downtown living experience.
To help fuel community spirit, access to amenities are shared from one community to the next. This includes a 24/7 fitness center, club house with projector TV and a lap-length swimming pool. Both Level and Mosaic are a five-minute walk from Bricktown and a 10-minute walk to Chesapeake Energy Arena.
The Edge at Midtown
Located on North Walker Avenue, this apartment complex has one-bedroom and one-bathroom apartments starting around $1,100 per month and two-bedroom and two-bathroom apartments starting at around $1,479 per month.
Uniqueness is not only in location, but also in its amenities: gated gardens, decorative railings, metal canopies, parking garage, five strategically placed elevators, virtual fitness training room, private rooftop dog park, open air fireplaces and kitchen for entertaining, and magnificent rooftop views of the Oklahoma City skyline.
Block 42
Block 42 is a downtown residential community consisting of 20 townhomes and 22 elevator-accessed flats. Each condo has a private balcony or rooftop deck as well as a private garage. Block 42 is the first official "green" project in downtown Oklahoma City. By attaining LEED certification (for Leadership in Energy and Environmental Design), Block 42 has met the sustainability standards of the U.S. Green Building Council. This attention to eco-friendly design translates to a better quality of life for all residents, better indoor air quality and lower monthly utility expenses. Block 42 has two- and three-bedroom apartments and townhomes ranging from 1,300 square feet to 2,880 square feet with prices beginning at $295,000.
The Brownstones at Maywood Park
The Brownstones at Maywood Park is still under construction and will consist of classic Brownstones, or row houses, and will be designed and constructed as individual homes. There are no shared stairwells or parking areas. Each unit will have its own garage and entrance. Instead of sprawling outward in typical suburban style, each home is constructed vertically, up to three-and-a-half stories tall and up to 3,550 square feet.
The Brownstones will offer amenities like the option of a private elevator, materials such as slate and copper and the latest technology in construction, insulating concrete forms (ICF). In addition to forming an incredibly durable structure, ICF also inhibits the travel of sound. Maywood Park is bordered by Walnut on the east and Broadway Avenue on the west and extends from Second to Fourth streets. This four-block area will have a town square feel. These unique urban dwellings are an investment in a new chapter of the heritage of Oklahoma City. The three- and four-story brownstones are 2,380-3,600 square feet with prices beginning at $500,000.
Others Under Construction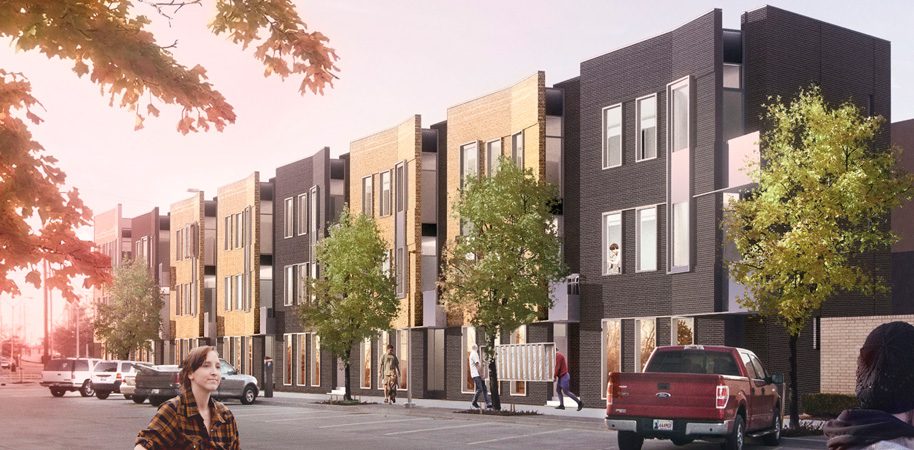 Civic Center Flats is a $6 million, 32-unit housing complex that is being built in an old parking lot immediately north of the Civic Center Music Hall.
The Metropolitan is a 330-unit, $45 million apartment complex that will be the largest single housing development announced yet for downtown Oklahoma City. Its location will be at Northeast Sixth Street and Oklahoma Avenue.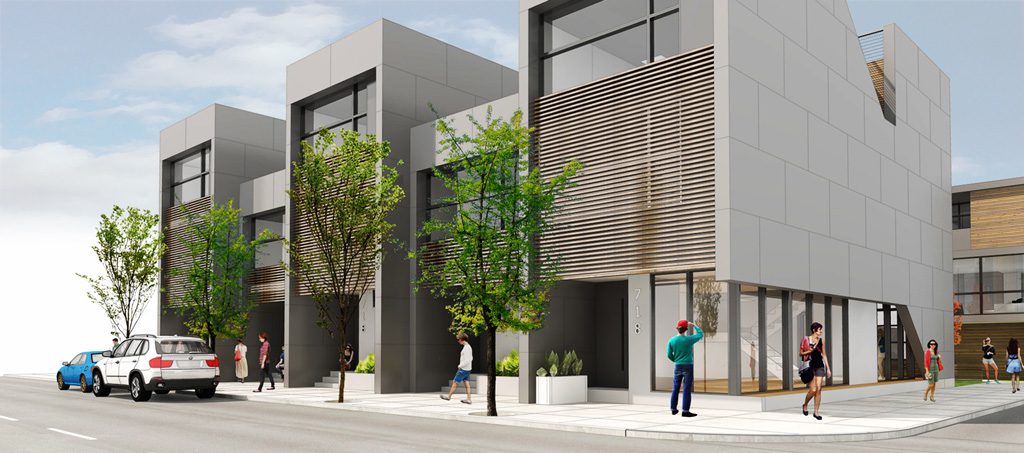 Lisbon Lofts is a seven-unit, two- to three-story multifamily project composed of two buildings and a garage building around a central common courtyard.  This complex is slated to be built on the corner of Northwest Ninth Street and North Shartel Avenue.