[dropcap]Even[/dropcap] in the most serious of situations, Oklahomans love to laugh.
Recall, if you will, the Tigernado phenomenon of 2015 or the passion with which many Oklahomans play the drinking game based on the weather reports by Oklahoma City meteorologist Gary England. Even better: check out the big name comedians and local legends performing around Oklahoma or showcased at Tulsa's upcoming Blue Whale Comedy Festival, at multiple venues in the Brady Arts District Sept. 8-11.
Oklahoma has a growing comedy scene, and many comedians who may have moved out of state in the past for better opportunities are now staying local to build their careers. To get a better look at the state of stand-up in Oklahoma, we asked local comedians about their inspirations, their styles and the status quo of the state's comedy scene.
Vanessa Dawn 
Vanessa Dawn of Tulsa got hooked on comedy because of a dare. She grew up watching BET's Comic View and such comedians as Dave Chappelle, D.L. Hughley and Chelsea Handler, but she didn't take the mic herself until her father said he didn't think she'd do it.
"So naturally, I signed up for open mic the very next week," she says.
Dawn describes her comedy as laid-back, observational and relatable. She encourages others to look beyond the comedy clubs to help nurture and grow the Oklahoma comedy scene.
"The comedy scene in Oklahoma has grown rapidly in the past several years," she says. "While the number of comedy clubs is limited, there are several other venues where one can go practice their craft. There are plenty of open mics in Tulsa and the Oklahoma City area. In order to expand the comedy scene, it is necessary to promote shows. Once the people know there's a big show, they usually show up, but there is not yet the same support for some of the smaller shows."
Jessi Kyle
Audiences might be surprised to know that irreverent comic Jessi Kyle of OKC used to fear public performances.
"What inspired me to take improv was wanting to help me with social anxiety and public speaking," she says. "Through that, I learned that I can actually be funny from time to time, so I tried stand-up and have been performing ever since! I have so many comedians that I love, but never thought it was something I could do until that first improv class."
In the ensuing five years, Kyle's blend of true-to-life comedy and slapstick has earned her the title of a "delightful nut." She says that while Oklahoma needs to find ways to provide more paying gigs for comedians to bring it in line with other large cities (and keep comedic talent at home), there are definitely benefits to the state's comedy scene.
"The best thing about the Oklahoma comedy scene is that all comedians have ample opportunity for stage time," Kyle says. "In larger cities, you may go to an open mic and not even get a chance to get up on stage, and if you do, you are most likely just getting three minutes. Here, we are able to get ample amounts of stage time every night of the week and really experiment and work on material. Also, the showcases we create as a communication truly amazing and unique."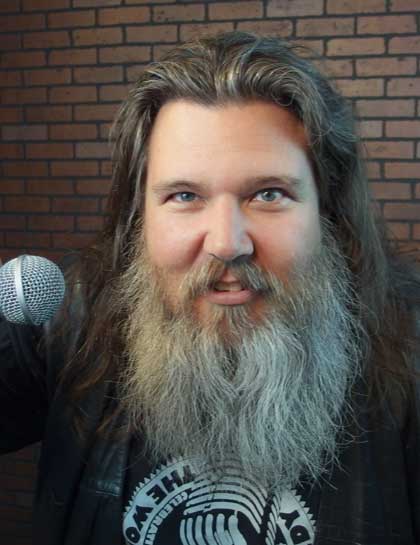 C.R. Parsons
As a child, C.R. Parsons was addicted to vinyl albums by classic comedians – Bill Cosby, Jerry Clower, Flip Wilson, Moms Mabley and the like.
"I just loved their storytelling," he says. "And yes, that does mean I'm OLD."
Parsons's classic mix of one-liners and personal storytelling has earned him the moniker of "everybody's alter ego." He has definitely tried a bit of everything over the course of his life and careers, from songwriting to sky diving – all experiences that feed into his comedic style. He says the recent renaissance of comedy in Oklahoma is promising and the state's comedians should unite.
"I have seen spectacular things happen with the comedy scene over the last five years," Parsons says. "Five years ago, there was one club with one open mic night and very few people trying comedy. Since that time, we have seen so many shows pop up, but there's almost not a night that you can't find comedy in Tulsa. I know the same thing is happening in Oklahoma City, as they have a very strong group there as well.
"If there is one thing that we could do better, I would say it would be seeing ourselves as one comedy community instead of split comedy communities between Tulsa and OKC, and having the big cities like Tulsa and Oklahoma City reaching out to smaller towns providing live comedy in more places more often."
Leah Kayajanian
Norman native Leah Kayajanian came of age in the budding Oklahoma comedy culture. While such comedians as Jerry Seinfeld and Sarah Silverman have served as influences, she says her primary comedy inspiration has come from other Oklahoma comics.
"Before I tried doing stand-up myself," she says, "I made a few trips to the open mic at the Loony Bin and saw a friend of mine, Nathan Anderson, perform. If I hadn't gone to watch him, I don't think I'd ever have the courage to try it myself. From that point on, the comedians that started doing stand-up around the same time I did in OKC became my family, and we were all so excited about performing at the time (an adrenaline rush that I miss now that I'm 10 years in) that we wrote and wrote and wrote and pushed each other to be better."
Kayajanian describes her comedic style as biographical, with an emphasis on the ridiculous situations inherent in her life. She now lives in Los Angeles and regularly performs several times a week, and audiences may recognize her from Comedy Central's Road to Roast Battle.
Andrew Deacon 
A self-described "sucker for wordplay and puns," Tulsa's Andrew Deacon started performing comedy after witnessing the creativity and tenacity of comedian friends.
"What first inspired me was how difficult the process is, without seeming difficult to the audience," he says. "Comedy is deceptive that way. You spend so much time writing jokes, many of which will never see the light of day. You force yourself to go the open mic instead of driving past like you did last week. You have to get on stage, alone with your insecurities, self-doubt and whatever other problems are with you at that moment. You practice brand new material in front of audiences over and over and over again. You bomb, A LOT.  At least a couple of times a week, you think, 'I'm insane for wanting to do this, right?' You are insane for wanting to do it, but it pays off eventually."
Deacon notes that the comedy scene in the region is expanding — using the Blue Whale Comedy Festival as an example — but says there's always more to be done.
"What we as comics can do to improve is continue working to get better at writing and performing," he says. "We need to work on how we promote our shows, grow our audiences and continue to be supportive of one another."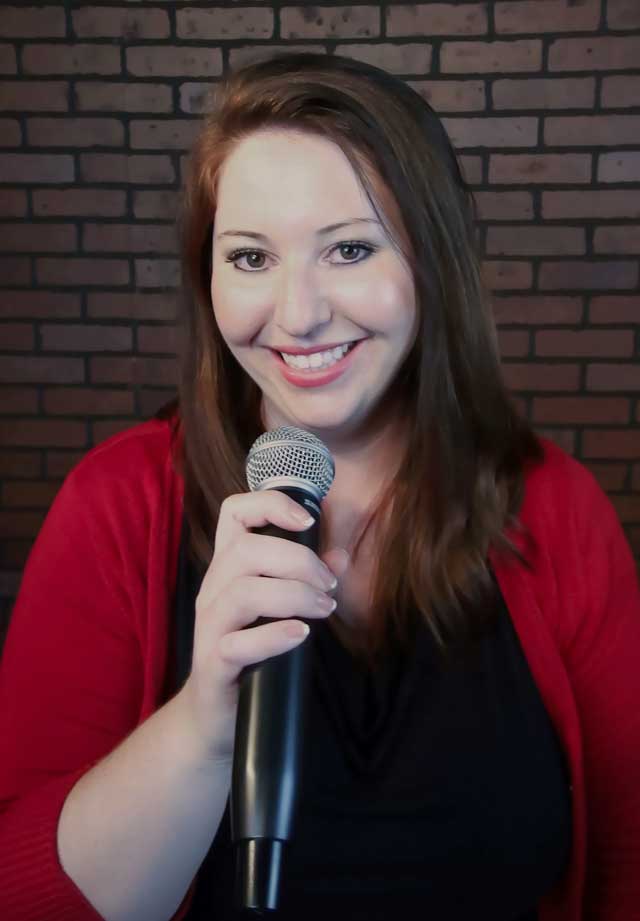 Shawna Blake
Shawna Blake isn't the first comedian lured to a career by "comedy therapy." A combination of directionless creative energy and a bad breakup led her to take her first comedy classes at downtown Tulsa's The Comedy Parlor. For the past two years, she's been a regular in the Tulsa stand-up scene and still uses comedy to work through real-life situations.
"I make a lot of bad decisions and do a lot of things in my life for the story, and getting on stage allows me to tell those stories," she says of her comedic style. "I'm basically just myself with the volume turned up on stage. I'm very self-deprecating and honest."
Blake believes that people underestimate the amount of comedic talent currently in the state.
"I think the comedy scene in Oklahoma is better than a lot of people realize," she says. "There are a lot of talented people doing a lot of cool things all the time. I've only been plugged in for about two years, but even in that time I've seen new people start doing comedy and bring great energy into starting podcasts, running new rooms around town and getting more people turned onto what's happening locally in Tulsa and OKC, Stillwater and Tahlequah."
Zach Smith 
The recent winner of the Funniest Person in OKC contest, Zach Smith has performed stand-up since 2009. Growing up, he idolized classic comedians like Cheech and Chong, Steve Martin and Bob Newhart.
"They were so smart, weird and funny," Smith says. "I've always wanted to aspire to that. Something new, fresh and smart, which is extremely hard to do as it turns out."
Smith describes his comedic style as a blend of one-liners and storytelling, with the occasional foray into working the crowd. He says that in the seven years since he started doing stand-up in Oklahoma City, the comedy scene has expanded greatly.
"I remember when I first started doing stand-up in OKC, there weren't very many of us doing it," he says. "Maybe 10-15 that were performing on a regular basis.… Now in OKC alone, you can see up to 50 different comics hitting different mics throughout the week. The only way to really expand it is to have more comics, more audiences and more places to perform.
"Being a 'small' scene, we have to somewhat worry about oversaturation. But the better we get, the more audiences will take note. We need to brand ourselves individually as comics but also as a comedy scene. The guys in OKC Comedy have been doing an amazing job of spreading the word of what we are doing here."
BradChad Porter, Spencer Lenox Hicks, and Cameron Buchholtz (OKC Comedy)
BradChad Porter, Spencer Lenox Hicks and Cameron Buchholtz work as independent comics, but they are also the founders of OKC Comedy, a booking and promotion company that has helped bring bigger acts – think Maria Bamford, Hannibal Buress and Doug Benson – to the state. The group also focuses on nurturing local comedic talent.
Porter's earliest influences, he says, were comedy luminaries Steve Martin and Kermit the Frog. Hicks also was inspired by the likes of Martin and Mel Brooks before moving on to heavies like the late Mitch Hedberg and Bill Burr. Both Porter and Hicks agree that the Oklahoma comedy scene has a lot to offer.
"Oklahoma has an amazing comedy scene, and it seems like no one knows about it," Hicks says. "I've been to shows in Chicago, Los Angeles and New York City, and I would put our up-and-coming comedians against theirs any day of the week. There is so much talent here. OKC Comedy has a mission of booking nationally known comics and putting a local comic on the show. It provides exposure for our comedians while the nationally known comic puts butts in seats. I think if more people knew what was happening, they'd be impressed."
Ryan Green 
"I tell stories," says Tulsa's Ryan Green. "The longer I can talk, the happier I am. Stand-up is like being at a party where no one but me is allowed to talk."
Like many other comedians, Green's first stand-up experience came from a real-life trauma of sorts.
"While recovering from surgery to remove a kidney stone, I had nothing to do but talk to people that visited me," he says. "I ended up telling the story of my hospital visit so many times that it felt like a stand-up routine. So I made it a stand-up routine. I was hooked from the first laugh."
He says the hospitality and diversity of comedians in the state are some of the strengths of Oklahoma comedy.
"Oklahoma has a very welcoming comedy scene, and it spans a wide variety of styles," Green says. "It could be improved by more well-attended open mics or maybe just more advertisement. For beginners, it can be very difficult to get stage time in front of an actual audience rather than just other comedians waiting for their turn."
Landry Miller
Growing up, Landry Miller was enchanted by the chemistry of performers with their audiences on sitcoms and late-night talk shows. He started testing the comedy waters before he even reached his teens, at which point he says he got laughs wherever and whenever he could.
"I spent my entire teenage life doing stand-up at churches, coffee shops, open mics, anywhere that would let a youngster tell jokes, as well as hosting private events," the Claremore comic says. "I also branched into writing sitcoms, plays and sketch comedy. About a year-and-a-half ago, I moved back from an attempt at college and wasted no time falling in love with and becoming involved with the Tulsa comedy scene."
Describing his own comedy style as theatrical, Miller says that Oklahoma is on top of the comedy game – but audiences don't seem to be aware of it.
"The comedy scene in Oklahoma is one of the best I've ever seen," he says. "I've been to Chicago, Los Angeles, and even Dallas, but Oklahoma, by far, blows them all away in the amount of support among comics, the talent potential and the amount of performance opportunities. The one thing that I find frustrating being a part of the comedy community is that not many people in Oklahoma … have any awareness that local comedy even exists. It makes it difficult to get people to shows.
"We are always searching for new outlets, new ways to reach out to those people that don't know there's an alternative to Netflix and television if someone wants to watch comedy. Every big name has to come from somewhere, and that somewhere could be your city. Some of the best comedians in the world are in your local comedy clubs and I encourage people to take a chance and to catch a live local show."
Josh Lathe 
As soon as Josh Lathe became legal, he went for laughs.
For the past seven years, Lathe has been a regular performer in the Oklahoma City comedy scene. His zeal for comedy started at a much younger age, however.
"I've always really, really liked comedy," he says. "When I was a kid, my dad would buy these Jeff Foxworthy tapes, and I'd wear them out. His timing and cadence were so perfect. When I was in college, I got super into Eugene Mirman. En Garde, Society! and God is a Twelve-Year-Old Boy with Asperger's are brilliant. They're still really, really great. Now, I really enjoy Dave Ross because of his emotional honesty and general silliness. He conveys a vulnerability that is impossible to ignore."
Lathe describes his style of comedy as more of a traditional performance rather than a conversational type of stand-up. "I obviously care about the material a lot, but I grew up wanting to be on Broadway. I care about the stage and the energy I put into the performance. I want to be tired after a show. I am garbage at writing one-liners, so I mostly tell stories about things that make me anxious."
Twice a month, Lathe can be found either hosting Comedy Fight League ("It's like a roast and pro-wrestling had a baby," he says) at Dave & Busters, or the Josh and Heather's Good Time! Fun Show! at Anthem Brewery.