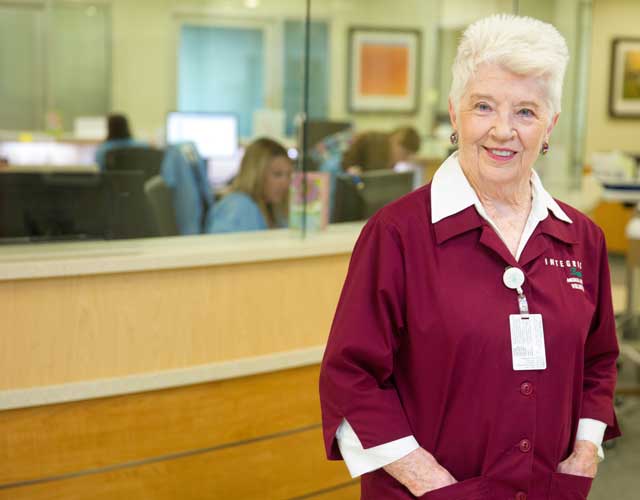 [dropcap]Every[/dropcap] Thursday, patients receiving chemotherapy in the Infusion Room at the INTEGRIS Cancer Institute in Oklahoma City are greeted with a kind smile, words of encouragement and maybe a warm blanket or a small snack to ease queasiness. All that is thanks to volunteer Jackie Bray.
The 86 year old says retired seniors like her must find ways to stay active. For her, volunteering not only gives her something to look forward to, but has rewards that go beyond what any job could provide.
"When you don't work, you have to find ways to keep yourself busy," she says. "It's important to stay active, because when you spend time by yourself you notice the aches and pains. When I'm volunteering at the hospital, I don't think about those things."
Bray volunteers one day a week in the Infusion Center, the most active area at the institute. Bray visits with patients and tends to their needs. She also stocks supplies and wipes down rooms after patients finish their treatments, along with other duties.
In 1998, Bray was diagnosed with a type of ovarian cancer that, at the time, doctors didn't have a protocol for treating. She was monitored closely and went through some experimental therapies. Bray attributes those experiences and her love of service with helping her connect with patients.
"I know about the good and bad days after treatment," she explains. "I am aware of what they're going through, and sometimes they want to talk about it. I can relate to the patient because of my cancer. I believe my cancer was a gift to prepare me to serve others."
For some years, Bray wanted to do volunteer work, but she was unable to because of her husband's illness and the need to take care of her mother. After the deaths of her husband in 2002 and mother in 2005, Bray finally decided to volunteer.
Volunteering at the cancer center has inspiring and heartbreaking moments, she says. While the reality is that some patients don't survive, Bray finds the positive in each situation.
"I am continually inspired by the strength, feelings of hope, and confidence that the patients have about their recovery," she says. "I could also add 'brave' because chemo is not an easy thing to endure."
Bray continues to volunteer for multiple reasons, and she says each Thursday at the center is the highlight of her week, with the exception of church on Sunday. "There are times when I go, I am tired or stressed with life issues, but the minute I walk through the doors, I feel energy start to flow into my body; and by the time I get to the elevators, the past feelings are behind me and I start thinking about 'my patients,'" she says. "By the time I go through the door of the Infusion Room, I am totally focused on serving the needs of the patients."
Bray's compassion, service and love of "her" patients are sure to keep her going each week to the Cancer Institute. Her words of wisdom for anyone wanting to volunteer are simple. "Determine what your gift is, then look for ways to use that gift," she says. "You may not get paid monetarily, but you get paid in other ways. You can make a difference in another's life."