Eating a big plate of greens and black-eyed peas may not appeal to everyone, but for millions of Americans – particularly in the south – these foods, traditionally served with pork on New Year's Day, represent good luck, prosperity and fortune.
Hosting friends and family for a New Year's Day feast can be a fun way to celebrate the upcoming year and also keep tradition alive. Keep the menu simple, and focus on the
classics. Just be sure to have plenty of cornbread to serve alongside the ham, greens and black-eyed peas.
---
Maple and Brown Sugar Glazed Ham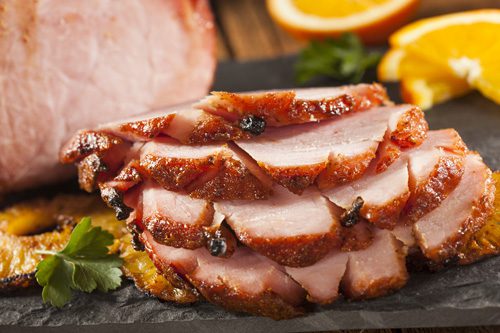 Recipe courtesy Farmer's Almanac.
1 fully cooked ham, about 6 to 8 pounds
1/2 c. pure maple syrup
1/2 c. brown sugar
1/2 c. apple juice
1 tbsp. brown or Dijon mustard
Dash cinnamon and ginger or allspice
Place ham, fat side up, on rack in foil-lined roasting pan; score fat and stud with cloves, if desired. Bake at 325 degrees for approximately 18 minutes per pound, until meat thermometer reads 148 degrees. Combine glaze ingredients in saucepan; boil approximately two minutes. Twenty minutes before ham is done baking, spoon about half the glaze over top of ham, then about 10 minutes before done, spread remaining glaze over ham.
---
Black-eyed Pea Salad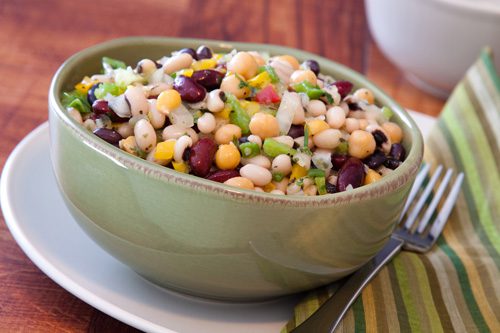 1/2 medium red onion, finely chopped
1 small red bell pepper, finely chopped
1 jalapeno, finely chopped
2 tbsp. chopped green onions
2 tbsp. chopped fresh parsley leaves
2 (15-ounce) cans black-eyed peas, drained
1/4 c. unseasoned rice wine vinegar
1/4 c. canola oil
1/2 tsp. sugar
salt and freshly ground black pepper
Combine the first six ingredients in a bowl. In a separate small bowl, whisk together the rice wine vinegar, canola oil, sugar and salt and pepper. Toss all together and let marinate for up to 8 hours in the refrigerator before serving.