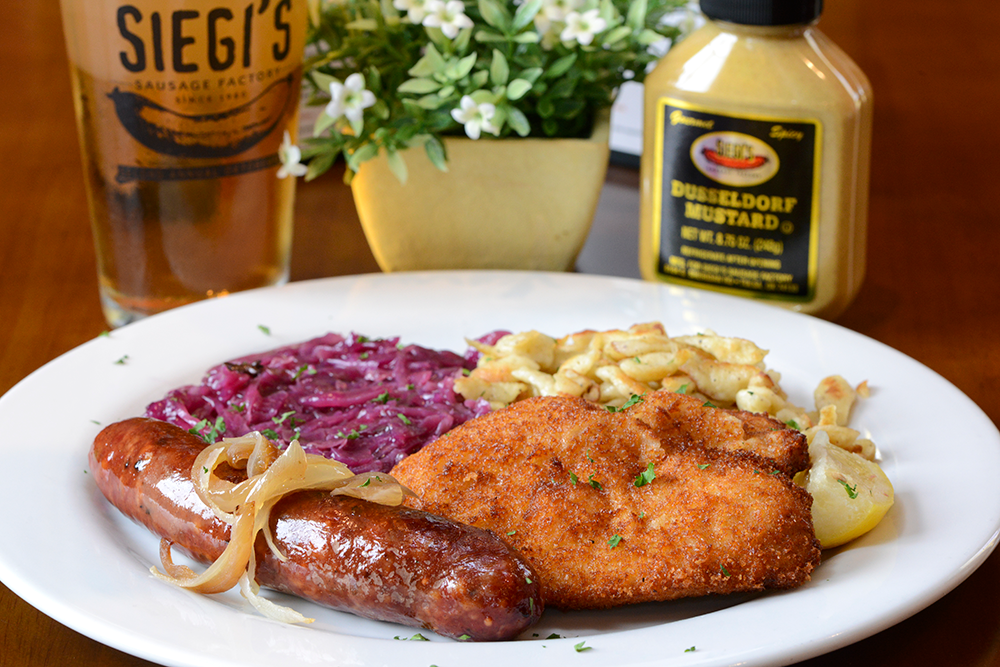 Since 1980, Siegi's Sausage Factory has been a family-owned and operated business, slinging scrumptious, hand-made sausages and other German cuisine out of its factory, meat market and restaurant. Creating flavors generations old from Harthein, Austria, Seigi Sumaruk has built a brand worth a bite, and its state-famous sausages will maintain strong lineage, with Sumaruk's children and grandchildren primed to continue the adventure.
Behind Siegi's gleaming market and deli display case awaits more than 20 selections of smoked and fully cooked sausage, including pork, chicken, turkey, buffalo and venison varieties. Ten raw sausages also await customers in line for a German dog. The market and deli offers quality, house-made deli meats, as well, including salami, bologna, roast beef and more.
If you're looking for a prepared and complete German experience, sitting down at one of Siegi's wooden dining room tables will not disappoint. From its Bavarian Pretzel and Potato Pancakes to larger dishes that include a Knackwurst sausage or Jager Schnitzel, every bite is more brilliant than the next. Perfectly seasoned sausages topped with the right ingredients and authentic German/Viennese schnitzels are aplenty and arrive at every table that calls for them.
On Oct. 16 and 17, Siegi's third annual Oktoberfest returns to the restaurant. The Dallas-based German band Alpenmusikanten will entertain the crowd, alongside a selection of beers, wine, food and games. 8104 S. Sheridan Road, Tulsa. www.siegis.com