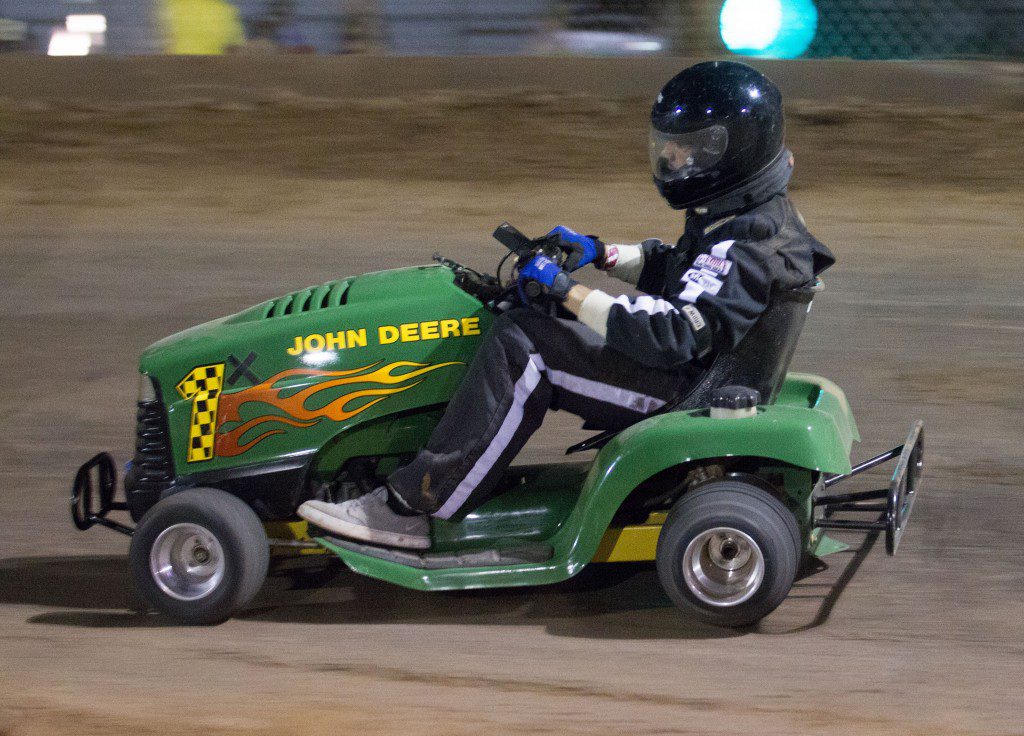 For many, using a lawn mower is an unwelcomed chore, and the faster the job is completed, the better. A group of hobbyists in El Reno takes the concept of speed mowing to an entirely different level. Here, lawn mowers are a form of entertainment, but with a new purpose; they are raced.
At a bimonthly event dubbed Grascar, participants from all around Oklahoma, and sometimes from surrounding states, race lawn mowers around a track. Grascar runs, weather permitting, from March through early November.
Grascar Vice President Michelle Mayfield says the tradition began about 15 years ago when a few townspeople wanted to pass the time in a unique way.
"A few guys were sitting up in the VFW in the bar, and one had the idea to get their mowers out and see whose was the fastest," Mayfield says. "Well, after their first race, one of them got to thinking that he wanted his mower to be faster than the others' mowers, so he started tinkering with it without his friends knowing. That's how the whole thing got started."
Mayfield admits that the concept does sound strange at first.
"When you first hear about it, you think, 'Now what is really going on here?' But it's really just a lot of fun. It's not a redneck thing," Mayfield says with a laugh.
Grascar has evolved to include 11 classes of mowers, from basic stop mowers up to an unlimited class that features complicated machines with souped-up motors.  But in all of the classes, the basic function of the lawn mowers is altered.
"The blades are taken off, of course. You don't cut the grass. You redo the motors so that they go faster, depending on what class you race in," Mayfield says.[pullquote]Racing is a family deal that started when my father was little, and it's been passed down ever since. The neat thing about Grascar is that it's all about family.[/pullquote]
Mayfield, who lives in Oklahoma City, says she first heard about Grascar from one of her best friends.
"He actually later got married out there on the track," she says.
Mayfield has been involved with the sport for five years, and her boyfriend has been named champion in his mower class several years in a row. Mayfield has served as vice president of Grascar, a nonprofit run entirely by volunteers, for the past two years.
"There is a powder-puff class for women for mowers, but basically I got bored of standing around and watching, so I decided to step in as vice president as a way to be more involved," Mayfield says. "In the past three years, Grascar has grown tremendously. It went from a track with hay bales around it, to tires surrounding it, to the fenced track we have today. Over $10,000 was spent a few years ago to make the track that we have now."
When she tells people about being vice president of Grascar, Mayfield says she often gets similar reactions.
"Some people are surprised, number one, because I'm female. I tell them that Grascar is a nonprofit, and it's very family oriented. And then people always ask, 'You really race mowers?' And when I tell them yes, they ask how fast they go. It all depends on how much work you put into your mower; they can go from 10 miles per hour to 55," Mayfield says.
Actually seeing and hearing the mowers shatters expectations. Mayfield says that most of the mowers are eye-catching and very loud.
"Some of them … almost sound like a Harley [motorcycle]. It's all adrenaline when you get out there and watch," she says.
In addition to mower races, the event has expanded to include regular racing carts and cars of various sizes and classes, says Grascar President Richard Jarvis. Many of the car racers are children, with classes designated for various ages. Children as young as 4 can race, and Jarvis says the oldest Grascar participant is a 75-year-old mower racer.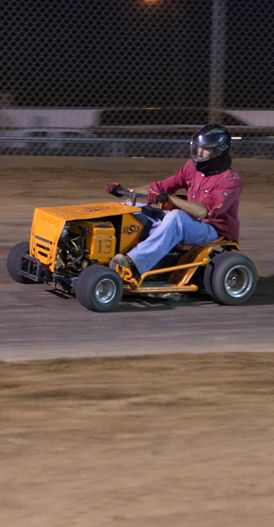 This is Jarvis' first year as president of the group, but he knows how Grascar impacts El Reno.
"Grascar brings a lot of money to El Reno since it brings so many people in. The city council and everyone involved seems to think that Grascar is a really good deal for the town," he says.
Jarvis has been a racer all his life, he says, though not on lawn mowers. Now, he has passed his love of racing on to his children and grandchildren, many of whom participate in Grascar.
"The rules in Grascar are just like regular racing," Jarvis says. "It takes a lot of work to build these machines and get them running, so it's great for kids to learn."
Tommy Kirk, who lives in Yukon, agrees with Jarvis that Grascar teaches children important lessons. Kirk and his family are long-time Grascar participants.
"I have grandkids that range in age from 7 to 15 that race in Grascar," Kirk says. "Racing is a family deal that started when my father was little, and it's been passed down ever since. The neat thing about Grascar is that it's all about family. And it teaches responsibility to the kids. They are held accountable to their vehicles and have to work on them. They also have to learn the boundaries of what they can do."
Kirk says that in his family, children who want to race must maintain at least a B average at school. For him, another benefit of this extracurricular activity is its relative low cost.
"As far as getting young kids involved, it's something they can get started in pretty inexpensively. I think that's one reason why racing is growing nationwide. That, and the kids love it. My grandkids all say they love the speed," Kirk says.
For spectators, general admission to watch the races, both for lawn mowers and regular racing, is always free. Any money Grascar brings in through its members and the concession stand goes straight into the maintenance of the track, Jarvis says. Race winners receive trophies and bragging rights.