Peggy and Charles Stephenson
Peggy Stephenson's philanthropic efforts began in a junior high school classroom in the tiny Oklahoma town of Antlers. Her Future Homemakers of America class was collecting food items to fill holiday baskets. It was this project that opened her eyes to the importance of philanthropy.
"I learned to always give back to your community, because you always see a need that's more than yours," she says.
Stephenson and her husband, Charles Stephenson, took this lesson to heart by giving back to their community and state through the Charles and Peggy Stephenson Family Foundation, of which Peggy Stephenson is executive director.
"[Charles and I] moved a lot, about 12 or 13 times, and that got me going into my community so I would learn about it," she recalls.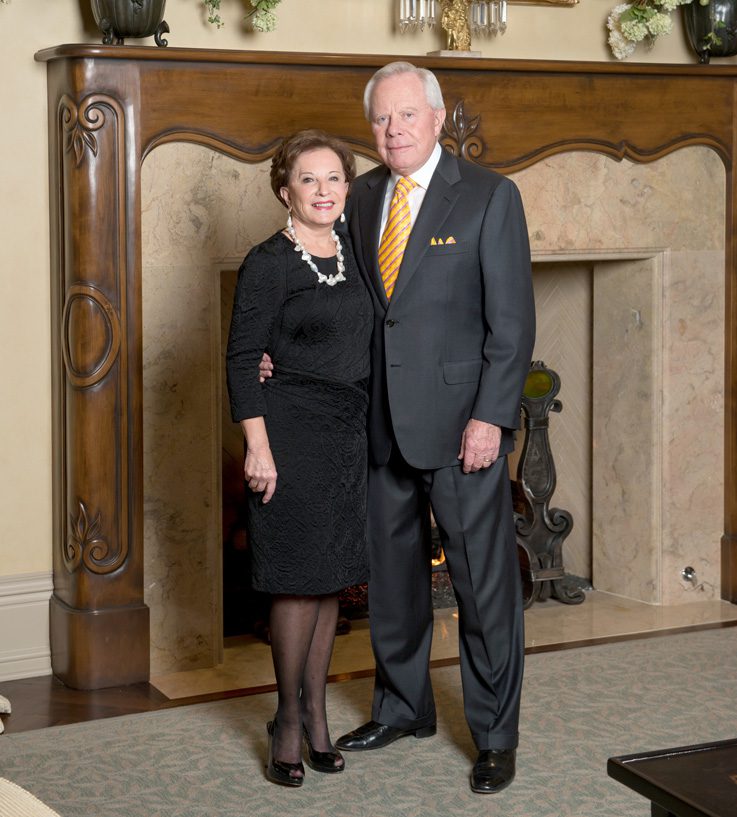 When the high school sweethearts settled in Tulsa in 1969, Stephenson began serving the community by overseeing small projects through her church.
"It was always a small type of thing, but my passion was to just help anyone," Stephenson says.
Several years ago, the Stephensons were approached about contributing to a new cancer center in Oklahoma City that would be operated by the University of Oklahoma. A cancer survivor, Stephenson made a monetary donation to the center, her way of helping others through something she herself had battled. Nineteen years ago, Stephenson was given a breast cancer diagnosis.
"I took my treatment from a major clinic, [the] Mayo Clinic," she recalls, "and I was in chemo for almost a year."
When OU President David Boren and his wife, Molly Shi Boren, approached the Stephenson Family Foundation about donating funds for the building, the Borens were not aware of her prior illness, she says.
"As we walked through it [the building], someone said this is going to be the future cancer center of Oklahoma," she recalls. "Charlie said, 'Peggy, this is something we should do.'"
Stephenson says her husband's words resonated with her, and she realized that helping fund the center would help many people. Now open for four years, the Stephenson Cancer Center is still her top priority, and Stephenson enjoys meeting those who have been treated at the facility.
"The number one thing I love to do is talk to people," she says. "Our foundation focuses on health, education and religion; that's the boundary of our foundation. But there are many things within those [categories]."
Stephenson is a 2014 inductee into the Oklahoma Hall of Fame. She is also a member of the Tulsa Hall of Fame and has received an honorary doctorate degree from OU. Stephenson is active in other causes, including Oklahoma Project Woman, which helps fund mammograms for women who may not be able to afford the screening.
Charles Stephenson was inducted into the Oklahoma Hall of Fame in 2008 and the Tulsa Hall of Fame in 2000. He has also received an honorary doctorate from OU as well as the Tulsa Humanitarian Award in 2002.
Though the couple has given millions to various causes in Oklahoma through the foundation, Stephenson says they don't do it for the praise.
"The reward is the 'thank you,'" she says. "That's what giving back is."
By Jami Mattox