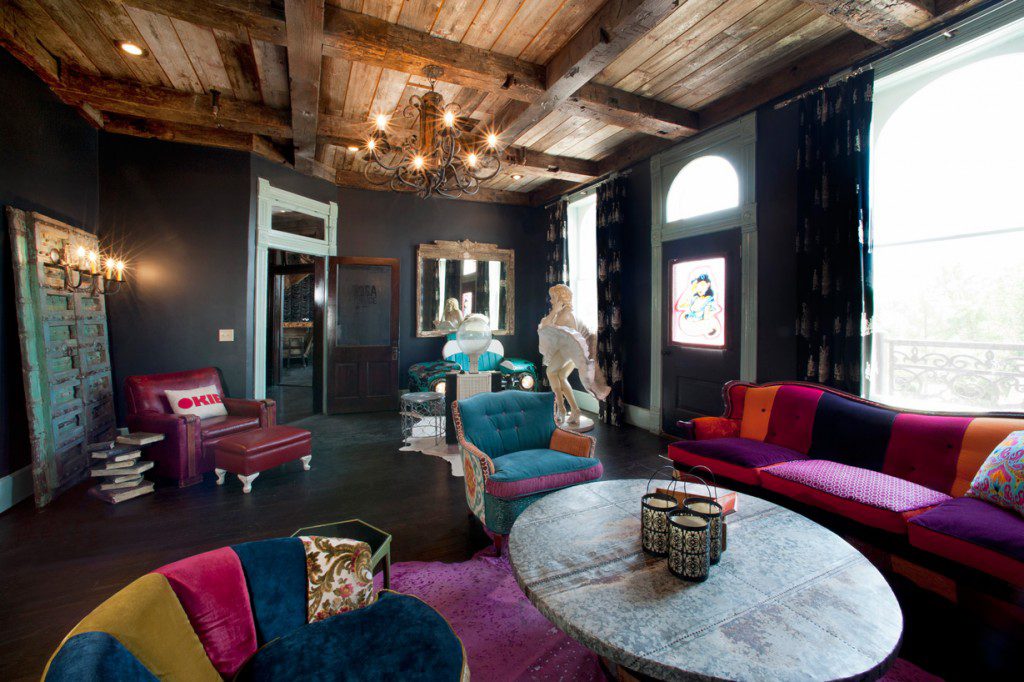 Tucked away in tiny Tishomingo, Okla., is the bed and breakfast that Southern Living magazine called the best new hotel of 2015. The Ladysmith Bed & Breakfast is an eight-room boutique B&B located in Tishomingo's historical downtown district. Country star Miranda Lambert, who also owns the Pink Pistol – located across the street from The Ladysmith – owns the space.
The building, which was constructed in 1901, was sorely in need of a renovation when Lambert purchased the property. It had hosted everything from a beauty shop to a grocery store in its more-than-100-year history.
Anthony Pate of Pate Construction, based in Durant, was tapped to give the building a facelift.
"The building had been occupied some said 50, some said 60 years ago," Pate says.
"It was a pretty big, dusty mess when we first got in there."
Scroll right to see additional photos
Pate says the goal of the renovation was to bring the building back to life while keeping as much of the original millwork and plaster walls as possible.
"We tried to save as much as was original to the building as we could," he says.
That meant hanging sheetrock where plaster walls had originally been and filling out walls with wood. A tin ceiling was salvaged from another downtown Tishomingo building and reshaped to use in The Ladysmith.
In addition to cosmetic and structural changes, Pate's team had to rewire the entire building as well as install central heat and air. To preserve as much of the building as possible, this work had to be done in the building's attic as well as crawl spaces between each floor.
Oklahoma City-based interior designer Phara Queen oversaw the interior design of the project.
"The first point of order was making [the space] cohesive," Queen says. "It is one building, and you do have to approach it as a home, even though the rooms are separate. They still need a cohesive theme."
Scroll right to see additional photos
Queen consulted with Lambert, and the two decided to give the B&B a design that Queen says is shabby chic meets rock 'n' roll.
"It is a good mix between the two, and that's very representative of Miranda," Queen says.
The building underwent an extensive renovation to bring it up to code. Queen says that the upstairs portion of the building has exposed brick walls, and that due to age, the brick – original to the building – was very soft. This posed challenges in how to address the décor for the rooms.
"How do we hang the drapes so that they stay up? How do we hang the wallpaper on a concrete wall that has been there since the building was built and make it look okay? Those kind of things," she says.
Queen had much to work with to see The Ladysmith's design through. Lambert regularly visits a popular antique fair in Texas, and she had amassed a huge collection of eclectic furniture and objects for the B&B. They were in storage the first time Queen saw them.
"[Lambert was] just putting them in storage, not knowing she would open a bed and breakfast. When I got brought on, actually, a lot of the furniture was purchased and in storage," Queen says.
Wall coverings play a large part in the design of The Ladysmith. Metallic wallpaper covers the walls in the lobby, which also features a vintage confessional and tin ceiling. The Losa Lounge features a large replica of Marilyn Monroe that originally came from a storefront in Wichita, Kan. A tearoom and a bar featuring Texas and Oklahoma wines and a ballroom for private parties are all part of The Ladysmith. The breakfast room features three tables and mismatched vintage china on which homemade breakfast is served promptly at 9 a.m.
Scroll right to see additional photos
The eight rooms – two king rooms with en suite baths and six queen rooms with private and shared baths – are themed according to décor and feature outrageous wall coverings, from a metallic tree print in the Knaughty Pine to the exotic print in The Sun Never Sets.
"I love the wallpaper," Queen says. "I'm most proud of the way that the rooms did come together, from a building that was pretty much ignored and falling apart to what it is now."
The B&B has enjoyed immense success and solid business since its recent opening.
"It's a very unique space, and it really has to be experienced to know how unique it is," Queen says.