[dropcap]Whether[/dropcap] it's a memory from days gone by or a passion to possess a machine that speaks to us, cars can get our motors running. A classic look and feel from an era passed into the distance of a long lost highway never stop firing the pistons of car enthusiasts.
Restorations often follow the realization that many beautiful cars from the past (with their precision personalities) can escape bone yards and the jaws of a crusher, so many turn to those who refurbish vintage autos. Oklahoma is full of these rebuilders, who, working with their own ideas or the visions of customers, can make unique modes of transport … or who pay much more attention to original detail. Either way, a classic car is reborn.
Many rebuilders tackle the basics, such as retro-fitting an engine (like replacing an original Chevy 350-cubic-inch with a 327-cubic-inch). They may also change the color away from an official factory hue and switch the interior from vinyl to leather or cloth. The result is a customized rebuild or modified restoration.
Then there are those who adhere to original design and construction, such as Michael Jones, a former MG technician. His restoration shop reflects his love of MGs, classic British roadsters made in their original Morris Garage incarnation between 1923 and 1980. Jones calls the MG a "working man's sports car." He says that when most people see a restoration at a car show, for example, they just observe the paint and body work and think that's 90 percent of the process. In fact, that part of the job is only 10 percent of the work, Jones says.
"I farm out that 10 percent to shops that are experts in paint and body work. I then work everyday to make sure the other 90 percent is as close to original as possible," says Jones, whose definition of restoration is "to put the car back into the state that it was made in."
Jones studies factory specifications, color codes and the history of the manufacturing process and runs far away from modification.
On the opposite end of the spectrum is Jason Engel, who uses the genius of classic car builders and technology from the 21st century. With each project, Ingle creates a car with a classic look and a modern feel. He combines the old road map of quality with modern innovation to get a new destination of design … what he calls a restomod.
Engel's company, Classic Recreations in Yukon, builds dream machines beneath classic body shells that have appealed to a worldwide customer base.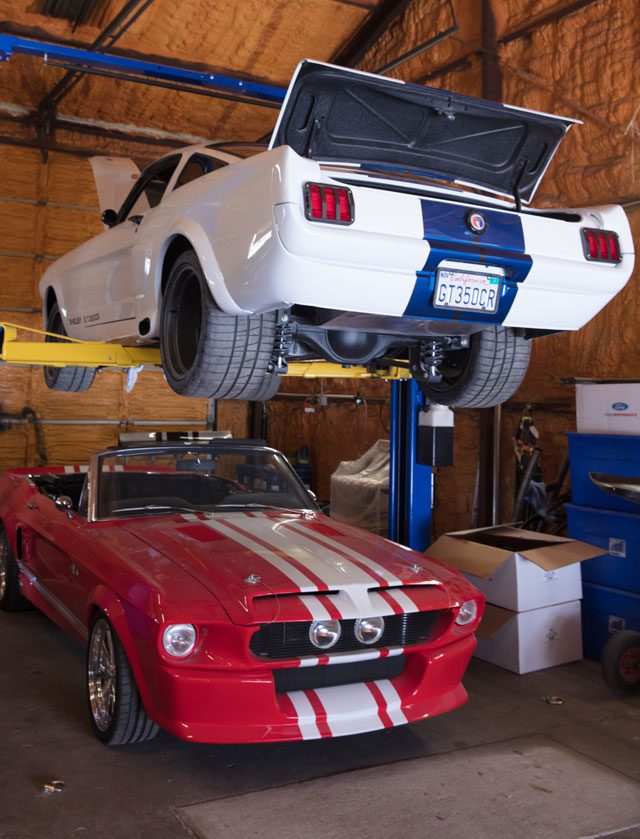 "I build a vintage car with all of the modern amenities," he says.
Engel's restoration process is unique in that his cars come from designs that he and his team develop. In addition, late automotive designer Shelby Carroll of Mustang fame worked with Engel to mesh old and new ideas. Engel's cars, for example, have fuel-injected engines, custom-built suspensions and modern braking systems wrapped up beneach restored vintage shells. Carroll worked with Engel after discovering, and being impressed by, the Mustangs modified by Classic Recreations.
As a hobby or profession, car restoration can certainly create a dent in one's wallet that a body shop can't repair. Depending on the type of restoration or modification, prices can range from $5,000 to $100,000, plus the cost of the vehicle. Classic Recreations' restomods can run as much as $254,000, Engel says.