[dropcap]Santorini[/dropcap] is a legendary Greek island that defines everything you think about an island in the Aegean Sea. It's great for singles, couples and honeymooners, yet there's much to do for families. It is the most photographed island of Greece (if not the most photographed island in the world). Its historic volcanic eruption more than 3,500 years ago has created the breathtaking caldera views. The healing hot springs have a tinge of yellow water containing the sulphur that is considered therapeutic for swimming.
Santorini's specialty excursions include exploring the active volcano, swimming in hot springs, riding donkeys, parasailing, exploring wineries and museums and scuba diving.
Akrotiri museum (a buried settlement) is a thrilling archeological site. Santorini is also known for its pumice stones, which are great souvenirs.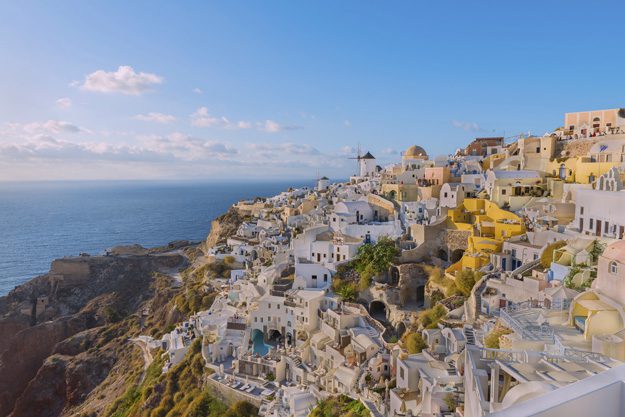 Santorini is considered "touristy," but locals still live there. Near our villa, we met a local man named Artemios. We visited with him while he cleaned green beans under his pergola. I conversed with him in Greek and translated it to my family. I was drawn to this elderly man because I fondly remembered cleaning green beans outside under our pergola with my grandfather when I was a young girl. He spoke to us on the importance of family and told us his philosophy: "A man without children is like a tree without branches."
Santorini at night is a whole other experience. I recommend taking a siesta so that you can conserve your energy for walking around the port town to shop and dine. We liked staying in Imeroviglio for our villa location. Its cliffside, breath-taking views make you realize how perfect it must have been for an historic pirate look-out point.
Walking down to Fira (also called Thira), is a good way to get exercise and avoid parking hassles. The Imerovigli or Oia (pronounced "eeya" or "Ya") views are worth it and a nice break from the city center. Driving up to Oia could take 20 minutes, and that's best enjoyed at sunset. Our villa was called Irinis Villas, and we were so pleased with it, we stayed there on two trips.
Make an evening out of Oia; take your sunset family pictures, eat dinner and stroll through the boutiques. I have been to Santorini four times, and I know I'll return. There is a world-famous sunset in Oia. People gather around dusk to watch it live and capture it on film.
In the village of Oia, we went to a terrace cafe for dessert just to take in the caldera view. The boys were asked by some local boys to form a team to play soccer in the plaza by the church. It was so charming to watch this interaction. The local boys take charge and yell passionately as our Greek-American sons were passively engaged, polite but still into it and having fun. Other tourists watched this game and took pictures of our boys playing with the dogs in the path. Our sons were lying on the ground playing with the stray dogs, oblivious to the world.
We saw a couple far out on a promontory getting dinner served to them. We saw a group of people assembling to watch the famous sunset. The sun was still shining on the side of a church, and we posed for a family shot.
We drove back to Fira and had dinner at Naoussa Restaurant, which was recommended to us.
Do we love Santorini? "Oia, oia, oia!"