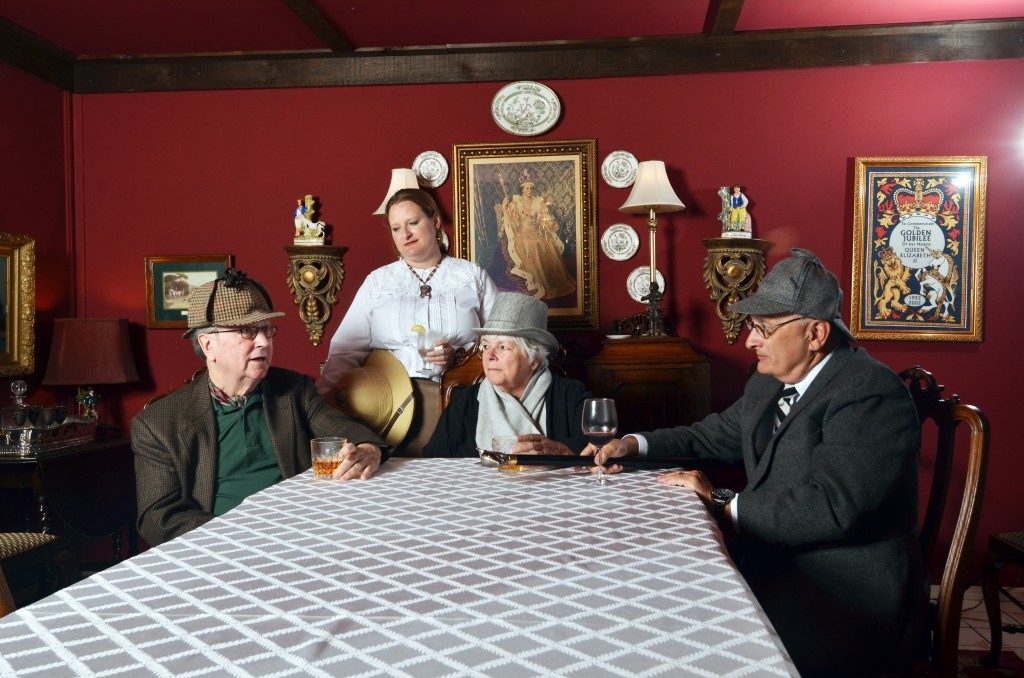 [dropcap]Tales[/dropcap] from 19th-century London are still alive in present-day Tulsa.
Once a month, a group of dedicated fans of all ages and backgrounds sit at the White Lion pub to eat, drink and talk in-depth about the tales of Sherlock Holmes, written by Sir Arthur Conan Doyle. They call themselves the Afghanistan Perceivers, a name derived from the first Holmes mystery, A Study in Scarlet, in which the great detective accurately deduces of his soon-to-be partner, Dr. John Watson, "You have been to Afghanistan, I perceive."
The Perceivers, one of many Sherlockian societies across the world but the only club in Oklahoma, was founded in 1974 by Stafford Davis, Richard Johnson and Dean Clark. Clark is still a member of the society and travels all over the world to meet fellow enthusiasts.
"I have been to Sherlock meetings in Barcelona, Venice, Toronto, Kansas City, Houston, Dallas, and of course New York, which is where they have the big Sherlock birthday bash every January," Clark says. "The Tulsa club is definitely one of the more active ones. I'm proud of that. We always have been because Stafford was just a nonstop energy guy."
Each member is given a canonical name that serves as an alias. Clark, a retired journalist, is known as Dr. Leslie Armstrong, the scholarly suspect from "The Adventure of the Missing Three-Quarter." Librarian Brandi Blankenship, one of the younger members of the society, decided to go a different route with her name.
"My first name, I didn't think the character fit me," she says. "I petitioned the canonical name selection group to change it to Brandy. I'm the alcohol that Watson thinks is a cure-all for everything. We always laugh because in almost every story Watson wants to give somebody some brandy."
Blankenship came to Holmes through the Basil Rathbone movies of the 1930s and '40s, then moved to the books and the Benedict Cumberbatch series by the BBC. Clark found Sherlock when he was 11 while his father was stationed with the U.S. Army in Germany.
"I came across the classic comic book version of A Study in Scarlet," Clark says. "I became a fan and stayed a fan. I've been an unofficial Sherlockian since 1955. I had no idea there were clubs everywhere until 1974, when I got a call from Rick Johnson to join the Tulsa club. That's when I became an official Sherlockian."
According to Clark, Peter Blau, a well-known Sherlockian, described the draw of such societies the best.
"[Blau] says, 'You go to most parties and meetings and about 20 percent of the people are interesting. You go to a Sherlock meeting and everybody's interesting.' I share that sentiment."
For information, email [email protected].