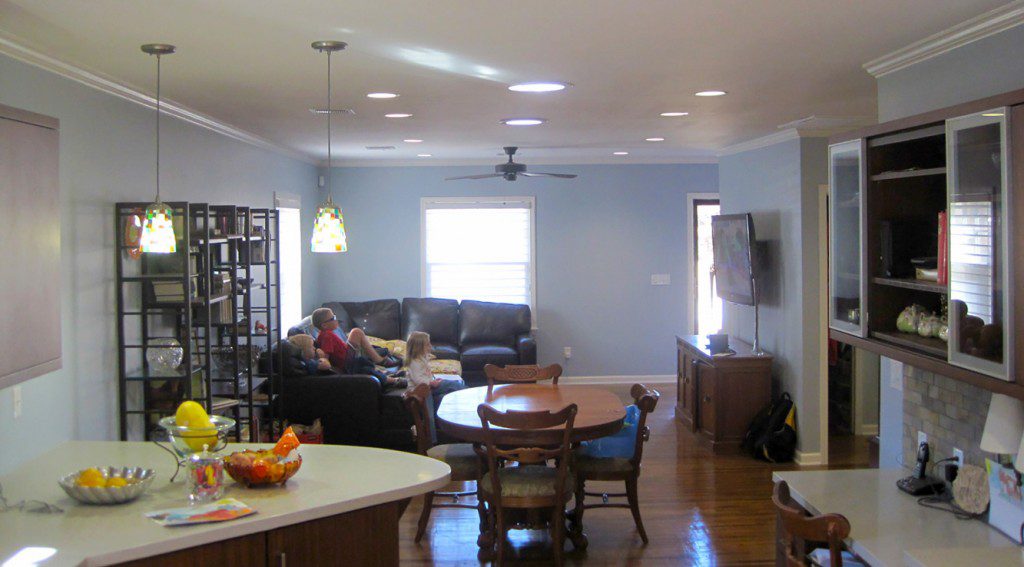 "I didn't even recycle," muses Chad Burton as he reflects on the irony of his perspective that has vastly changed over the last few years. "It never even occurred to me the impact we have on the earth in our day-to-day activity."
Then Burton spent more than 18 months remodeling a home that is now certified by the National Green Building Standard and Leadership in Energy and Environmental Design (LEED), the National Association of Home Builders (NAHB), National Green Building Standard and the Environmental Protection Agency's (EPA) popular ENERGY STAR program.
"To my knowledge, it is the only house in Oklahoma that has all three of those certifications," says Burton.
Craig Immel, founder of STEADYSTATE Geothermal in Tulsa and LEED Accredited Professional, who also serves as Chair for the U.S. Green Building Council Oklahoma Chapter, agrees.
"I'm unaware of anyone else who has gone through the process of LEED and NAHB accreditation," says Immel, explaining the standards required to rate a home or commercial building for "greenness."
"A point system is used to rate energy efficiency, water use, materials, construction waste disposal and much more," he says. "It is an extensive process."
A Tulsan and Oklahoma State University graduate, Immel moved to Colorado and sold real estate in the mountains for eight years.
"Because of the location, many of the homes had to be innovative about energy and water because they were off the grid," says Immel.
That piqued his interest, so when he moved to Denver, Immel began to apply what he'd learned in the mountains to urban areas, and it was there he was introduced to information about LEED certification.
Burton's conversion was accidental.
"I finished a tour with the Navy in 2000 and realized around 2007 that my time to take advantage of the GI Bill was running out," he says.
While working full time with the responsibilities of a growing family, he started night school at the OSU-Tulsa campus majoring in environmental science, although he wasn't sure what direction he'd take with the degree. Gradually, Burton became interested in the concept of sustainable building.
At the same time, the house next door to him, previously owned by a hoarder, continued to deteriorate, unoccupied for nearly eight years due to a mix-up in records that identified the home's owner. Although most of the neighbors thought the house should be demolished, Burton was intrigued about renovating it using sustainable, often called "green," building standards.
Burton and his wife, Amy, were eventually able to purchase the home in Tulsa. It was built in 1941 with three bedrooms and one bath, plus a screened in side porch. There is also a studio apartment over the garage.
Because of the dilapidated state of the house, Burton's first step was to clear the house in order to begin the remodel. Blue barrels lined the front of the house as Burton focused on recycling as much as possible. Waste management is a big part of LEED and NAHB certification. By the time the renovation was over, Burton had been able to direct more than 5,000 pounds of metal and 2,000 pounds of cardboard away from landfills.
Burton partnered with locally owned Harley Hollan Companies, which hauls away recyclable materials from building and renovation sites, including asphalt, shingles, sheetrock and wood.
Burton also discovered another Tulsa resource, ReRock Materials, Inc., which he had tear out and dispose of the broken concrete driveway.
"Instead of just taking the load to the landfill, I had it delivered to the rock crushing site," says Burton.
And Reclamation Station, a local architectural salvage company, also assisted in removing, repurposing and recycling an enormous amount of materials not reused, including the original single-pane windows and the 1970s-era storm windows.
"We worked with many local suppliers, and because of the publicity this project received, we were often able to purchase building products at a discount," says Burton.
Where he chose to invest in a higher priced product because of design, were the windows.
"If you look at the old windows, the top was a divided light style," he says. "And the only true divided light windows we could find are wood."
The couple chose Pella's Architect Series Low-E, double pane, double hung argon gas filled windows.
And because natural light helps reduce energy costs during the day, the Burtons installed five Solatubes throughout the home. Newer models also come equipped with nighttime and dimmer switches. And all other recessed lighting used LED light bulbs that last longer and use less energy.
More than 50 percent of the original wood floors were salvaged and reused. The metal roof has a 50-year warranty. And to conserve water, low flow toilets were installed and drought resistant plants were selected.
The original design of the house was typical of that era – the living room and dining room ran across the front of the house with the kitchen and a bedroom on one side and two bedrooms and a single bath on the other. Burton opened up one side of the house for an open living, dining and kitchen area. The screened in porch was enclosed and is part of the master bedroom; a master bath was added.
Even with the added space, the home is still a compact 1,426 square feet for the family of five. So, to maximize space, shelving was installed around the room near the ceiling for trophies and other kid collections. The original doors were used, but to conserve space, they were installed as pocket doors – sliding doors that disappear when fully open.
Jay Rambo Co. supplied the kitchen cabinets using bamboo by Plyboo on the exterior and low formaldehyde-emitting fiberboard for the interiors. They are one of the few cabinet manufacturers in Oklahoma who qualify for the Kitchen Cabinet Manufactures Association's Environmental Stewardship Program. The countertop is concrete made with 75 percent recycled clear glass.
Burton will always have a personal attachment to this house, since the residential retrofit served as the basis of his extensive report – the final requirement to achieve his Master of Science in Environmental Science from OSU. But with a growing family, he knows before long he will probably need more space.
"This will be an easily maintained, energy efficient home for other families to enjoy for decades to come," he says proudly.
And while there is a growing demand for green homes, not everyone is concerned about their residence being certified.