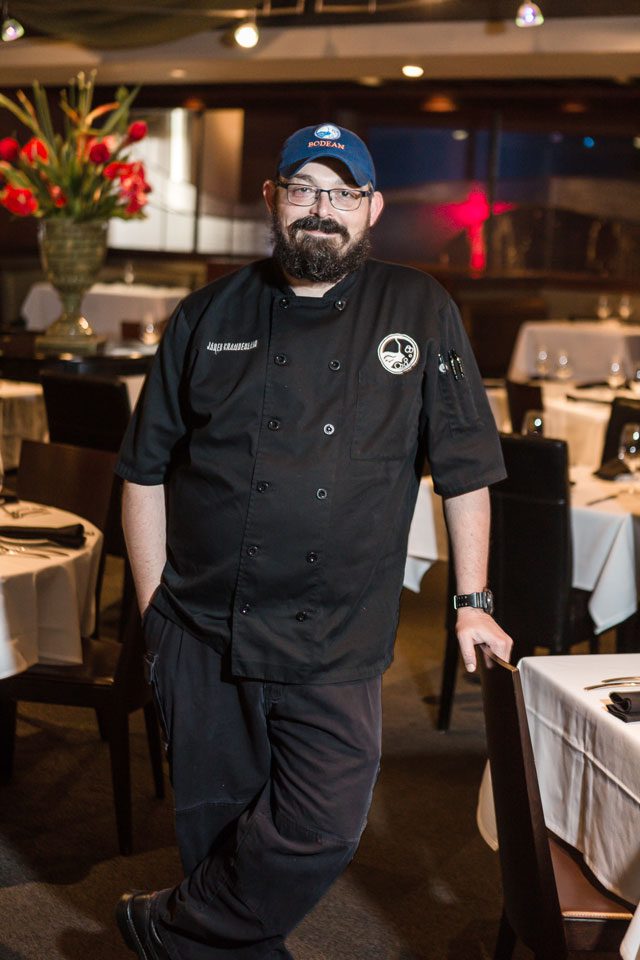 [dropcap]Tulsa[/dropcap] born and bred, chef Jared Chamberlain has generations of culinary skills in his genes – and he's not fighting the family tradition. Both his mother and grandmother owned and ran restaurants in metropolitan Tulsa, and he's following in their footsteps.
"I was born in the business," he says.
And in the business he stayed. After graduating from Oklahoma State University-Okmulgee's culinary program, he worked at local eateries like El Guapo's Cantina, Oscar's Gastropub, Gatsby's Grill and his mother's joint, The Route 66 Diner. In recent years, he's climbed his way up the ladder at Bodean Seafood, from chef de cuisine to executive chef, and he's proud to helm the ship at a restaurant with a deep familial anchor.
"Bodean is a great place to work," he says. "It is an awesome restaurant led by an awesome family."
The family he refers to is the Faulkner clan. Bob Faulkner was an original partner in the Bodean Seafood Market, along with partner Dean Carroll. (The two men meshed their first names together to create the name.) The restaurant portion of the establishment opened in 1980, but the seafood market has been around since 1968. This unique facet of Bodean makes it a prime joint for seafood fanatics and, consequentially, a chef's dream job.
"Because we're a wholesaler, my access to ingredients is way better than any other restaurant in town," he says. "I get first dibs on a ton of really nice stuff."
Despite this major leg up, there's always  pressure to remain popular in the city's ever-changing social landscape, since restaurants can spring up and fade away in the blink of an eye in today's world.
"We have to work really hard to stay relevant," Chamberlain says. "We bring in more contemporary dishes. We try to have a little bit for everybody. But we are the premier seafood restaurant in town, and that helps quite a bit."
Seafood may be Chamberlain's expertise at work, but off the clock he keeps his options open.
"I really like Asian food as far as exploring, but I try to be well-rounded," he says. "Grandma said if you learn to like everything, you never have to eat anything you don't like. That's how I was raised."
Oysters Rockefeller
12 oysters
2-3 oz mozzarella
¼ lb bacon, chopped
2 tsp garlic, minced
2 tsp shallots, minced
¼ cup Pernod
1 cup heavy cream
¾ lb cream cheese
1 lb baby spinach, stemmed and chopped
Render and brown bacon.
Add spinach on high heat, sear.
Add garlic and shallots, cook lightly without browning the garlic.
Deglaze with Pernod.
Add heavy cream, reduce by half.
Add cream cheese, simmer and stir until incorporated.
Spread oysters onto a sheet pan, chill.
Place a small dollop of sauce on top of each oyster once chilled.
Place in oven preheated to broil.
Cook until sauce is hot, remove from oven and sprinkle shredded mozzarella onto each oyster.
Place back in oven until cheese is fully melted and begins to caramelize.