[dropcap]You've[/dropcap] seen her before. Maybe in a law office (she was a partner in one of Tulsa's most select firms), maybe at a committee meeting (she's helped organize more charity events than you can count), maybe at one of her quirky, memorable birthday parties at Southern Hills Country Club, maybe only in the society pages of this magazine.
And now Rania Nasreddine is where you'd least expect her, flitting around a busy construction site as the white, spacious dining rooms of her new restaurant, Bread and Butter Kitchen, are built and filled in and nailed together by a large, busy army of workers. She navigates her way past an area where banquettes and chandeliers are being installed and points to a big oak counter. It's the shop, she says; appropriately enough for a building that once held Marie Callender's on East 51st Street in Tulsa, there's a big bakery, where pies and cakes will be sold retail.
A man runs over with a question. A women asks her about bathroom decor. ("It should be warm and welcoming, yet stylish," Nasreddine tells her.) Her iPhone rings. "Mom, I'm getting interviewed!" she shouts into the phone. Nasreddine has never been involved in the restaurant business, except as a diner, but her father, a prosperous businessman, once owned a few, and her whole family is involved. It's one of those formidable families that can march over obstacles as if they didn't exist.
"My staff is more important," she says as she calls to a nearby group of men nailing panels to a wall. "You guys have had a long day; just wait half an hour and we'll have food for you."
This puts her in mind of food.
"We'll have all the classic standards everyone loves, but better," Nasreddine says. "Our trout has capers and sun-dried tomatoes, and you won't believe our chicken-fried steak. We put so much time and love into everything. The fried chicken takes a day to prep and marinate.
"And our chicken pot pies! That's a 24-hour process. The prep chefs roast the chicken. The pastry chefs make the crust. Then the line chefs season, sauce and bake it. It's delicious! And wait till you see the chicken with biscuit…. You get white pepper gravy or bacon honey glaze and the biscuit we pour the chicken on is homemade and it's bigger than your head! The biscuits are life-changing."
Someone hands her a glass of a concoction that will come from the full-service bar with craft cocktails.
"Not sweet enough," she opines. "It needs something."
She continues: "The hamburgers are swoon-worthy." But she, too, has had a long day and is famished.
"Food's ready!" someone calls, and all the folk on-site force themselves into a gleaming, professional and spacious – but at this point, overcrowded – kitchen. Construction workers loudly chat in Spanish and English and a large kitchen staff gets some cooking practice. There are a few elegantly dressed friends of Nasreddine's, even a few policemen whom she has invited and whom she quickly mobilizes to help carry trays.
"Tienes hambre? Come, eat!" calls a pirate.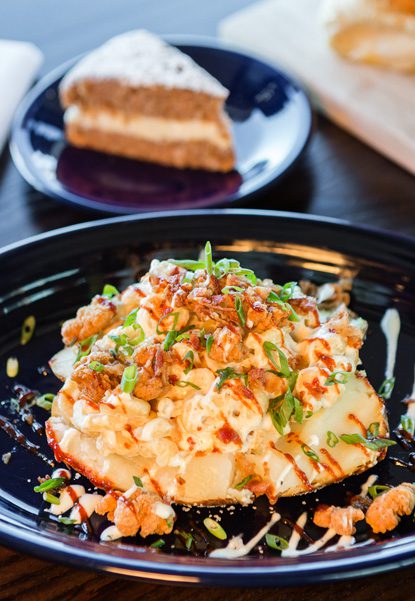 Grizzled, wiry, with earrings and tattoos, that's what David Robuck looks like: the guy who, with teeth clenching a knife, would climb the rope and board your ship. He was Dilly Diner's pastry chef, baking those pies and muffins that brought the place fame, and he later became executive pastry chef to the entire McNellie's group. That's his position here, even though there's no executive chef. Nasreddine is too kind-hearted to impose a hierarchy, but Robuck is on his way to filling the top chef's role.
"Guys, that chicken has been out of the marinade too long," he calls to the cooks. "I'm supposed to get a hint of orange and that's what makes the dish pop."
Back to his vision.
"I did pastry for job security, but I can cook entrees, too. I love making flavors. I love blowing people's minds. It doesn't matter if it's pastry or savory. This place gives me special joy because I'm able create food that's recognized and loved by average people, but made with a serious culinary approach. Ninety-nine percent is made from scratch. It's real home cooking."
Robuck pauses. A plate has come out of the kitchen, and it's lovely, but the presentation doesn't satisfy him.
"Put art on the plate!" he yells to the line cooks. "Make it beautiful! Take pride! Show off! Make every plate the best plate you can make!"
He looks to the visitors.
"There's fried catfish coming!" he calls to the crowd, which by now has melded into a chaotic, happy group a lot like a family reunion.
Meanwhile, Nasreddine says to one guest: "You have to leave for a dinner appointment? Oh, you're not leaving anytime soon. There's so much food coming. Here. Try a pickle; they're homemade. You're not eating anything after you leave here.
"Hey!" she calls to the crowd. "Someone needs to eat this baked potato!"
Editor's note: This article was written before Bread and Butter Kitchen's official opening. The restaurant is now open.