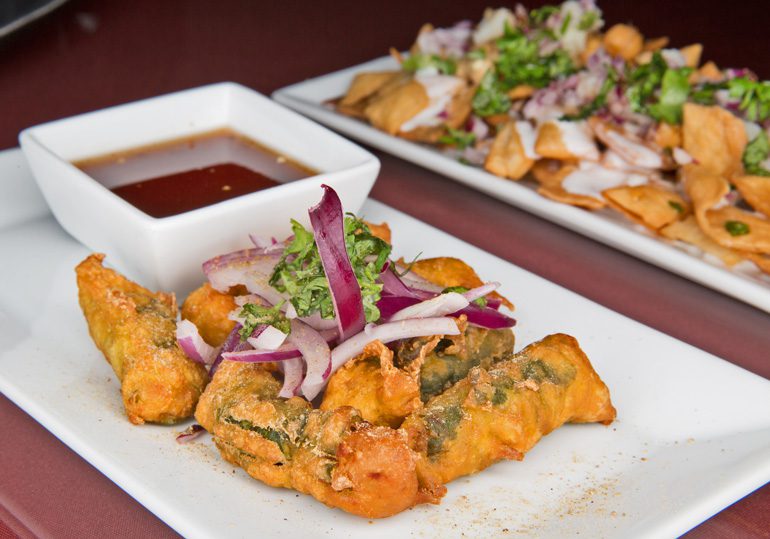 The best meals in India are served in private homes, behind closed doors the tourist can never enter; and the best chefs are women born in tiny villages, immersed in Indian food traditions from birth, taught by their mothers who learned from their mothers before them.
"What you find at home," says Shifali Bhullar, chef at Cumin, "you can't find at restaurants."
Bhullar grew up in a family of foodies.
"My dad cooks, my mom cooks, my brother cooks; everyone cooks in my family," she says.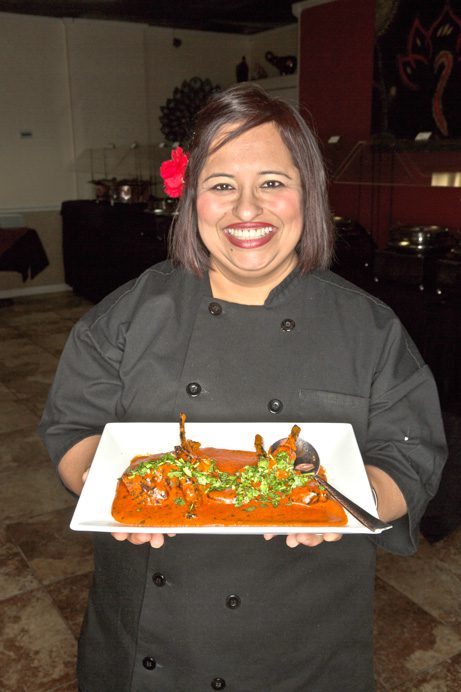 Bhullar is standing in Cumin's sparkling, new kitchen. Three pans, slick with oil, are heated on the stovetop. She throws mustard seeds and a sprig of curry leaves into one pan, cumin seeds in another, some garlic in the third. She tosses some onions in the first pan, stirs, then adds a pinch of ginger, a few ounces of pureed tomatoes, a bit of cayenne, then salt and sugar. Into the second pan, meanwhile, goes salt, cayenne and cumin seeds, each addition punctuated by a graceful stir and swirl. Finally, in goes an eggplant that has been roasting in a tandoor, the traditional Punjabi oven.
"It's never-ending," says Bhullar of helming the kitchen at Cumin. "I come to the kitchen at 7:30 in the morning to start work for the lunch buffet. That takes four hours. The minute the buffet is ready, I start work preparing dinner."
The dishes for the lunch buffet are made fresh every day. Bhullar also cooks special dishes for the weekend buffet. You might find dum biryani, a paella-like rice dish that takes almost four hours to make. Even on weekdays, the buffet lineup changes daily.
"I'm just doing it the way I cook at home," says Bhullar as she mixes roasted fenugreek leaves into the eggplant pan.
She's happy now, immersed in the cooking, moving from pan to pan with a balletic grace. A swirl of creamy coconut milk goes into the first pan, followed by slices of fish fillet.
"That's Goan fish curry," she says.
It's not a dish she grew up with, but, she says as she adds in a bit of tamarind paste, "it's my take on it."
Food is plated and carried into the dining room, where the somewhat sparse decor is livened by crimson tablecloths and paintings that Bhullar acquired on a special trip to India. They're colorful and modern, vaguely abstract mosaic designs and sultry women in saris.
There are quite a few diners at the tables, and some of them have encountered Bhullar before. She and her family have been in Tulsa since the late 1990s, when they left India to join an uncle who emigrated to Broken Arrow decades before.
"I try to visit India every few years to show my children where they're from," Bhullar says, "but it's not my home. I'm American now."
More plates come out of the kitchen, their bright colors forming a rainbow of epicurean delight. Lamb chop masala is covered in a fire-red sauce dappled with specks of brown. Bhullar is proud of this dish, which she says conveys the essence of Punjabi cuisine. Its mellow, toasty sauce enriched by the drippings from the lamb merit pride. Bright green plates of lamb saag and palak paneer are sprightly dishes with fresh vegetable flavor highlighted by notes of citrus and spice. Several of the dishes shine with a tawny, autumnal glow. Their colors blending amber and umber, butter chicken, chicken shahi korma and paneer pasanda may look alike, but they taste completely different. Each has a rich, complex blend of ineffable flavors. Some have a deep, nutty flavor from ground cashews. All the chicken is roasted in the traditional tandoor oven. In contrast with these bright sauces, many of the menu selections, including most of the extensive vegetarian lineup, have no gravy at all. Instead they're studded with a medley of fresh herbs and spices.
All dishes are expertly cooked and efficiently served. Though Cumin is new, Bhullar isn't a novice. For four years, she and her husband ran Tulsa's Indian Corner. Bhullar had to close that restaurant to care for family. But, says her husband, "we couldn't stay away from it; it's a passion for both of us." 8242 E. 71st St., Tulsa. 918.994.7404