English Inspiration
Linda Vater grew up appreciating gardens, but they were not her passion until 20 years ago. It was then that she discovered, on a whim, that she loved gardening. There was an early clue, however, regarding her interest in plants.
"I'm probably the only person in college who selected my dorm room based on the best window exposure for my plants, which I kept on a ladder plant holder," Vater notes.
Now, her name is synonymous with exquisite garden designs. She is the "Garden Guru" on Oklahoma City KFOR's "Four Your Garden" segment. She also writes regularly for Southern Living and HGTV magazines. She conducts seminars and workshops and is a member of the Garden Writers Association.
The gardens surrounding her Tudor-style home in Oklahoma City's historic Crown Heights neighborhood are what Vater calls "an English garden on the prairie."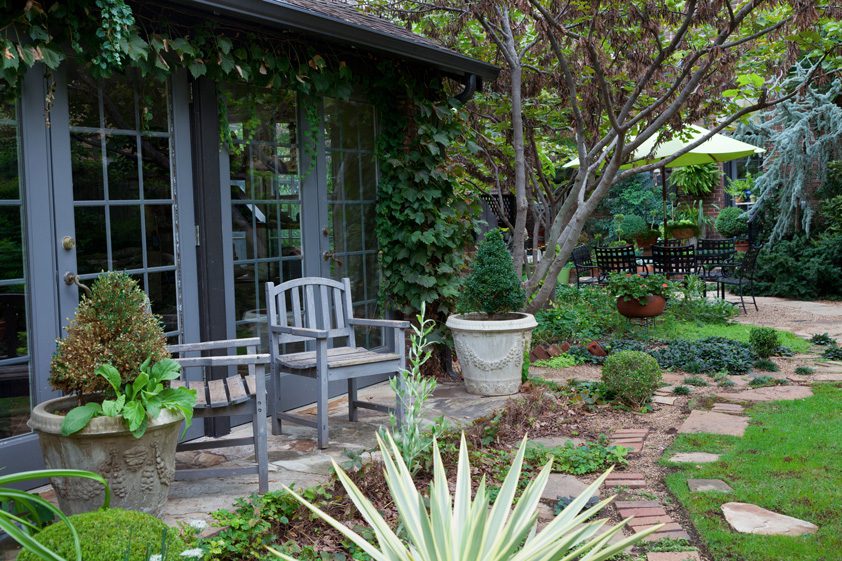 Mature trees shade a front lawn showcasing boxwood, hollies, perennials and ground covers. In spring, Vater's garden resembles an Easter basket with azaleas, pansies, chamomile, cabbages and tulips, her favorite flower.
A southern-style porch curves around the home's front. It conjures images of guests relaxing in wicker chairs, sipping refreshing summer drinks. A profusion of multi-sized pots are generously planted with a rainbow of colors and mixed greenery.
The secluded rear garden is where Vater and her family especially enjoy the densely planted gardens and outdoor living area. They love this heavily shaded enclave with mature trees and plants marking the changing seasons.
"Our favorite place depends on the season…what is at peak, how the quality of light is at that time. My favorite view is probably of the potager – an English-style kitchen garden – standing on the back bench, looking toward the west in the evening. The light on the potager's boxwood creates a view of this ornamental space that is magical," Vater says.
The outdoor living area cozies up to the home's rear entrance, with French doors providing easy access to the kitchen and laundry area, convenient for cleaning up after gardening or dining al fresco.
Seating areas are well shaded and chaise lounges invite naps, reading or pleasant conversations, all in view of this sheltered garden.
"The garden is perfect for frequent entertaining," Vater says. "We have coffee and cocktails in the garden, as well as meals whenever the weather is kind. I love impromptu brunches, or wine and potluck appetizer get-togethers. For larger groups, we set up a buffet and bring out blankets for picnic seating. The garden has seen many a party."
Vater always tells guests, "Don't miss the potager."
Flagstone and brick walks lead toward this cloistered area, its entrance defined by a tall gateway. The centerpiece of this small, secluded space is a labyrinth of framed boxwood, gently sculpted in plump circles.
To guests, the potager is a work of art. To Vater, this is the garden's "vegetable farm." Inside the four quadrants of each of these four sculpted boxwoods, she grows tomatoes, basil, kale, lettuce, spinach, radishes, Swiss chard and poblano and jalapeno peppers. Guests are encouraged to help themselves to the bounty.
The potager has the aura of a secret garden. Small benches and hidden nooks are perfect places to sit a while and enjoy this English-style paradise where a prairie once stood.
It is a dramatic setting where Vater revels in nature's beauty. She plants a mix of perennials and annuals – sedums, hostas, ferns – nestled among peonies, hibiscus and calibrichoa. Unusual plants include golden feverfew, foxglove, allium and deutzia. Boxwood and tulips are stars in this setting.
Always aware of new garden design trends, Vater sees the line between indoor and outdoor living spaces continuing to blur.
"Growing your own veggies and herbs – urban gardening – will remain big. Berry-producing plants and dwarf fruit trees will be very popular, and container gardening is always au courant. Locally, I see much greater use of succulents, natives and drought tolerant plants."
Always willing to share her expertise about gardening, she says, "Don't let your plants boss you. When in doubt, use gravel or boxwood. And if some plants fail, remember, there's always next year."