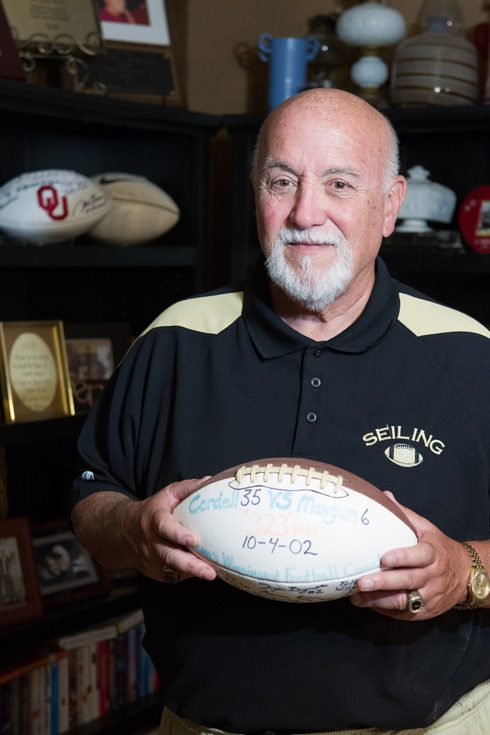 [dropcap]Despite[/dropcap] growing up in Green Country, Bruce Hendrickson, the winningest high school football coach in Oklahoma history, spent most of his teaching and coaching years in the western part of the state.
When Hendrickson went to Texhoma for his first head coaching job in 1971, "I had no idea it was way out in the panhandle," he recalls. "It was like a dust storm was going on in May when I drove out there to talk to them, and I got out that way and called my wife and said, 'Tell me this is the stupidest thing I ever did.'"
But Charlotte, Hendrickson's wife of 49 years now, told him he was already out there, and he might as well keep going.
"I swear I could see China out there – it was way the heck out there," Hendrickson says. "But I took some 16-millimeter films of the guys playing and watched them, and my gosh, those guys had some talent, so I talked myself into going there."
Despite the misgivings, Hendrickson counts that year at Texhoma High School as one of the highlights of his career, where he led the team to a state championship and an undefeated record of 14-0.
The Championship Precedent
Hendrickson, 70, has a lifetime record of 363-101-2. He has led teams to state titles two other times – in 1981 at Okeene High School and in 1988 at Seiling High School. He began his coaching career at Commerce and also coached at Wynnewood, Cordell and Wewoka.
He first retired in 2005 from Cordell High School but returned to Seiling High School in 2013 and stayed there until May, when he again retired.
Hendrickson's first stint at Seiling lasted 14 years; he led the team, then a 1A school, to the state championship. Since that time, Seiling has changed to a Class B school that plays eight-man football.
In the 2013-14 season, the Seiling Wildcats went 5-5, and 8-4 the next. Of those two years returning to Seiling, Hendrickson says, "At least half of the kids I was coaching then were kids of parents I had taught or coached. It was like coaching my grandkids.
"My first year there, the program was really down, but now they've got 33 kids in upper grades playing. I said I'd never in all my coaching career suited up a freshman for a varsity game, but after that third game, I'll be dogged if we didn't have to," he says.
He has a lot of praise for Class B District One Oklahoma high school football.
"Sixteen of the last 20 state championships have come from that district," he says.
Last year, Hendrickson facilitated the hiring of Brian Haynie as an assistant coach. Haynie is now the head coach at Seiling.
"I more or less promised him if he moved here, I would just coach one more year. They really like him here," Hendrickson says. "I think they have a real good coach, and they'll do great."
Work, School, Football
Hendrickson has fond feelings for Seiling, population 860, his "adopted home town."
"It's always been home to me," he says. "It's not like where I grew up."
Hendrickson grew up in Claremore, the son of a businessman.
"My dad had one problem: women. He liked the women, and they liked him. And then, Mom carried a Bible under one hand [and] a bottle under the other," he recalls. "I just couldn't live in that kind of environment. My grandpa was the mayor at one time, and he owned a duplex, and so he lived on one side, and when I was 14, he let me come live on the other."
Working, going to school and playing football consumed his life.
"When I went there, there were only 51 kids in the graduating class. Now, I've been back there, and everyone is in a hurry. The traffic is bumper-to-bumper, and there are just too many people all over.
"I really enjoy northwest Oklahoma," he adds. "The people out here are really good all over. It's a really big area but a small community. It seems like everywhere I go I know everyone. I go in the truck stop in Seiling for some coffee, and everyone knows me. It's a slow pace."
A Legacy Of Success
Hendrickson says this is his final retirement. He is spending it mowing his lawn, among other things. Since moving to western Oklahoma, Hendrickson and his wife have maintained two houses, one in Seiling and one in Wynnewood. Currently, Charlotte, one of their daughters, and granddaughter live in Seiling, and Hendrickson lives in his Wynnewood house, where he helps another daughter with health care needs.
His house in Wynnewood is in the perfect place for a retired football coach, right across the street from the high school football field. Hendrickson visits with the coaches and players there often. He says he has been fortunate to coach young athletes.
"I just hope that I've had a positive influence. I'm going to miss them a whole lot more than they miss me," he says.
He is also proud of the legacy that some of his former players have carried on in their football coaching careers.
"One of my proudest moments was six years ago when I realized I had four different former players coaching in the state finals. That is probably a record – that was really neat," he says.
Despite retirement, Hendrickson still anticipates those weekly football games that have been a part of his life for nearly a half-century.
"I don't sit around a whole lot. I'm looking forward to the first football game of the season. They are working hard at Seiling, and Coach Haynie is going to get them to play," he says.
Hendrickson thinks his state record for the number of wins will be broken in the next few years.
"Mike Snyder out of Seminole will beat that record if he stays in it," he says. "But I've never been big on records. I never set out to do that."