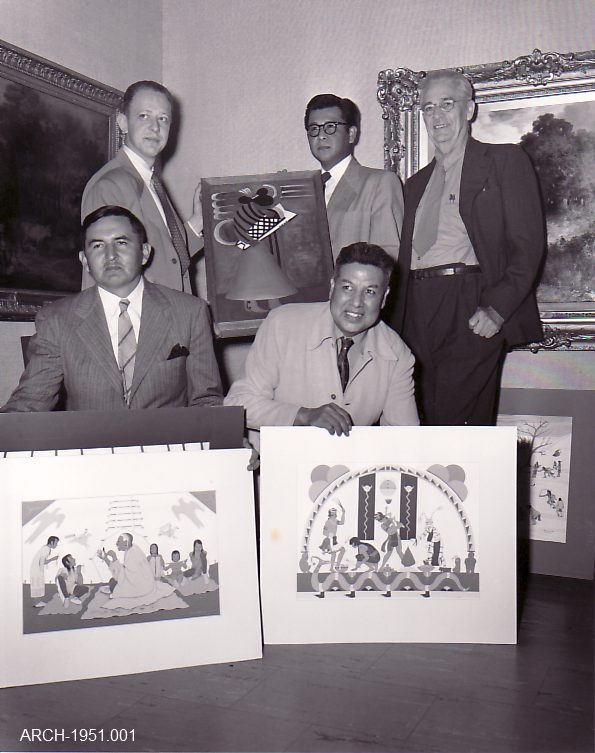 Masterful Influence
As Houser moved through different teaching posts, his work changed, too. That evolution can be seen in pieces Houser created through the mid-1970s for Philbrook Museum of Art's Indian Annual, a juried show of work by American Indian artists held between 1946 and 1976.
"When Houser began his career, he was a painter and illustrator working in a way considered now as a traditional style in terms of both content – Apache people in traditional dress doing tasks of the day – but also in terms of the style of painting," says Christina Burke, curator of Native American and Non-Western art at Philbrook. "The 'flat style' of painting became associated with painters in Oklahoma of the time and others who went through The Studio School at Santa Fe Indian School."
When he first began submitting his work to Philbrook's Indian Annual, Houser turned in paintings of this style. But by 1968, his sculpture and drawing were beginning to consume his intense focus. His submission that year was a small ebony wood carving of an Apache man's with a single arm raised above him; he titled it Sacred Rain Arrow.
"Later, he did a version in bronze that is now on the Oklahoma (vehicle) license plate, but it started off as this very abstract form in wood that was shown here in 1968 at Philbrook," Burke adds.
When Philbrook opens the exhibit Allan Houser: A Celebration on May 25 at its Philbrook Downtown gallery in Tulsa, the original wood carving will be part of it – on loan from the Houser family.
Abstraction had entered his work, and Houser was always looking inside and out. He looked to Europe and at such artists as Brent Kusee, Hans Arp and Jacques Lipchitz, each of whom was taking chances with their forms, like Houser. Houser took the narrative of American Indian tradition and applied simplified, clean aesthetics to his approach, Rettig says.
Closer to home, his American Indian contemporaries has similar ideas.
The late Southern Cheyenne painter Walter Richard "Dick" West Sr. was also from Oklahoma and taught at Muskogee's Bacone College for many years. During his career, West explored abstraction in his creative process and in his paintings, Burke says. Another peer, Oscar Howe, a Dakota artist from South Dakota, painted in the cubist style. In 1958, Howe stirred up the Philbrook Indian Annual with his submission. The judges determined that his work didn't fit the then-working definition of Indian art.
"Howe, understandably, got very upset," Burke says, "and wrote a scathing letter back to the museum, basically saying, 'Who are you tell Indian artists what Indian art is?'"
The following year, the Annual added a nontraditional art category, and Howe took first place.
"All of these guys – Houser, Dick West and Oscar Howe – were kind of pushing the boundaries and thinking outside the box, painting outside the box, carving outside the box. They each had their own style and own statements. They were of a generation where they were saying, 'Nobody can tell us what is native art. We are making it up as we go along as our forefathers did as well,'" Burke says.
Just as native people decades before incorporated imported glass beads procured by trade into their traditional dress and culture, Houser and his contemporaries were bringing new perspective and materials to the expression of Indian art in their time.
By 1951, Houser was sitting on the judging panel at the Indian Annual. The last year he was involved was 1976. His influence was felt.
"The Indian Annual show was not just about non-native people giving out prizes to native artists. It was native artists giving prizes to native artists," Burke says. "…People like Houser were influential in terms of what they created, their own work, their own art. They were also influential in terms of being teachers and mentors … but he was also influential and impactful in terms of his critique of his peers of native artists, and that's something that has not been explored."