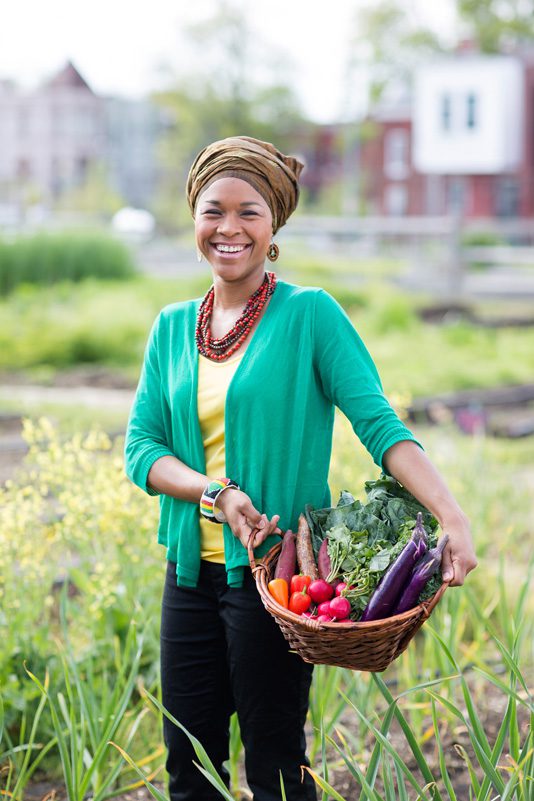 Nutritionist and culinary historian Tambra Stevenson's passion for food and health began early.
"I started a restaurant when I was a kid, and my sister was my loyal customer. The special of the day was always mom's leftovers," Stevenson recalls.
Stevenson was born in Oklahoma City and raised in Midwest City and attended Oklahoma State University.
"I originally went to Oklahoma State University as a biology pre-med major, but when a classmate heard how I was disgruntled with the path I was on, they recommended nutrition. It was a perfect fit."
Stevenson now lives in Washington, D.C., where she runs a community kitchen project called NativSol. At NativSol, Stevenson teaches families about the power of creating health through heritage foods – foods eaten by a person's ancestors. The idea for NativSol came through traveling and thinking deeply about purpose.
"After an outreach program I helped out with in Gulfport, Miss., I thought a lot about how I could impact my own community. My interest has always been in food, but I wanted to know my own role and how I could best help people," she says. "The American diet is not working well for so many people, so I started looking for solutions."
Part of that includes incorporating heritage foods. For those of African descent, Stevenson says, heritage foods include resilient crops like millet.
"If you want to be a strong and healthy person, you don't need to look any further than these types of foods. I'm a food hunter; I'm always looking for different things that can help people become healthier," Stevenson says. "I'm inspired by Julia Child and what she did to introduce French cuisine to the U.S. It's similar to what I want to do with African heritage foods."
Food hunting has taken Stevenson all over the world. Recently, it led to National Geographic Traveler magazine naming her a Traveler of the Year. She says she first caught the travel bug after visiting the Dominican Republic after college. She later went on to visit Ghana, Ethiopia, South America and more. Through it all, her Oklahoma heritage has been an integral part of her identity, Stevenson says.
"As I get older, and [after] having two children, I reflect more on Oklahoma and valuing where I came from. In Oklahoma, it's all about faith, food, family and football, and you can find that all over the world – except it might be soccer instead of football," she says. "Where I live now, it helps to have that Oklahoma mindset of not being impressed by job titles. In Oklahoma, it's all about how grounded you are, and that's been something that I've found has added value to many different situations. Even if you don't think much about where you're from, you have way more to offer than you can imagine."
Stevenson contributed to the exhibit Food: Our Global Kitchen at the National Geographic Museum by offering several cooking classes (west African soups and stews and east African spices). She held a Kwanzaa class during the holidays.
"I'm also hoping to go to Nigeria and the northern region of Africa," she says. "I want to learn more about their traditions."
Able to pursue her passion every day, Stevenson says she believes everyone has a purpose.
"I feel sometimes that I'm not doing enough, but I try to appreciate each step of the journey," she says. "Things have happened to me this year that I never thought would happen. I never thought I'd be in National Geographic, for one thing. But I hope others realize that it's important to believe in what you do."