Simply Sophisticated
"I wanted to use traditional materials but in an updated way," says Tyler Mosher of her new master bathroom in the Maple Ridge home she and her husband William recently renovated.
Because of her experience renovating homes via the couple's company, Nest, Mosher knew what she wanted.
"With four kids, someone wet always seems to be in our bathroom," she says, laughing.
To address this challenge, Mosher tiled every surface, including the walls. Large, inexpensive subway tile in a matte finish is straight stacked from floor to ceiling.
"I chose marble for the floor tile because I wanted it to feel warm and in keeping with the age of the house," she adds.
The vanity, crafted by Eric Fransen Custom Cabinetry, is wall mounted and provides the illusion of more space. Covering the vanity is Statuario marble installed in a waterfall design by Alvin Stone's Wesley Nelson.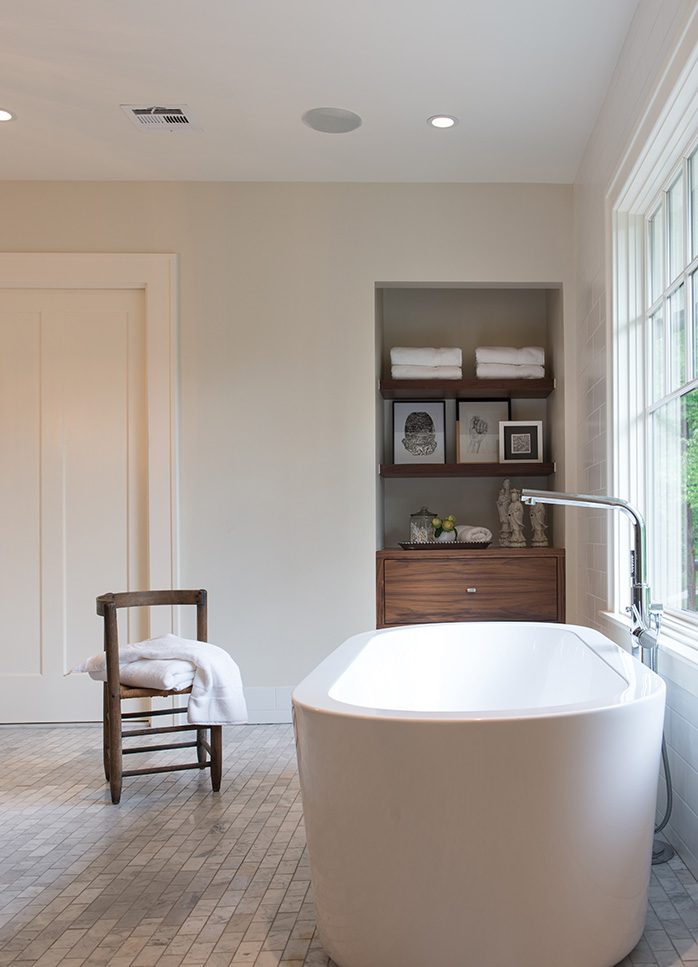 When a void behind the wall was discovered, Mosher collaborated with Fransen to fabricate walnut storage and shelves.
The chair and accessories come from Lori Sparkman, owner of Fifteenth and Home Furniture and Décor.
The wall sconces are from Sonneman and create an unexpected sparkle. "It's a bit of 'glam' in an otherwise clean room," she says.