[dropcap]The[/dropcap] summer is arriving, and it's time to get out and explore. No matter what your interests are, there are many options for you in the surrounding region. Whether you're an art lover or an avid fan of the outdoors, our travel feature has something for you.
From the art collections and natural beauty of Santa Fe, New Mexico, to the thermal springs and shopping in Hot Springs, Arkansas, you're sure to find somewhere worth visiting this summer.
Oklahoma
Oklahoma has many destinations available for day trips or overnight visits, providing options just a short drive away.
Sulphur With only 5,000 people, Sulphur packs a punch for visitors, and you could argue that Oklahoma's only national park, the Chickasaw National Recreation Area, and the surrounding Arbuckle Mountains provide the keys.
Known as Platt National Park from 1906 to 1976, the recreation area's centerpiece is the Travertine Nature Center. After hiking and exploring the recreation area, you can find perfect swimming at Little Niagara Falls, where spring-fed water averages 65 degrees, even in sultry July and August.
If you don't want to stay at one of the six campgrounds in the recreation area, an ideal place is the Artesian Hotel, Casino and Spa. The original Artesian, built in 1906, burned down in 1962, but the Chickasaw tribe rebuilt it and opened the sparkling resort in 2013.
Nearby, the Chickasaw Cultural Center has historical exhibits, art galleries, gardens, and traditional houses, villages, dances and demonstrations. "Built on the ideas, imagination and creativity of Chickasaws, this center incorporates nature, history, heritage and life ways to tell the ongoing story of the Chickasaw people," tribal Gov. Bill Anoatubby says. "We … celebrate the vision, resilience and spirit of the men, women and children of the Chickasaw Nation." – Brian Wilson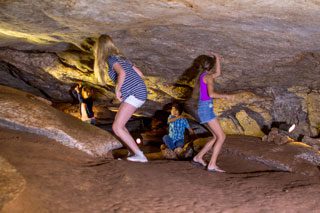 Alabaster Caverns Near Freedom
It may be 100 degrees with high humidity, but freedom from that furnace lies south of town, where it's 60 degrees inside the three-quarter-mile namesake of Alabaster Caverns State Park. Alabaster, a rare form of gypsum, makes this the world's largest gypsum cave open to everyone. Black alabaster exists in only three veins globally (Italy and China have the others). Watch parties occur Thursdays, Fridays and Saturdays during July as a million Mexican free-tailed bats fly into the night sky.