Did you know that Oklahoma City is home to one of the nation's largest firefighter museums? Located east of the OKC Zoo in the Adventure District, the 10,000-square-foot Oklahoma Firefighters Museum and Fallen and Living Firefighters Memorial Complex includes exhibits of the Oklahoma fire service; antique fire apparatus and equipment dating back to the mid-1700s; and over a dozen restored fire trucks.
"Completed in 1969, this building is totally funded by Oklahoma State Firefighters Association members," says Gene Brown, the museum director and a retired firefighter. "And they keep it going through their dues. We're working now towards a $9 million expansion because we've outgrown this building."
Founded in 1894, the OSFA was Oklahoma and Indian Territories' first firemen's association. Today, the OSFA is a clearing house for training, safety and legislative initiatives related to its members.
The OSFA museum houses Oklahoma's first fire station, originally located at Fort Supply in Indian Territory. Inside the 1869 structure is the hose cart, which drew water from horse troughs and ponds – although bucket brigades still existed at that time.
"The Guthrie Fire Department was one of OSFA's founding members, and we have their 1919 Seagrave Engine," says Brown.
There's also a Hunneman & Co. hand pumper, built in Boston. The company, owned by Paul Revere's apprentice William Hunneman, built the apparatus, fabricating some parts in Revere's copper rolling mill. A firefighter's helmet from the 1871 Great Chicago Fire is on display, alongside 5,500 firefighters' patches from around the world.
"We've got tidbits of everything," says Brown. "We have a fully functioning, early 20th century fire alarm system that would have been mounted on a pole, and opened with a key, to report a fire. And although we have a lot of Oklahoma artifacts, we also have global artifacts. We get visitors from everywhere, including a lot from Europe."
All school grades and age groups can enjoy the museum, which gives a half-price admission discount for groups of ten or more. And the gift shop offers many souvenirs, including some made by firefighter-owned businesses.
"Oklahoma has about 944 fire departments, and probably 85% of them are volunteer fire departments," says Brown.
Volunteer fire departments get a lot of their operating funds through events, such as pancake breakfasts. But any fire department fundraisers appreciate support. Donate to OSFA, a 501c3, through their website: osfa.info.
The museum is open Monday-Saturday, 9 a.m. to 4:30 p.m., and Sunday from 1 p.m. to 4:30 p.m. at 2716 N.E. 50th.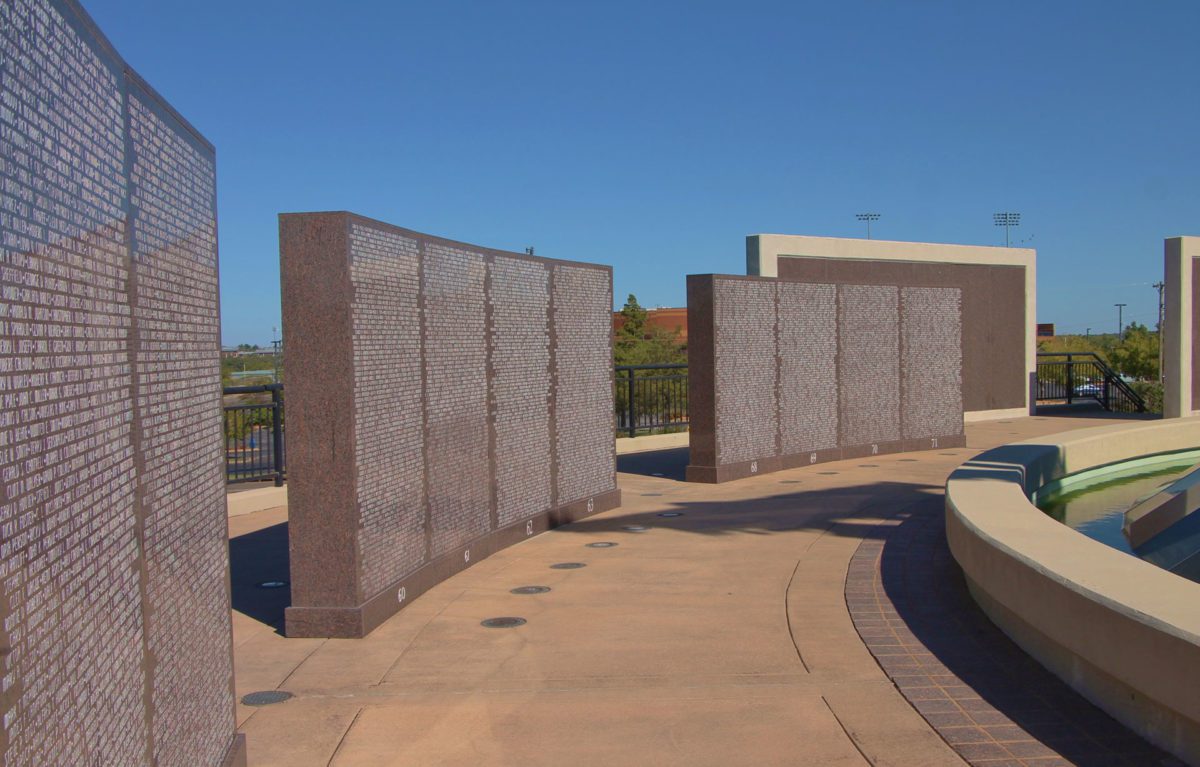 The museum's sobering monument, the Fallen and Living Firefighters Memorial, sits just outside. Names of Oklahoma firefighters are engraved on 48 panels, with up to 500 names on each. Names of those who died in the line of duty, from 1894 to the present, are engraved in the Wall of Valor. 
"Visitors often tell us about their relatives who died fighting Oklahoma fires, and the names aren't listed on the wall. We add those names if our research verifies the information," says Brown. 
The memorial includes "Just Another Day," a monument designed by artist Shahla Rahimi Reynolds, wife of an Oklahoma City Fire Department battalion chief.