For chef Kevin Lee, creating memorable meals is nothing new. During his 18 year career as a curator of culinary excellence, he has worked in some of Oklahoma City's most popular restaurants, including fine dining and Korean fast casual. He even operated the culinary team for an entire restaurant group. 
Born in Norman but raised in Connecticut, Korea and Seattle, Lee was exposed to a wide variety of cuisines. He didn't, however, grow up with aspirations of becoming a chef. His first dream was professional golf, but he changed his mind by the time he graduated high school. It was during a meal with a friend in Las Vegas that he realized his true passion was food. Watching the chef greet guests as he enjoyed a meal that remains one of his favorites, Lee decided that was the type of impact he wanted to make on people.
He returned to Oklahoma in 2009 and opened a burger joint with his cousin. Wanting more experience, he joined the apprenticeship program at The Coach House under chef Kurt Fleischfresser.
Fast forward to now, and Lee is bringing a passion project to north OKC: Birdie's Fried Chicken, which will be opening at 2201 N.W. 150th St. late this month or in early April. It will offer a dining experience that Lee feels is missing from area.
"Almost everyone likes eating fried chicken, but unless you drive to Okarche, there isn't a place to get the whole family-style set up in a full-service restaurant," he says.
Birdie's will offer a minimal menu focused around Korean fried chicken, along with traditional Oklahoma sides. Lee says that every country has some rendition of fried chicken, and he is excited to offer the crispy, double-fried version from his family's heritage.
According to Lee, most people think it is simply the sauce that defines Korean chicken. In reality, it's the special batter, which includes soybean powder, curry and rice powder, along with the fact that it is double-fried, making it super light and crispy and ensuring that it stays crunchy, even in sauce.
Speaking of sauce, several options include chili-garlic, fermented honey and soy. There will also be numerous dry rub selections. Guests will be able to choose from wings, tenders, boneless thighs and drums. Birdie's will offer freshly made biscuits, fries, coleslaw, and mac and cheese on the side, all in a family-friendly dining environment.
Lee enjoys the idea that Birdie's is so accessible and that almost anyone can come to enjoy his food. He says it's nice to feel comfortable asking his friends to check out his new concept.
And, when asked the impetus behind his desire to create what may seem like a simple concept for a chef with such a complex background, his answer makes perfect sense.
"Being able to showcase me as a chef through something like fried chicken is really great," he says. "When you make something so simple with a lot of love, it is so special – but it has to be perfect."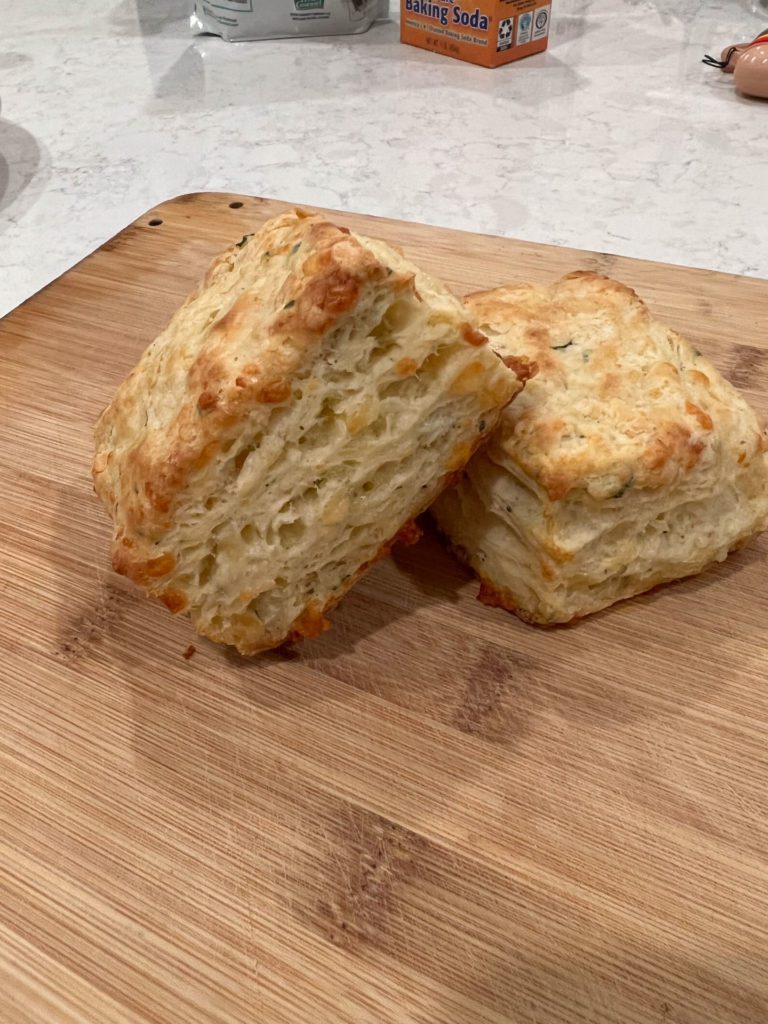 CHEDDAR AND SAGE BISCUITS
Makes 14 biscuits
512g AP flour
16g baking powder
4.5g baking Soda
11g salt
175g cheddar cheese
1/8C chives, finely chopped
170g butter, cold, cut in small pieces
390g buttermilk
Pulse the dries in the robocoupe or paddle in the mixer.
Add the white cheddar and sage and pulse until combined.
Add butter little at a time resembling a coarse meal. There should be pea sized butter chunks.
Add the buttermilk and mix until combined. Do not overmix.
On a lightly floured surface, roll the dough to ¾" thick.
Punch out the biscuits with a ring mold.
Place on a parchment paper lined sheet tray and bake at 450F high fan for 5 minutes, turn then 3-4 minutes more.