Dining at OKC's Grey Sweater is an adventure like few others you will experience in the state. It is a restaurant, yes, but one more like the Michelin-starred experiences of my travels than what I would expect to find five miles from my home.
"The seat is yours for the night." One of the standout elements of a dining experience at chef Andrew Black's flagship restaurant, that makes a guest feel more like they are attending a dinner party than a restaurant, is the absence of the concept of time. When you arrive, you are greeted and escorted to a table or seats at the dining counter that will not be available to other diners after your meal. You are welcome to relax and linger as long as you like. Because of that, reservations are required and for the safety of guests and staff, the restaurant is currently limited to 30 guests per night.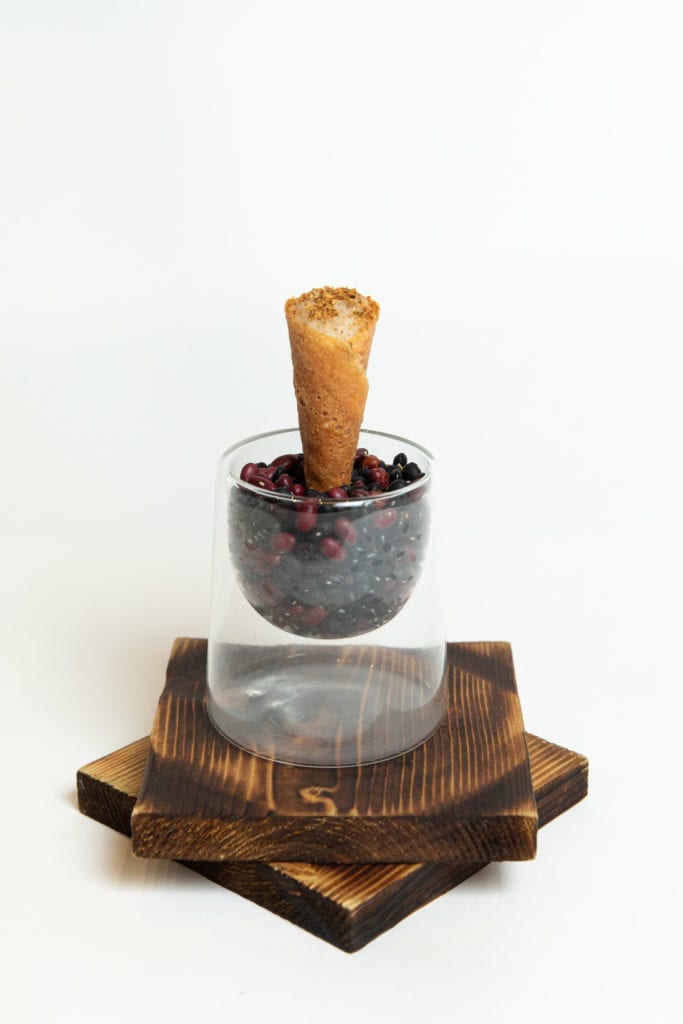 There are no menus. The only selections you need to make are how many courses you'll enjoy and what you'll drink with them. The rest is a beautifully choreographed combination of food, drink and hospitality that one is more likely to expect to see in larger cities.
Dinner options include a five ($87), seven ($127), or ten-course ($177) menu, along with the opportunity to order wine or cocktails a la carte or in pairing flights ($60-$150). The menu changes often and combines ingredients from all across the globe.
Chef Black's motto for the restaurant is "no allegiance," allowing exploration of all culinary genres. The only constant is the guarantee of adventure and the warmth of hospitality, as signified by the word "sweater" in the restaurant's name.
Chef Black's culinary career began a long way from OKC's Deep Deuce district. A native of Jamaica, he was raised learning to forage for culinary ingredients with his grandmother. Black's start in the hospitality industry came at age 14, working as a kitchen porter for a local resort. As he learned, his responsibilities expanded. Eventually, he moved to the United States to attend a university in Ohio.
After receiving his bachelor's degree in hotel management and culinary arts, Black returned to the Caribbean for four years, working as an executive sous chef.
His next sous chef job took him to the famous Peabody Hotel in Memphis, where he had the opportunity to learn under James Beard-recognized chef Andreas Kisler. After spending some time working at the Ritz in Paris, chef Black accepted the position as executive chef at the then-soon-to-be-reopened Skirvin Hotel and its Park Avenue Grill.
Since that time, Black had contemplated creating a chef's table concept of his own, allowing him the freedom to feed guests whatever was fresh, in season and on his mind. In October 2019, he and his partner Rudy Khouri made that dream a reality, alongside their other two concepts, La Baguette and Black Walnut.
The kitchen and dining spaces at Grey Sweater are inviting and open, giving guests more than just a meal – it allows them to experience the artistry of the process.
One should expect a visit to Grey Sweater to last two to three hours, depending on the number of courses selected. The sensory experience plays out chapter by chapter as each dish is presented. Rather than delivering a printed menu, the server personally explains each course and how it is intended to be enjoyed.
The most satisfying way to experience Grey Sweater is to be uninhibited. After you make your reservation, you will be contacted by a member of the hospitality team to confirm your booking and discuss any allergies or dietary restrictions. The best advice I can offer is to refrain from limiting your possibilities. If you are not allergic to it, don't rule it out. Surprises are around every corner, and you might miss out on an unexpected favorite bite if you rely on preconceived notions.