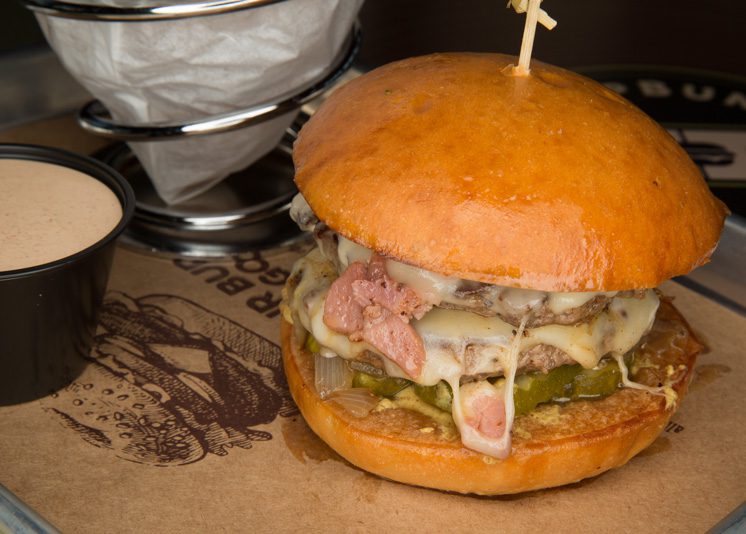 Drive down Tulsa's Peoria Avenue on a dark winter's night, and just past the Crow Creek Bridge you'll see a splash of light and color. Trees festooned with lights, glowing floor-to-ceiling windows and, through the glass, below an impossibly high ceiling swathed in pastel stripes, you'll see crowds of people eating far more than they intended.
Brash, brassy and lively, HopBunz is too young to be a legend, but the burgers and shakes are the stuff of which legends are made. Step over to the counter. There's a bewildering array of choices (five different patties, three choices of bun, 14 specialty burgers) but if this is your first trip, make it easy on yourself and order a Classic with American cheese, regular brioche bun.
In a few minutes you'll be eating a masterpiece. The meat, freshly ground in-house each morning, is a blend you won't find anywhere else. It's sirloin, chuck and bacon. The soft, yielding bun was baked a few hours ago at Pancho Anaya Bakery, delivered piping hot to the restaurant each morning. Dripping with juice and bursting with flavor, the rich, sizzling meat melts together with the cheese, and just the sight and smell of it triggers primal cravings.
Eat and be happy. Don't think of leaving without a shake. Your diet is already blown, and these shakes, made of rich custard, are about the best you'll ever find. The strawberry shake is made from fresh strawberry puree, and for $2 extra, they fortify that shake with Irish cream, coffee liqueurs or a splash of vodka. Sip and linger. There's full waiter service once you've placed your first order, so you might even try some of the local craft beers on tap.
There's a lot to try on future visits. Specialty burgers are created with layers of flavor. The Chicken Enchilada burger features a ground chicken patty subtly seasoned with herbs topped with tortilla strips, pepper jack cheese, salsa verde and a fried egg. Sushi-grade Ahi tuna is the star of the Maui Waui, which comes with fried nori, radish sprouts, pickled carrots and wasabi mayo. There's a burger topped with shiitake and portobello mushrooms sauteed in balsamic reduction. All fries are made with Kennebec potatoes; its high sugar content makes for a crispy outside and soft interior.
HopBunz has only one problem: It is too good. People see the slick, colorful decor and huge menu and, says General Manager Bryan Pasek, "they assume we're from out of town and part of a chain. But we're not. We're unique and locally owned, and we're excited to be a part of the Brookside community." 3330 S. Peoria Ave., Tulsa. www.hopbunz.com