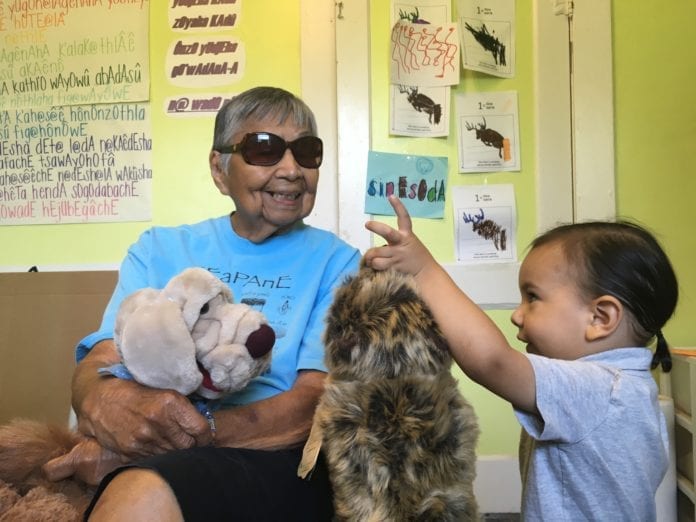 Yuchi chief Felix Brown is 64 and has developed neuropathy in his feet, so he's no longer able to stomp dance until dawn.
"But I try to stay awake," he says. "I don't want to miss anything."
Brown is one of two chiefs of the Duck Creek Ceremonial Grounds in Okmulgee County, which his great-uncle helped found in 1941 as a place to hold Yuchi reunions and sacred ceremonies.
And what he might miss, if he were to nod off during one of those marathons, is the feeling he gets when he witnesses traditions being handed down from one generation to the next.
"We've had many elders before us to come and dance where we are dancing now," he says. "They danced that same dance. You have that spirit that's with you there. My dad was there with them. I grew up there."
Gunner Baker, 14, is part of the newest generation, and he's an enthusiastic student of his Native American heritage. He's been stomp dancing since his preschool days, and now he's learning the Yuchi language from his cousin, Brent Deo.
"I love learning the language, and growing up a different way than other people grow up," says Baker.
The Yuchi people are not a federally recognized tribe, but can enroll as members of the Muscogee (Creek) Nation – a neighboring tribe the U.S. government forced them to travel with to Indian Territory during the Trail of Tears. Yet their dialect is distinct, a language isolate, which is why Richard Grounds helped to open the Sapulpa-based Yuchi Language Project in the 1990s, when the number of people who spoke Yuchi as a first language was dwindling.
"Our language is key to our understanding of our place in the world," he says. "We've taken on the responsibility of using that language and keeping it alive. It helps instill in the young people a sense of belonging as they interact with the elders."
The grant-funded program is free to the students, who began online learning after the pandemic hit.
"It needs to be in our everyday lives," Deo says of the language. "If it's limited to our ceremonial grounds, it's still subject to be lost."
Dezbah Evans joined the Yuchi Language Program in January as a teaching assistant, and says she was hired not only to teach, but to learn. She was assigned to the pre-school language immersion classes.
"They are surrounded so much by the Western culture and the English language," says Evans of her students. "This is a little haven that we've created for the language. Having these kids continue on in the language of their grandparents and great-grandparents is just going to uplift the whole community."
The Muscogee (Creek) Nation, which uses the 'Euchee' spelling, teaches the language to Creek and Yuchi students during afterschool classes, and offers a 10-week summer course focusing on the language of the Yuchi ceremonial grounds. The Yuchi also have ceremonial grounds known as Polecat and Sand Creek, and Evans says the Creek Nation helps to maintain the grounds.
The Green Corn Ceremony is a time of thanksgiving for one of the staple Native American crops. Brown says fasting and internal cleansing are also part of the ceremony, along with dancing.
Baker says he is one of four pole boys at Duck Creek.
"The fire that we dance around, the pole boys put the wood on it and keep it nice and bright," he says.
"We dance around a ceremonial pyre," says Brown. "We go counterclockwise around the fire, so our hearts are close to the fire. We worship the Creator with our hearts."