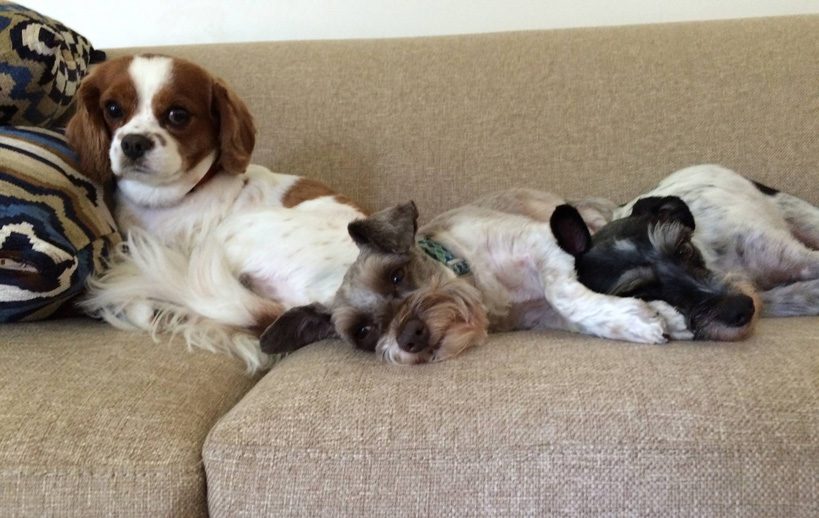 Through most of my life, I've had dogs. My first was Sadie, a black lab and chow mix. She stood guard over my childhood home in rural Oklahoma. She was an imposing dog, but as with most large breeds, her bark was much worst than her bite.
After Sadie passed, there came Cheyenne and Ruby. Then, as a companion in college, I adopted Francisco, a black chihuahua, from the Pets and People animal shelter in Yukon. He was a great friend and good study buddy.
Today, there are three dogs in my home, and all came to me serendipitously. Theo, a miniature schnauzer, was a rescue; Eliot, a miniature schnauzer and terrier mix, was adopted from Zoi's Animal Rescue; Charlie, my sweet King Charles cavalier spaniel, was also an unclaimed stray. I love these three pups – each with his own personality – more and more every day. My life would not be as rich or fulfilling without their cuddles, licks and affection.
Pets – and not just dogs – are becoming more integral to our everyday lives. According to the ASPCA, 47 percent of households in America have pets. That's a lot of dogs, cats, horses, lizards – you name it. In "The Pet Life" (p. 50), we explore some of the challenges, as well as benefits, of owning a pet. We offer tips, tricks and pointers for everything from alternative pet therapies to how to get the perfect picture of your pet. We also meet everyday pet owners and find out about their cherished members of the family.
For most pets, life is charmed. Sadly, there are millions of animals in shelters across the nation. If you are thinking of acquiring a pet for yourself or your family, please consider adopting as a first avenue.
Also in this issue: We love to eat, and Oklahoma's stellar restaurants, cafes, taquerias and delis make it easy to fill up on a hearty meal. In "Cheap Eats," (p. 40), we discuss 89 places to go for great meals for a bargain. For this feature, we made the max dollar amount $15; while that may not seem cheap to some (and that term is relative), we believe it represents a benchmark of value versus quality. And if you have a suggestion for fellow readers on great places to go for the cheap, let them hear about it at Facebook.com/okmag or on Twitter at @OklahomaMag.