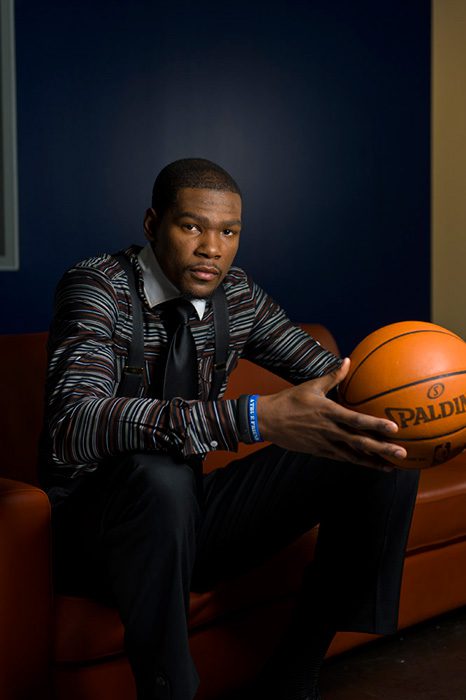 Originally published in the May 2012 issue of Oklahoma Magazine.
Kevin Durant wants his fans in Oklahoma and abroad to know one thing about him.
"People put me up on a pedestal, but I'm not a saint. I mess up. I get angry. I am not a perfect person," says the all-world small forward for the Oklahoma City Thunder.
It's not uncommon for superstars in any field to offer up words like these with a wink escorting the platitude – as if affirming their true perspective with a dubious confession.
But that's not Durant. Instead of a mocking wink, his eyes flame with intensity, his soft voice deepens. Sincerity is draped over him as easily and as naturally as is his Thunder uniform as he dresses for a photo shoot at the team's former practice facility on North Lincoln. He means what he says, and means for it to be an important message to the fans who have taken to him as an adopted son, the public face of a city on the cusp of excellence in a state with a culture of engrained humility. Cynics and veteran sportswriters decry the lack of candor when it comes to interviewing professional athletes today. Those cynics would benefit from spending a little time around Kevin Durant.
It's understandable that Thunder fans and Oklahoma boosters in general might be a bit effusive in praising Durant. His pedestal is built on earnest legs of adulation. Since being drafted second overall in the 2007 NBA draft, Durant has averaged more than 25 points per game, led the league in scoring last season, and, among dozens of other quick accomplishments, has led the Thunder from being a novelty to a respected contender for the league finals for years to come.
Still, it isn't Durant's on-court wizardry alone that has made him the Sooner State's favorite athletic import. It's how he conducts himself on and off the court. In terms of involvement in the community, sportsmanship, dignity and class, the 24-year-old phenom could teach his peers, from Los Angeles to Miami, a few things.
"You're going to play in the NBA and your brother is going to be there to help you."
"I don't think you could find a person who could fault Kevin for anything," says Oklahoma City Chamber of Commerce President and prominent Thunder booster Roy Williams. "Kevin's way of conducting himself on and off the court has been 100 percent embraced. It's been above reproach."
Another Thunder fan, Oklahoma City Mayor Mick Cornett, witnesses Durant's influence regularly.
"He's our first star," Cornett says. "Kevin's commitment to Oklahoma City impacts every kid in the city in some way. So many young kids need inspiration – an example of how hard work pays off. The values he brings to Oklahoma City help young people's validation for what they hear in school and church."
But sitting in the dressing room, talking teamwork, pro ball and his own rapid rise to fame, Durant seems less like an NBA superstar than he does an eager, hard-working rookie trying to make the cut. There is no entourage, no bloated ego, no chip on his shoulder – veritable calling cards of pro athletes in the Lebron and "pay the man" era of sports. Although imposing in a lanky way at six feet, nine inches and 240 pounds, he seems unimpressed with himself. Even when he fields common questions with a party-line reply, there's one difference between Durant and many other pro athletes: It's not cliché when it's sincere. And Durant comes across as sincere to a fault.
It's little wonder Oklahoma has embraced the Thunder's No. 35 with open arms.