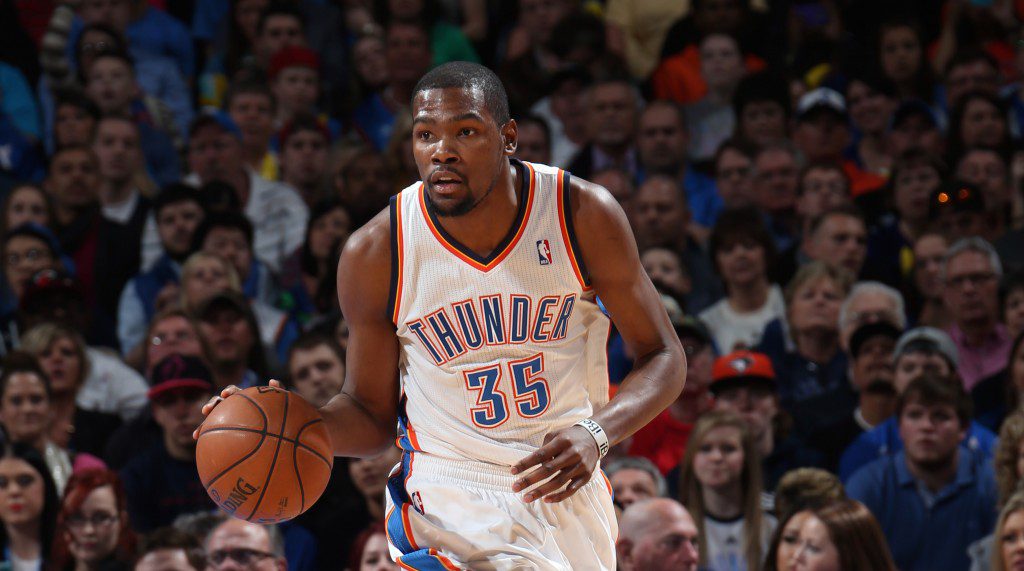 A Star Is Born
If there is one thing Kevin Durant has learned being in Oklahoma, it's the intensity of the OU-OSU rivalry. And he's learned to stay out of it.
"UT, man, all day, Texas," he says, teasing and diplomatically sidestepping the issue. If chided, he'll still throw a "Hook 'Em Horns" sign.
Durant retains his loyalty to the University of Texas for good reason. Although he played just one season for the team, it was quite a season. Coach Rick Barnes was rebuilding the team, and there was opportunity for Durant to step in and play as a freshman. As one of three first-year starters, Durant was among the nation's top 10 scorers and rebounders after just a couple of months. By the middle of the season, most analysts who saw him play called him the best offensive player in college basketball. After inscribing his name in several spots in the record books, he was named AP College Player of the Year. Texas lost to Kansas in the championship game of the Big 12 Tournament 88-84 despite Durant's 37 points. The University of Southern California subsequently took out Texas in the NCAA Tournament.
Just a few weeks later, Durant declared for the NBA draft. He was selected second overall by the then-Seattle Supersonics.
"It was an opportunity to pursue a dream," he says. "I figured it was the right time. I did really want to win a championship for UT, but everything fell into place. I was coming into a team that was rebuilding. It was really a perfect storm. My mom was okay with the decision. She knew it was right."
Perhaps surprisingly, Durant says he didn't entirely feel that his destiny had been achieved until he actually heard his name called in the draft.
"It was an opportunity to pursue a dream.I figured it was the right time."
"I'd been preparing for it so much, and it didn't overwhelm me because it was supposed to be destiny," he says, referencing the minister's words when he was a child. "Still, until I heard my name called…"
Being drafted into the NBA meant something to the entire family. Among other things, it was the culmination of the combined efforts of Durant's mom and family, supportive coaches and influences and Durant's own dedication to the work that success required.
"It meant a lot to my mom and grandma for me to make it," Durant says. He pauses a moment before continuing with the confidence only the pride of one's parents can induce. "I had friends who stepped out of line, and I only didn't because I was afraid of my mom. When you're a kid you don't appreciate what parents do for you. You don't know why they do the things they do.
"I bought my mom a house," he continues. "She'd never lived in her own house, never owned a house."
They're close today still, Durant and his family. While most of the family lives in the D.C. area still, Wanda Pratt is a not-uncommon presence at Thunder games and in Oklahoma City. ("She's chillin' at [Durant's] home right now," Durant says to emphasize his point.) His brother handles much of the business side of Durant's career.
Still, Durant's first year in the NBA was less successful than most of the organized teams he'd ever played on. Durant excelled personally, averaging more than 20 points a game and being an obvious selection as NBA Rookie of the Year. But the franchise won just 20 games, and after a failed bid for a new stadium, was relocated to Oklahoma City for the 2008-2009 season and renamed the Thunder.