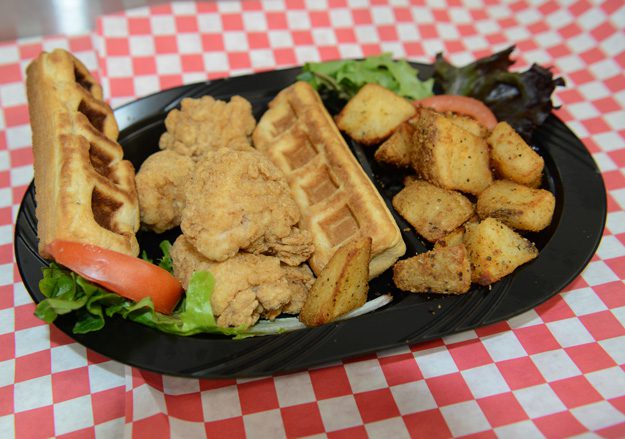 [dropcap]Luanne[/dropcap] Goodacre and her Child Nutrition Department team have some exciting things going on at Broken Arrow High School. Aside from providing meals for 3,600 students every day from traditional lunch lines and free-standing carts, the team has added a food truck into the mix. The idea to add the BA Curbside Cafe as part of the lunch service stemmed from the overwhelming popularity of local food trucks, the success of food trucks on many college campuses and the "hip" factor that they could potentially add to school lunches. And while fun food is a benefit of the truck, it is not the primary purpose. Having an extra source from which to serve food, ideally, helps to keep kids on campus during lunch hours as well as providing another outlet for serving during the two lunch periods the school currently has.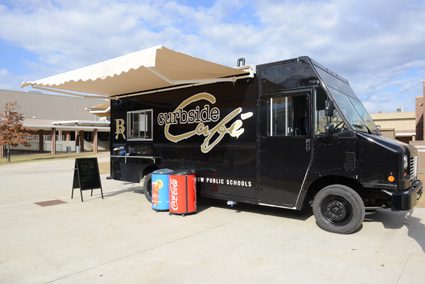 The truck offers two to three rotating daily options. Monday's Dog Days Frito chili pie and Wednesday's chicken and waffles have both been big hits among students. Made-to-order paninis, Taco Tuesdays and Thursdays, and grilled cheese days are not far behind. Profits from the sale of meals at the food truck, go back into the Child Nutrition Department to maintain equipment, improve eating areas and fund ideas like the addition of a food truck. The menu items are still evolving, and the Child Nutrition Department is keeping a close eye on the popularity of various offerings. If all of the school's options seem too good to be healthy, think again – each and every meal meets the USDA's strict nutrition guidelines for school lunches. Requirements for minimum and maximum calorie counts, sodium limits, food group components, whole grain content and minimum protein or protein equivalent content must be (and are) addressed by every lunch served at Broken Arrow High School.
Not only are these standards important to maintain student health, but they are also important because meeting those standards ensures federal funding for the school's food service programs. One of those programs is the Summer Food Service Program, which provides free meals to any child between the ages of one and 18 during the months of June and July when students are out of school and consequently away from a reliable source of nutrition. Generally, the Summer Food Service Program is available from fixed locations, such as schools or community centers, which are sometimes out of reach for students during the summer. The Child Nutrition Department plans on using its new food truck to take balanced nutrition directly to children during the summer months so that they are not forced to travel a long distance, or at all, to receive a meal.