You'll never get labeled as ordinary if you perform in a bagpipe band, whose members can come from all walks of life and, on occasion, without any experience with the instrument.
"The Great Highland bagpipe, as it is officially known, isn't the easiest instrument to play, but it is definitely one of the most thrilling," says Cody Wagnon, pipe major of the Tulsa Metro Pipe Band. "And you don't have to be Scottish to play the pipes. Our band has members from a wide array of cultural backgrounds. The bottom line is we welcome everyone."
Cindy Gordon, manager for the Oklahoma Scottish Pipes and Drums band, says she became involved with bagpipes because she has played some sort of musical instrument since starting with the alto saxophone as a fourth-grader.
"I always thought the bagpipes were cool," she says. "Plus, I'm Scottish, so when I had some time later in my life I went about learning them. It also satisfies my love of team sports – and being in a band is very much a team effort."
Paul Sinclair, a leader in the Oklahoma City-based group, started a Facebook page so bagpipe bands throughout the state could have a common venue to post photos, announcements, videos, audio recordings and used equipment for sale or trade. The site, Oklahoma Pipe Band Coalition, has 391 followers.
Gordon's band started in 1998 with just a handful of pipers playing whatever gigs they could land for whatever money they could get.
"Now we sometimes have more gigs than we can manage," Gordon says. "Two of those original guys are still with us: Paul [Sinclair], our pipe major, and Benny Hughes, our 92-year-old drum major, who has the position for life.
"Our band is different from many because we work hard to remain drama-free. Politics and religion are off limits for discussion. Despite our incredible differences in beliefs and backgrounds, we all work to make sure everyone feels welcome. That's important to us – we want to make sure the band is a good fit for any new members, so we always invite people to come to our practices. We are great friends and have a ton of fun."
Other leadership positions include pipe sergeant, drum sergeant, quartermaster and secretary-treasurer. The number of band members varies from year to year; today, the OKC group has 14 people of all ages, Gordon says.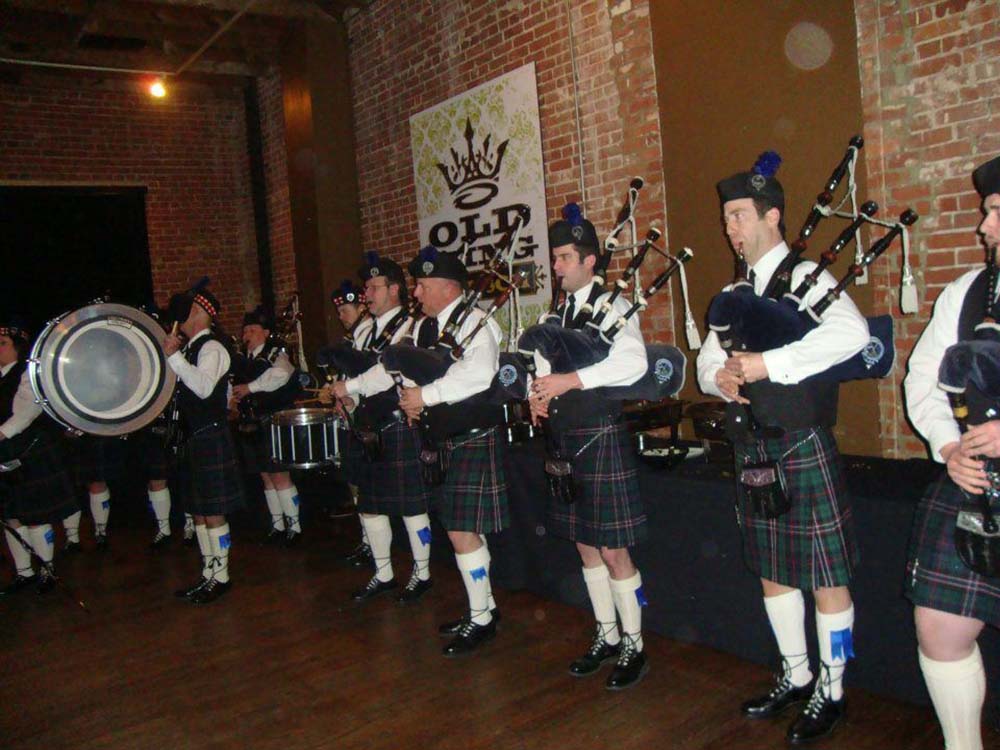 "Last year, we had a 15-year-old snare drummer," she says. "He was great but had to leave because his high school schedule kept him too busy to continue with the band. Some of our members are in their 60s.
"Our most difficult people to recruit are snare drummers. Everyone wants to play the bagpipes. Whenever we find out someone can play the snare drums, we ask them to do that instead."
Wagnon became interested in the instrument in his early teens after seeing a piper at Tulsa's Performing Arts Center PAC. He took lessons with the Anderson Pipe Band, which evolved into the Tulsa Metro Pipe Band, and attended Lyon College in Arkansas on a Scottish heritage scholarship for piping and pipe band.
The Tulsa pipe band, like the OKC group, has an array of ages – from teens to 70-year-olds. It offers free lessons to beginners.
As for venues, Gordon says: "You name it; we've likely played it. Parades, gigs at clubs (especially on St. Patrick's Day), solo or band performances at funerals or weddings, birthday parties, retirement parties, festivals and art walks. And memorial services for veterans, firefighters and police, as well as Memorial Day … at cemeteries."
Wagnon's Tulsa group was the host band last month at Broken Arrow's 40th ScotFest, often ranked as one of the best Scottish cultural events in the country.