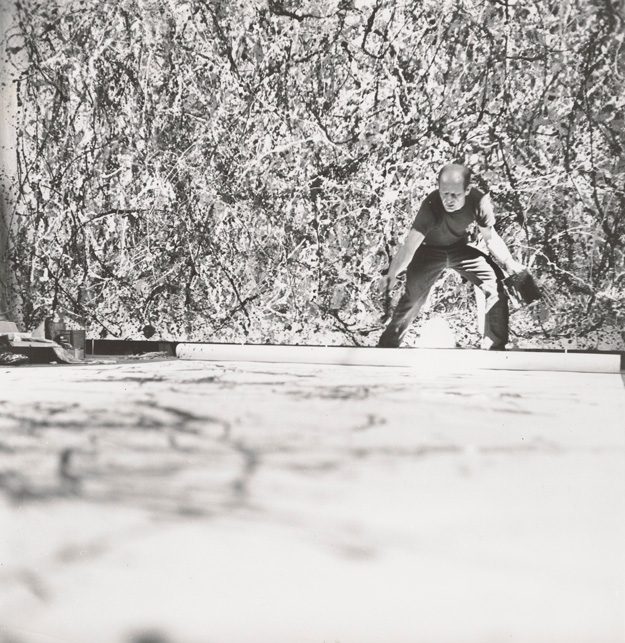 [dropcap]"[/dropcap][dropcap]Use[/dropcap] your eyes. Look, look and look again. The brilliance of Pollock is that he creates the wandering eye. Your eye cannot simply rest in the classical, perspectival way. Your eye feverishly scans and examines the canvas. Looking at a Pollock painting is a dynamic, participatory experience. He gives back to you the experience of looking. Just give in to what your eye wants to do."
That's the advice that the Dallas Museum of Art's Senior Curator of Contemporary Art, Gavin Delahunty offers for first-time Pollock viewers. And there should be plenty of them out there. The museum's expansive exhibition, Jackson Pollock: Blind Spots, is only the third of its kind in the U.S. since Pollock died in 1956. It's the first of its kind outside of New York City. The exhibition runs through March 20, 2016.
Blind Spots offers another first as well, and it's one that Pollock lovers and newbies alike should appreciate. This is the largest assembly – numbering 31 – of the artist's famous black paintings ever to sit under one roof.
"Pollock's extraordinary, still controversial black paintings of 1951 finally get the attention they deserve. They prove to be just as radical as his earlier, more celebrated, all-over drip paintings, and speak even more to our own time as well," noted John Elderfield, Chief Curator Emeritus of Painting and Sculpture at New York City's Museum of Modern Art.
[pullquote]The final work in the show, Portrait and a Dream, from 1953, leaves your tongue wagging, makes you think tantalizingly of what could have come next. What might have happened? That's the big takeaway."[/pullquote]Featuring more than 70 of Pollock's works, even veteran Pollock fans will gain a new perspective on the artist. Blind Spots isn't limited to paintings. It offers rarely seen examples of Pollock's sculptures, drawings and prints.
"Pollock wasn't just the Pollock that we're familiar with, the artist with these dripped paintings for which he became world famous in the late 1940s and early 1950s. He was an artist with many strings on his bow, so to speak, and had ambitions and wants and desires. He pushed himself, like all great artists, to the limits of his technical skill. [Seeing this] is like reacquainting yourself with an old friend after many years and seeing something completely different," said Delahunty.
Delahunty especially recommends the sculptures because it's a medium not usually associated with Pollock. There are five in the show, with an especially important terracotta offering from 1949. Because the sculptures are never exhibited, it's not widely known that Pollock worked with them from the 1930s until his death. Only six of Pollock's sculptures remain, and they give a startling three-dimensional view of his approach to painting.
The exhibition aims to give viewers a sense of the most experimental and radical point in Pollock's career. Two rooms dedicated to the artist's work on paper, Delahunty says, do an especially good job of capturing this charged, playful moment in the artist's life. They represent what critics see as Pollock's most important work as a draftsman.
Those same critics are calling this a "once in a lifetime" exhibition. Many of the works haven't been presented in over 50 years, and several were considered lost until Delahunty unearthed them. The exhibition takes its name from Delahunty's efforts to bring previous blind spots in Pollock's career to light. He's given Oklahomans another reason to make the journey to Texas other than an OU-Texas football game.
"This artist was taken away from us at a moment when he was at his most experimental, radical, ambitious and dexterous moment," added Delahunty. "The final work in the show, Portrait and a Dream, from 1953, leaves your tongue wagging, makes you think tantalizingly of what could have come next. What might have happened? That's the big takeaway. Knowing that this truly was an artist of great genius who died tragically too young."