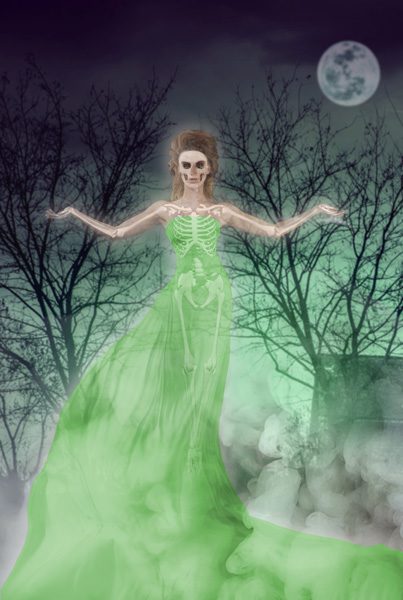 [dropcap]A[/dropcap] chilling ghost story always starts with a mysterious, gruesome murder. This is certainly the case of Avard's Woman in Green.
Mildred Anne Reynolds, formerly Anne Newlin, was a new wife, married to Dee Reynolds, the basketball coach at Avard High School, in Woods County.
The morning of March 13, 1956, she was following her usual routine of driving into Alva for her classes at Northwest Oklahoma State University while wearing a green dress. But on this day, she left class early, driving back to the couple's farmhouse located just north of Avard, about 15 miles away.
Hours later, Anne Reynolds' car was found less than two miles from her house, smoldering from a fire. Her body was charred beyond recognition. The fire had been so intense that her right leg from the knee down had been burned off. One of her shoes, spattered in blood, was located 250 feet from the car, and her coat was 10 feet from the vehicle. There was an extra set of car tracks near the scene.
Her death certificate, No. 005081, has both homicide and accidental death listed as causes of death. It does state that there "was a lots of blood stains" at the crime scene. But investigators in 1956 noted the woman had previously suffered from dizzy spells, and there was the possibility the brake drum overheated, ignited the fuel tank and set off an explosion.
Woods County Sheriff Rudy Briggs Jr. still has three pieces of evidence from the crime scene: a gas tank from the car, a limb from where the car supposedly hit a tree, and Reynolds' rosary beads.
Briggs says it is a cold case that his office is still treating as a homicide.
Lifelong Avard resident Nan Wheatley, now in her 60s, will tell visitors that somebody local did it.
She also will tell visitors she met Reynolds 46 years later.
Wheatley operated a café called Vina Rae's Grill in the former Avard High School gymnasium when she says the headless figure of a woman came through the walls and then vanished. That was on Memorial Day 2002.
Wheatley claims to have heard unexplained noises and seen wisps of an image passing by the view of students when the building was the high school gym where Dee Reynolds coached. Earlier in 2002, a café employee attempted to serve a woman in a green dress at the counter; the employee looked away to grab a pad to take the woman's order, but when she turned back, the woman was gone.
Wheatley claims she would hear sounds resembling someone walking with a peg leg in another part of the old gym, only to find no one there. She only read later that Reynolds' leg had been burned off.
The reported sightings led paranormal groups from both Tulsa and Enid to record what they saw in the gym on Halloween night 2003. Glowing orbs and a faint image at the end of the hallway in a photo was the extent of the two groups' findings.
Wheatley says the two investigating groups told her there was more than one ghost in the old gym. One is a male ghost named Isaac, who Wheatley claims tried to push her down a flight of stairs. She says the paranormal groups chased him off to a nearby vacant building.
Most of the businesses in Avard have closed up. The grain cooperative closed some time ago, and with no one left to serve, Wheatley closed her café five years ago.
Today, 26 people live in Avard among the vacant buildings of the town. The gym where Dee Reynolds coached after the mysterious death of his wife is locked up and rarely entered – the building's contents left alone to the creaks and moaning caused by the wind.