Dining
Asian
Asian cuisine may cover a variety of different cultures and styles, but you can't go wrong with any of these mouthwatering dishes. Tulsans turn to KEO for a modern take on Asian dining that draws from Southeast Asia. Ri Le's has a reputation as the best Vietnamese food in Tulsa, and Lanna Thai serves Thai food with live music on the weekends.
In OKC, Sushi Neko has a wide variety of Japanese fare that guarantees everyone will find something to enjoy. Chae is known for its contemporary Korean dishes and cocktails, and Grand House delights diners with an extensive menu of Chinese cuisine.
Bakery
Whether you're craving cupcakes, cookies or croissants, Tulsa and OKC have many places ready to please. Merritt's Bakery is a staple for baked treats in Tulsa with several locations, making it convenient to satisfy your sweet tooth. Ann's Bakery is Tulsa's oldest scratch bakery, known for delicious treats since 1938. Queenie's Cafe and Bakery serves pies, cakes and cookies but switches it up with salads, sandwiches and burgers.
Cafe 501 has a loyal following in OKC for its breads, cookies and cupcakes, and Cuppies and Joe serves coffee along with an extensive cupcake menu in a cozy and welcoming atmosphere. La Baguette Bistro has been pleasing diners in Norman with its fresh-baked European breads and pastries since 1984.
Barbecue Restaurant
Oklahoma is known for having some of the country's best barbecue, and these restaurants stand tall among giants. Elmer's BBQ is known for its old-school style and some of the best side dishes in Tulsa. The line for Burn Co. Barbeque often stretches down Boston Avenue, though showing up late may give you a chance to try the famous refugee plate. Rib Crib specializes in hickory-smoked barbecue in a casual setting. Oklahoma Joe's has a stellar reputation for its pulled pork, and burnt ends, and Albert G's Bar-B-Q is also a favorite among Tulsa readers for quality service and fare.
In OKC, Iron Star offers its own take on barbecue in a fine dining atmosphere. Earl's Rib Palace has six locations in the OKC metro area and has been a barbecue staple for 21 years, and Backdoor Barbecue offers great food with friendly service.
Breakfast
Breakfast is the most important meal of the day, and you deserve more than a quick granola bar on the way to work. Brookside by Day is a favorite among our Tulsa readers for its classic breakfast options and friendly staff. Phill's Diner serves some of the best hash browns in town and has kept Tulsans happy for years. Savoy Restaurant serves family-style meals from recipes dating back to 1925, and Old School Bagel Cafe lives up to its name by using the classic technique of water-boiling their bagels before baking them.
In OKC, Kitchen No. 324 serves seasonally inspired dishes that are made using locally sourced and sustainably farmed ingredients when possible. Classen Grill has been a local classic for years, and Beverly's Pancake House serves a variety of – you guessed it – pancakes, along with chickens and waffles.
Burger
Chowing down on a juicy hamburger is one of life's simple joys. Ron's Hamburgers and Chili has been impressing Tulsans since 1975. Fat Guy's Burger Bar serves up a superb two-patty burger right by ONEOK Field. Brownie's serves gourmet burgers with all the fixins', and Billy's on the Square can make you a handcrafted burgers in a laid back atmosphere.
Flatire Burgers boasts 19 different burgers to choose from, so you'll never get tired of the grub. The Garage's many savory patties will make your mouth water, and for fast yet delicious fare, visit Freddy's Frozen Custard and Steakburgers.
Coffee Shop
Coffee: nectar from the (caffeinated) gods. DoubleShot Coffee Company flies their beans in from around the world and sells awesome merch to boot. Topeca Coffee proudly roasts in Tulsa and offers every type of bean imaginable. Mecca Coffee Company can whip up your favorite drink with ease, or you can chow down on vegan snacks alongside your brew at Chimera Cafe. Coffee House on Cherry Street is a popular hangout with live music and custom made drinks.
OKC residents prefer the ever-reliable behemoth Starbucks, while others turn to The Red Cup for tasty chai, mochas and more. Many can't get enough of All About Cha with its custom baked goods, coffee and tea.
Deli/Sandwich Shop
Nothing is quite as simple and comforting as a sandwich, and PJ's Sandwich Shoppe offers fresh bread plus quality meats and veggies. Jason's Deli has every type of sandwich imaginable, and Felini's Cafe and Bakery serves up custom orders so every customer is satisfied. Any sandwich list wouldn't be complete without Bill and Ruth's, and Trenchers Delicatessen has all the freshest ingredients for the perfect sandwich.
For the OKC 'wich-lovers, City Bites takes the cake with excellent service and products. Someplace Else, A Deli and Bakery has a menu teeming with food to explore, and ND Foods serves up generous portions in a cozy atmosphere.
Dessert
Everyone loves dessert, especially at Glacier Confection, whose handcrafted treats were included in the Food Network's "Best Chocolate in America" list in 2017. Michael V's can whip up baked fudge, layered cakes and pie, and you'll have a hard time choosing one of many delicious desserts at The Cheesecake Factory.
For a swanky atmosphere and unique treats like peanut dacquoise and tart, Vast in OKC is just the place to go. For an affordable, laid-back atmosphere and hand-baked desserts, visit Cuppies and Joe. Cheever's Cafe will surely conclude your meal with a smile with its quirky sweet strawberry biscuits and ice cream balls.
Diner
Is there anything more quintessentially American than a cozy diner? Phill's Diner has cultivated a loyal following with its delicious breakfast, lunch and dinner options. Tally's Good Food Cafe says it all in the name: the goodness of the food, like chicken fried steak and burgers, can't be overstated. At Dilly Diner, you'll come for the (scrumptious) fare, but stay for the excellent service and retro atmosphere.
Keep it sunny at Sunnyside Diner in OKC with affordable combo meals that will get your morning started off right. In Norman, The Diner offers authentic digs and tasty grub, and Good Gravy! Diner slathers its breakfast options in your choice of many delectable gravy options.
Fast Food
Fast food is the perfect antidote to a long day. Oklahomans choose Arby's as their top pick for the unbeatable curly fries and roast beef. Others love the vibe and grub at SONIC Drive–In, whose tater tots are a thing to be admired. For authentic yet affordable Tex-Mex, Taco Bueno is just the ticket, and if you're craving chicken nuggets or a burger, head to Wendy's.
Fine Dining
Suit up and visit Polo Grill in Tulsa for award-winning seasonal menus and an enviable wine list. If you're craving West coast-influenced fare, stop by Palace Cafe or visit Juniper for craft cocktails and stupendous service. Tallgrass Prairie Table offers you a romantic ambiance paired with wholesome, farm-to-table entrees.
The service and fare at Mickey Mantle's Steakhouse in OKC can't be beat. To dine with a view, Vast is to be the hottest ticket in town, and Viceroy Grille will supply you with a one-of-a-kind upscale dining experience.
Food Truck
Food trucks are the perfect way to enjoy the great outdoors with the restaurant fare you love. MooChewSooey BBQ is run by a husband and wife team passionate about barbecue, and they also cater if you're so inclined. Lone Wolf Banh Mi is again run by a married duo who combine Vietnamese and French cuisine for wildly popular dishes, and Andolini's Pizzeria impresses Tulsans with its massive amount of pizza options.
Big Truck Tacos in OKC serves up the best Mexican cuisine money can buy. For both sweet and savory crepe options, head to Crepes N Tater Cakes, or visit I Don't Know and I Don't Care for everything from carnitas to grilled cheese.
Ice Cream Shop
You can never go wrong with a frozen treat from Braum's, whose sundaes are a classic choice for a summer night. Baskin–Robbins creates mixes, smoothies, shakes and cakes, and visit Marble Slab Creamery to concoct your own personalized sweet treat.
Italian
The finest wines, pastas and pizzas are all found at Oklahoma's glorious Italian restaurants. Take Dalesandro's Italian Cuisine, whose fresh ingredients are second to none. Ti Amo Ristorante Italiano has two locations in Tulsa and creates a romantic atmosphere for a lovely night out. You can't go wrong with the butternut squash ravoili or gnocchi at Biga, or visit Villa Ravenna with its fare for even the most sophisticated of palates.
OKC Italian food lovers head to Stella Modern Italian Cuisine for an elegant atmosphere and scrumptious lunch, brunch and dinner options. Gabriella's Italian Grill and Pizzeria boasts some of the most delicious pizza in the city, and Moni's Pasta and Pizza offers up award-winning Italian fare in a warm atmosphere.
Margarita
The perfect margarita is hard to find and impossible to forget. Tulsans imbibe at Mi Cocina, with its premium tequila and many marg flavors. Others visit El Maguey Mexican Restaurant for delectable on-the-rocks or frozen options. And for a relaxed patio view and handmade margs, head to Cafe Ole, nestled in Brookside.
Iguana Mexican Grill is the perfect stop in OKC to relax with a margarita after a long day. Fuzzy's Taco Shop offers fishbowl cocktails for big groups or a plethora of flavored margs just for you. Ted's Cafe Escondido is serious about their specialty libations, and Abuelo's can provide skinny, platinum, frozen or on-the-rocks versions of any drink you crave.
Mexican
It's no secret – Oklahomans adore Mexican food, and Tulsans visit Mi Cocina for tasty Mexican fare in an upscale environment. The patio views at Los Cabos Mexican Grill and Cantina are second to none, and Elote Cafe and Catering has dozens of mouth-watering dishes to try, like the delectable puffy tacos. For a rooftop view and savory fare, visit El Guapo's Cantina downtown, or try Senor Tequila Mexican Grill and Cantina for its legendary drinks, apps and entrees. And diners in both Tulsa and OKC head to Ted's Cafe Escondido for a traditional meal in a whimsical environment. 
Diners in OKC try Iguana Mexican Grill for twists on traditional dishes, and others love Alfredo's Mexican Cafe for the casual setting and wide array of dishes.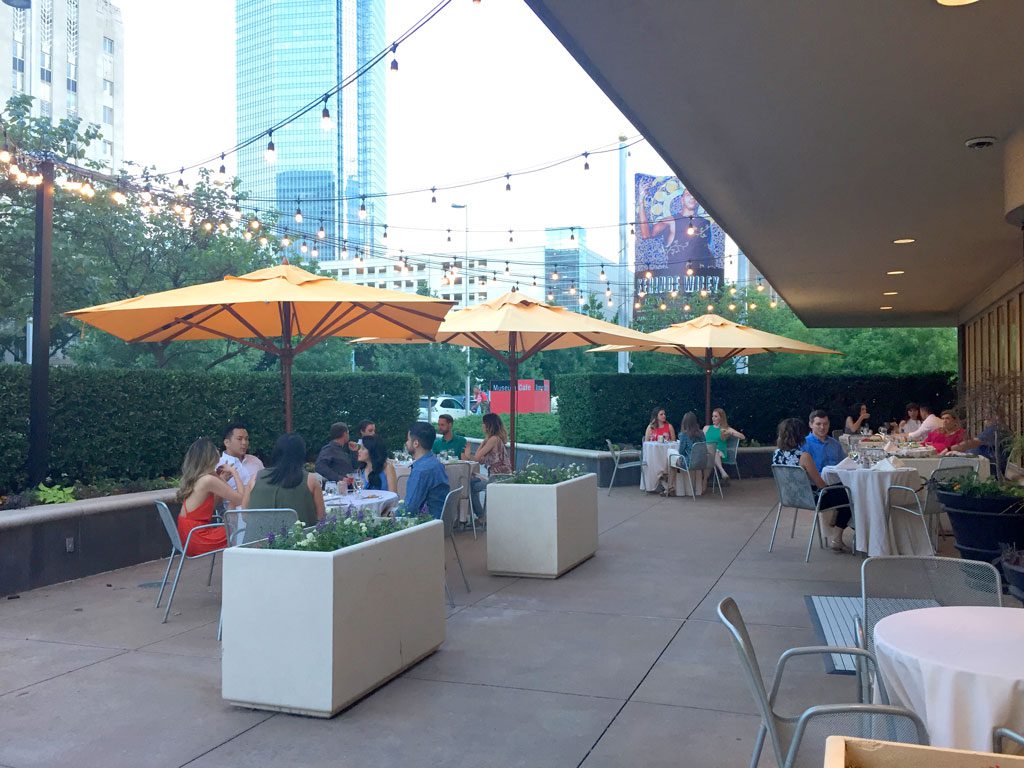 Outside Dining
Everyone loves dinner with a view, especially at Los Cabos Mexican Grill and Cantina, which offers an outdoor cabana bar to get you in the vacation spirit. Experience rooftop views and delicious drinks at El Guapo's Cantina, or take in the river-front panorama at Blue Rose Cafe.
Fans of outdoor dining in OKC head to Museum Cafe, located inside the Oklahoma City Museum of Art, for a sophisticated patio experience. Others kick back and relax outside at Louie's Grill and Bar, while some love the rooftop bar and views at Cafe do Brasil.
Pizza
All pizza is good pizza, but some choices are a cut above the rest. Tulsa and OKC residents alike voted Hideaway Pizza to the top with its wide range of flavors for every kind of pizza lover. You can't beat the ambiance and fresh flavors at Andolini's Pizzeria, and Mazzio's is another classic choice for delivery or dine-in. Both sets of voters also agree that Upper Crust Pizza is in the highest echelon of pies, and the mouthwatering brick-oven choices at Hey Mambo in Tulsa will be sure to please.
OKC dwellers also voted up The Wedge Pizzeria for the highest quality ingredients and tasty fare.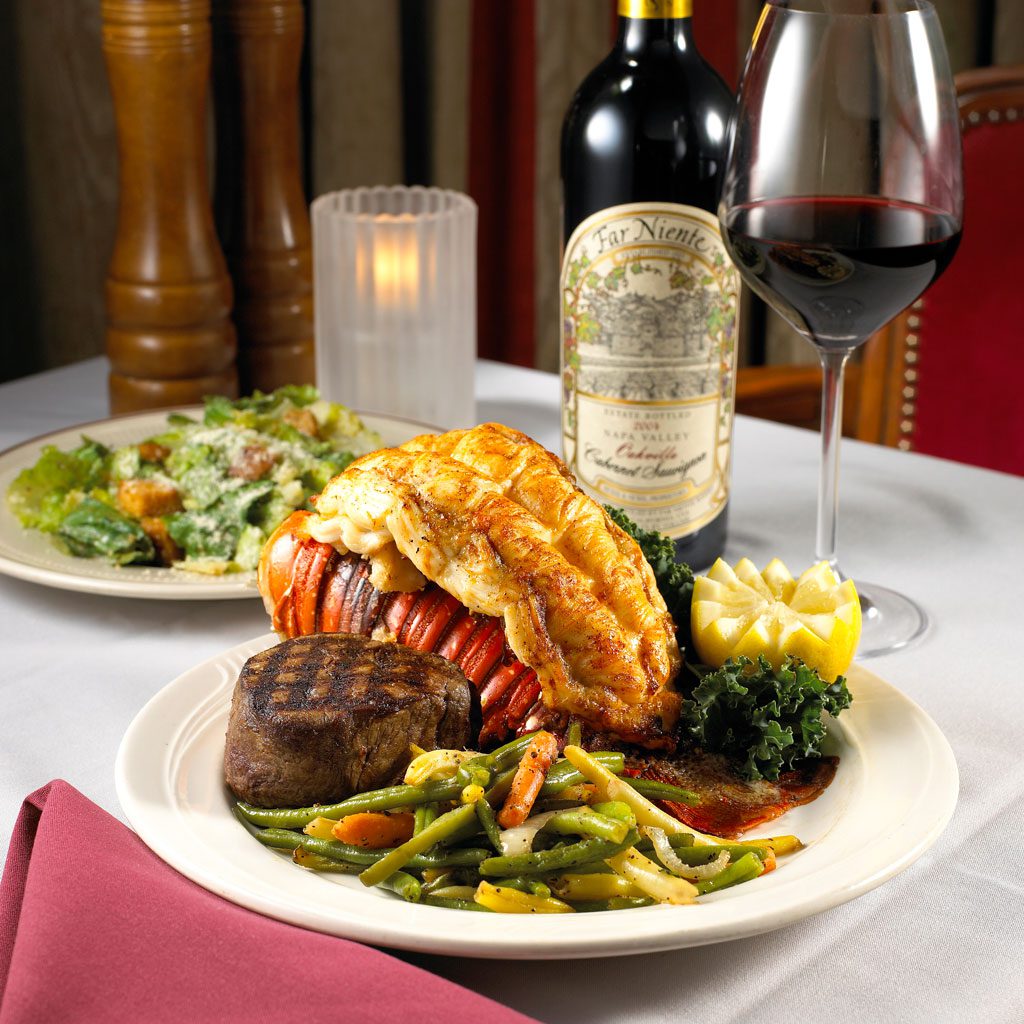 Place to Take Out-Of-Town Guests
Want to made the best impression with some high-end dining? Look no further than Polo Grill in Utica Square for excellent ambiance and scrumptious American fare. Skip over to Cherry Street to wine and dine at Palace Cafe, a West Coast-influenced American restaurant with an emphasis on local vendors. Another winning choice for lovers of eclectic and tasty fare is Stonehorse Cafe. You can't go wrong with the many choices at Celebrity Restaurant, and the savory comfort food at the Hammett House will surely keep everyone in a great mood.
OKC voters chose Mickey Mantle's Steakhouse for quality service and mouthwatering steak, while others turn to Vast for its breathtaking views and expansive menu. For a hearty Southern meal cooked to perfection, visit Cheever's Cafe. From breakfast to a late dinner, FLINT in downtown OKC has you covered, and Mary Eddy's Kitchen x Lounge offers bold flavors and seasonal favorites from within the 21c Museum Hotel.
Salad
You may think every salad is the same, but some restaurants put heart and soul into these lean, green dishes. Celebrity Restaurant boasts a world-class Caesar salad, and plenty of other green options to boot. Tulsa and OKC residents alike love the numerous choices at Jason's Deli, and both sets of voters also turn to Charleston's Restaurant for its legendary kale, salmon and chicken club salads.
For all-natural and organic green treats in Norman, visit Coolgreens, or try out the numerous options at Cafe 501, like the grilled beef tenderloin salad.
Salsa
A Mexican restaurant is only as good as its salsa. Cherry Street houses Mi Cocina, which creates garlic-infused salsa for a mouthwatering twist. Cafe Ole has been a crowd favorite for 20 years in Brookside, and Los Cabos Mexican Grill and Cantina keeps that first impression solid with its always-fresh salsa. 
OKC residents love to dine at Ted's Cafe Escondido for its tasty salsa options. Chelino's Mexican Restaurant always keeps it authentic with that pre-meal treat, and 1492 New World Latin Cuisine offers upscale salsa options that will surely impress.
Seafood
Being a landlocked state, Oklahoma can often get the short end of the stick when it comes to seafood, but Bodean Restaurant and Market defies the odds and always goes the extra mile for the freshest ingredients. Bonefish Grill is another great option for fresh food from the sea, as is White River Fish Market and Restaurant, a Tulsa staple since 1932.
For the freshest catch in OKC, head to the 49th floor of Devon Energy Center to dine at Vast. And although you'd assume Mickey Mantle's Steakhouse is all about the beef, the seafood options are endless. Pearl's Oyster Bar boasts calamari, shrimp, crab and ahi tuna, and The Shack Seafood and Oyster Bar offers up Cajun-Creole creations that will excite lovers of good seafood.
Steakhouse
Carnivores: this one's for you. Mahogany Prime Steakhouse believes steak is the star of its menu, and it shows with the numerous meat options in both Tulsa and OKC. Fleming's Prime Steakhouse and Wine Bar never fails to cook the steak just the way you like. Ruth's Chris Steak House will deliver on the perfect ribeye or filet mignon, and Freddie's Bar-B-Que and Steak House offers a more casual environment with top-notch meats.
Mickey Mantle's Steakhouse in OKC gives you every aspect of a perfect dining experience, from service to food. Red PrimeSteak offers up elegant and modern design plus grade-A product. Junior's puts a twist on the traditional with mouthwatering surf 'n' turf, and Cattlemen's Steakhouse is so tasty, it's been featured on Diners, Drive-ins and Dives, plus Southern Living and Man vs. Food.
Stylish New Restaurant
It seems like new restaurants are a dime a dozen, but certain establishments stand out with their sophisticated style and rock star entrees. Virgola Oysters and Italian
Wine Bar brings Italy to you with delicious seafood platters in a high-end atmosphere. Amelia's combines sleek architecture and friendly service for a delicious meal without the pretense. Bin 35 Bistro combines French and American cuisine in a chic environment. Prairie Brewpub's laid-back ambiance and numerous brews make it a place to be in downtown Tulsa, and the elusive Bull in the Alley may be difficult to find, but the food is worth the search.
Experimental dishes and a phenomenal patio await at The Hutch on Avondale in OKC. Barrios Fine Mexican Dishes serves up wood fired fajitas, smashed guacamole and basically every other Mexican delicacy under the sun. For an upscale, European vibe, visit En Croute or try The Pritchard for an impressive wine list and tasty individual or group plates.
Sunday Brunch
Brunch: 2017's favorite meal. Polo Grill is a popular vote with its seasonal favorites, and Palace Cafe's various locally-sourced dishes will surely hit the spot. The Wild Fork is another can't-miss brunch spot with its breakfast burger and BLT.
Cheever's Cafe's falafel and brunch punch will be sure to keep the party going all day in OKC. Stop in at Museum Cafe for three-dollar mimosas before browsing the art or visit Classen Grill for its Mexican-inspired brunch options and fresh-squeezed juice.
Sushi
The art of sushi is a difficult one to master, but in the raw in Tulsa has been a local hot spot for years. Just down the street on Brookside at Sushi Hana, you can enjoy new creations, like the fireball shrimp. Fuji offers excellent specials, sushi-making classes and catering, and Yokozuna combines a funky ambiance with super fresh sushi for a perfect evening out.
Sushi Neko offers up authentic ambiance and rolls upon rolls. DEKORA! has so many sushi options you'll want to try them all, and Nhinja Sushi has multiple locations in OKC and Edmond and is a great place for the whole family to try.
Vegan/Vegetarian Restaurant
In a world dominated by meat eaters, it's a treat to find restaurants that cater to dietary restrictions. Chimera Cafe will make ordering easy with various options like barbecue tofu, a vegan BLT and tasty sides like hummus or veggie chips. The Vault serves up plenty of meat-free grub like grilled zucchini and veggie wraps, and Ediblend Superfood Cafe is all about plant-based products from blends to acai bowls.
The Earth Cafe and Deli in Norman serves up tofu breakfast tacos and delicious quiche. Coolgreens offers healthy quinoa bowls and flatbreads, and Picasso Cafe combines an artsy vibe plus delectable options like the vegan chicken fried portabello and jack fruit pulled pork.
---
Select a Category