Architect, Residential
Every great building starts with a blueprint. In Tulsa, Jack Arnold's Homes of Elegance is known for luxury house plans that provide a detailed roadmap of their clients' dream homes. John Duvall of Duvall Architects creates homes that reflects his clients' lifestyles and tastes, and Brian Freese of Freese Architecture takes a personal approach to create homes and buildings with clean-lined forms and open, light-filled spaces. Alan Madewell of Alan Madewell & Associates is well known for his larger home designs, but also does remodeling, additions as well as small to medium commercial designs.
Rand Elliot of Elliot + Associates is one of the top choices for readers in the Oklahoma City area and excels in modern, minimalist home designs. Bruce Bockus of Bockus-Payne Associates is considered an expert in designing luxury homes, and Rick Chambers of Fillmore and Chambers Design Group is known for designs characterized by their European influence, including massive brick gables.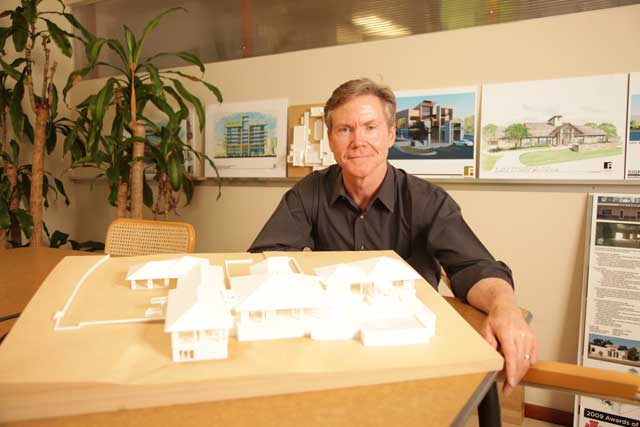 Architect, Commercial Firm
KKT Architects, formerly known as Kinslow, Keith & Todd, is known for designing well-known structures in Tulsa like the Woody Guthrie Center. Matrix has also worked on several prominent buildings in Tulsa and engineered the building of the BOK Center. Selser Schaefer Architects has worked on buildings such as the TCC Center for Creativity and Tulsa Ballet's Hardesty Center for Dance Education.
In Oklahoma City, TAP Architecture is known for its work on buildings like the Aloft Hotel in Bricktown. Norman-based D5 Architecture specializes in commercial and hospitality and retail projects, including the Seminole Nation Casino in Wewoka. Frankfurt-Short-Bruza has an extensive portfolio that includes projects like the Capitol dome renovation and the Chickasaw Nation Cultural Center.
Bathroom Fixtures
High-quality bathroom fixtures can turn a good bathroom into an amazing bathroom. Heatwave Supply Company has a 6,000-square-foot showroom in Tulsa that is the Kohler Premiere Facility in the Midwest, but carries many other brands as well. Ferguson Bath Kitchen & Lighting Gallery is a favorite for both Tulsa and Oklahoma City readers and has experts to guide customers through all their bathroom options. Tulsans have been relying on Empire Plumbing Supplies for more than 40 years, and Hoffman Fixtures Company provides everything from kitchen countertops to bathroom showers.
Oklahoma City readers trust Designer Hardware by Faye and its line of custom bath fixtures to make their bathrooms stand out, and Morrison Supply Company carries a wide variety of fixtures for any taste.
Cabinetry
More than a place to hold your things, cabinets are another way for people to express their design taste. Mill Creek Lumber & Supply is trusted in Tulsa for their custom millwork for cabinetry, moldings and doors. Jay Rambo Co. does cabinet design for everything from bathrooms to Murphy bed cabinets, and Sullivan's Custom Cabinetry is a locally owned business that has been producing high quality custom cabinetry since 1980.
David Bradley & Co. is a top pick in Oklahoma City for their custom millwork and cabinetry. Cooper Cabinet Systems creates cabinets not only for homes but also businesses, and Monticello Cabinets & Doors is also recognized by our Oklahoma City readers for their timeless looks and functionality.
Designer Home Furnishings
In Tulsa, SR Hughes is known for its eclectic showroom and wide selection of furniture, and Richard Neel Interiors carries unique furnishings for any room in your home. Fifteenth and Home carries a wide selection of furniture and is conveniently located on Cherry Street, and Hawley Design Furnishings has a variety of decor, including pieces designed by owner Mark Hawley.
Mister Robert Fine Furniture & Design provides a high-end, designer-oriented furniture selection in the Oklahoma City area. BD Home is a favorite among readers for their contemporary modern furniture, and Interior Gilt specializes in helping people define their style and select quality eclectic furnishings.
Flooring Company
Carpet One Floor & Home took top honors in Tulsa again this year for their wide selection and helpful staff. Renaissance Hardwood Floors provides custom designed and handcrafted floors pulled from the finest woods available. Superior Wood Floors & Tile has more than 100 choices of hardwoods and tiles available, and Floorhaus Design Center provides expert service to go along with their flooring.
Mill Creek Carpet & Tile is known for top-notch customer service as well as their wide selection of flooring. Bentley Flooring in Oklahoma City provides flooring for residential and commercial buildings and has an in-house installation team. Brewer Carpet One Floor & Home rounds out the list and offers free estimates and competitive pricing.
Furniture Store
No matter what you're looking for, the best furniture stores provide a combination of quality and great prices. Mathis Brothers Furniture is a top choice for readers in both Oklahoma City and Tulsa, sharing the top spot in Tulsa with Restoration Hardware. Also in Tulsa, Luxe combines inspired design and luxury, and Bassett has great service and a wide selection. West Elm offers everything readers need to create a stylish, contemporary home.
Edmond Furniture Gallery is a family-owned business that has been serving Oklahoma City customers for more than 20 years in a relaxed shopping environment. Ethan Allen also received votes in Oklahoma City for their quality and selection of home furnishings.
Heating and Air
Airco Service and Air Comfort Solutions are the top picks in Tulsa when it comes to keeping the temperature inside your home or business where it belongs. McKinney Heat & Air is also trusted for installation of new HVAC systems as well as servicing existing systems. Davco Mechanical Contractors is another popular choice for its great service and reliable work.
Air Comfort Solutions was a top pick for heating and air in Oklahoma City as well. Other readers rely on Hinton Refrigeration, which specializes in both residential and commercial installation and repair. TS Heat & Air also received high marks for fast, quality service.
Home Builder
No matter how good your blueprint is, you need an expert homebuilder to make your dream home a reality. Barron and McClary has more than 30 years of experience in the Tulsa area and a reputation for both honesty and excellence. Jordan & Sons oversees the construction of some of Tulsa's most luxurious homes and is known for its quality work. Brian D. Wiggs Homes and Pinnacle Properties also received votes for the trust Tulsans have in their workmanship and integrity.
Kent Hoffman Construction brings the same expert care to jobs ranging from minor repairs to full custom home construction in the Oklahoma City area. Heartland Homes has been building top quality homes since 1988 and is often looked to by our readers, and Ideal Homes is recognized for both quality and affordability in Oklahoma City and surrounding areas.
Home Improvement/Appliance Store
Readers in both Tulsa and Oklahoma City look first to Lowe's when they're shopping for home improvement supplies or appliances. In Tulsa, Hahn Appliance Warehouse is a family-owned appliance store that offers the best products at discount prices. Metro Appliances & More opened in Tulsa in 1974 and has spread to include nine showrooms in four states carrying more than 50 brands of appliances.
Readers in Oklahoma City also turn to Home Depot for their home improvement and appliances needs. Harry's TV, Video & Appliances is a family-owned store that has become a staple for great quality and service.
In-Home Theater
Getting the theater experience in the comfort of your living room has never been quite as easy or as reasonably priced. Video Revolution in Tulsa can help you get the best sound and video with products from the top brands in home theater. Dynamic Audio carries the best in analog and digital entertainment products and gains high marks for customer service. Tulsa readers also trust Audio Advice to guide them through building a home theater.
Onyx Theaters in Oklahoma City is locally owned and specializes in home entertainment and home automation and is known for bringing a high standard of quality to every project. Audio Dimensions has both great service and a wide selection of products. Castle Home Entertainment has been installing home theater equipment in the Oklahoma City area for more than a decade and received high marks from many readers as well.
Interior Design
It takes an expert eye to make your vision for your home's interior come true, and Doug Campbell of Campbell Design Associates is considered one of the top interior designers in the Midwest. SR Hughes can guide you through every step of designing your interior, and Chris Murphy of Christopher Murphy Designs has a sophisticated style that never disappoints his clients. Richard Neel Interiors is trusted by many of our Tulsa readers, and Austin Bean has brought its friendly service and unique style to everything from pubs to historic homes.
Carson See of Sees Designs has been known for his sophisticated and elegant environments for more than 40 years and has offices in both Oklahoma City and Dallas. Kathryn Vaught Interiors has won numerous awards and the trust of our readers for work in Oklahoma City, and Jennifer Welch of Jennifer Welch designs is known for creating sophisticated interiors layered with textures.
Kitchen Designer
Even if you're not a master chef, everyone likes a nice cooking space. Kitchen Ideas in Tulsa is a top choice among readers for their kitchens that combine good taste and function. Wood-Stone Home Design Studio offers top-of-the-line design and products for a stunning kitchen. Carriage House Design is helpful and well-informed on current trends.
Designers at A Karen Black Company in Oklahoma City have been providing timeless design and outstanding attention to detail for more than 30 years. Urban Kitchens designs spaces that meet any technical demand while also embodying the personality of the client. Kitchen and Bath Galleries is well-respected for its classic designs and top-notch service.
Landscape Designer
It's important for the outside of your home to look as good as the inside, and these companies are considered the best at creating outdoor beauty. In Tulsa, Kingdom Landscape has provided creativity and attention to detail to every kind of landscape project imaginable for more than 35 years. Hardscape Materials carries everything you need to turn your outdoor space into exactly the atmosphere you want. Clare Ashby ASLA Landscape works with clients to create a beautiful, inviting, sustainable environment you and your family will enjoy for years to come.
Caviness Landscape Design is based in the Oklahoma City area and brings creativity and knowledge to every project. John Fluitt Landscape Design also scores big with our Oklahoma City readers for their work in exterior design. Moyer Lawncare and Landscaping is known for being a one-stop shop for lawn and landscaping, and Heartland Landscape Ground handles everything from mowing to complete landscape installation.
Lawn and Garden Store
When Tulsans are looking for supplies for a do-it-yourself garden project, they look first to Westlake Ace Hardware for their friendly staff and wide selection. Ted & Debbie's Flower Garden is a family-owned and operated business known for its friendly service and expert knowledge, and Sanders Nursery and Distribution Service has everything you need to keep your lawn looking great. Southwood Landscape & Garden Centers has been helping gardeners in and around Tulsa for more than 30 years, and Under the Sun Garden Center has a great selection of unique plants.
In Oklahoma City, readers voted Home Depot to the top of the list for their wide variety and excellent customer service. Lowe's is also a popular choice for purchasing lawn and garden supplies. Locally-owned TLC Florist & Greenhouse offers everything you need for a beautiful lawn or garden.
Lawn Maintenance
Lawn America's friendly staff makes it a favorite choice in the Tulsa area for lawn care. Kingdom Landscape also provides expert service, and many of our readers trust Complete Lawn Care for their lawn maintenance.
A+ Lawns in Oklahoma City earns top marks among our Oklahoma City readers. Turfguard has a great reputation for customer care, and Allmighty Lawns is also a top choice.
Lighting Store
From simple lighting solutions to complex arrays, Andrews Lighting Gallery has been helping Tulsa area readers create the right ambience for more than 30 years. Garbe's has a wide selection of lighting fixtures, guaranteeing the perfect fit for any room. LifeStyles Lighting, Furniture & Hardware has a friendly staff and offers a lifetime guarantee on any of the fixtures it sells.
Hunzicker Lighting Gallery in Oklahoma City has quality lighting fixtures, professional design services and an experienced sales staff, making it a favorite among our readers. Andrews Lighting Gallery is a top choice this year, and Voss Lighting helps customers make their working environment more functional, comfortable and economical.
Paint Store
Finding just the right shade for a home or business can turn a boring room bright again. Elder Paint & Wallpaper is a trusted choice in Tulsa for finding just the right look. Spectrum Paint is a favorite for Tulsa and Oklahoma City and is a leading distributor of paint and protective coatings in Oklahoma and six other states. Sherwin-Williams rounds out the list for Tulsa and Oklahoma City with its friendly staff and multiple locations.
And for another excellent option in Oklahoma City, H-I-S Paint Manufacturing Co. is a top choice for numerous paint selections and quality service.
Pool Designer
Nothing helps beat the heat of an Oklahoma summer like a swimming pool, and a great designer can make a pool as beautiful as it is relaxing. Fiesta Pools & Spas takes the top spot in Tulsa this year for its reputation as one of the oldest and largest pool and spa companies in northeast Oklahoma. Atlantis Pools and Spas is a family-owned company with a reputation for high quality custom swimming pools. Baker Pools oversees every step from design to cleanup and has options to fit every price range.
Caviness Landscape Design is known for top quality pool design not just in the Oklahoma City area but across the United States. Blue Haven Pools and Spas specializes in custom swimming pools, spas, pool lighting and water features, and Serenity Pools can provide a complete master plan for their clients' backyard retreats.
Real Estate Company
Buying and selling property is a major undertaking, and it's important to have a company you can trust on your side. Walter & Associates is known for top-notch representation in Tulsa. Our Tulsa readers also trust McGraw Realtors for the hard work they put in for their clients. Keller Williams Realty is a favorite in both Tulsa and Oklahoma City, and Coldwell Banker also received high marks for customer service and satisfaction.
Churchill Brown is the top choice for our readers in Oklahoma City, and Century 21 also received votes for its excellent client care.
Remodeler
No matter how large or small the job is, these remodelers can handle it. GC Consulting offers general contracting services for any commercial or residential project and is a favorite in Tulsa. David Lee of Lee Signature Properties has 18 years of experience building residential homes in Tulsa and the surrounding areas. David Trebilcock is known for his excellent designs and renovations of homes, and Powers Design & Build prides itself on high quality work and a streamlined process.
Kent Hoffman Construction is a full-service home improvement firm that received top marks from readers in Oklahoma City. Heritage Renovations can help you with everything from home updates to new, custom cabinets. Oklahoma City readers also trust Maccini Construction for its impressive renovations projects.
Roofer
No home renovation would be complete without a sturdy, stylish roof, and Elliott Roofing is Tulsa's top choice for shingle and specialty roofs. T-Town Roofing has more than 30 years of experience in keeping their customers happy. Turner Roofing handles everything from new residential roof installation, restoration and maintenance to re-roofs and repairs, and A-Best Roofing provides options for both residential and commercial roofing.
Elliott Roofing is also a top choice in Oklahoma City. Basey's Roofing takes pride in creating a professional and positive experience for its customers, and Majestic Construction & Roofing has more than five decades of experience and is known for a strong commitment to both service and excellence.
Security
Once you've built your dream home, it's time to make sure it's protected. Protection 1 comes out on top in both Tulsa and Oklahoma City and provides 24/7 professional monitoring and home automation options. Guardian Security provides wireless security and home automation in Tulsa and throughout Oklahoma. Advance Alarms is an independently owned company known for its reliability and customer service.
And in Oklahoma City, residents rely on ADT Security Services to keep them feeling safe.
Storm Shelters
The weather in Oklahoma makes a storm shelter one of the best investments a homeowner can make for peace of mind. F5 Storm Shelters provides a variety of storm shelters and safe rooms in the Tulsa area. Family Safe offers fully tested shelters for above ground and in-ground protection. Tornado Safe and Great Plains Storm Shelters have also gained the trust of Tulsa readers for their quality shelters.
In Oklahoma City, Storm Safe Shelters has been a top choice for storm shelters for more than 25 years and has models to fit any need. Ground Zero Shelters provides some of the most innovative storm shelters on the market, and Protection 1 impresses Oklahoma City customers with their storm shelters as well as their security systems.
Title/Escrow Company
A good title and escrow company can make life much easier. Guaranty Abstract Company is the top pick for clients in the Tulsa area, with many Tulsans also recommending First Title and Tulsa Abstract and Title.
American Eagle Title Insurance Company is the first choice for many of our Oklahoma City readers, with Oklahoma City Abstract & Title and First American Title also receiving the votes and trust of many people in the area.