18 Holes
There's no better way to blow off steam than with a day at the golf course. In Tulsa, Southern Hills Country Club remains the place to go for 27 holes, with several championship tournaments occurring on their green. Golf Club of Oklahoma spans 6,840 yards and offers a challenge for any golf lover, and the Cherokee Hills Golf Club, at the Hard Rock Hotel & Casino in Tulsa, has plenty of tricky holes to enjoy.
The Oklahoma City Golf and Country Club offers a scenic view with creeks for a fun day of play. Lake Hefner Golf Club boasts two courses that vary in their difficulty level, and Gaillardia Golf and Country Club offers well-manicured fairways and tricky rivers to add a challenge to your game.
Art Gallery
Spending the day at an art gallery can enlighten your senses and relax your mind. The M.A. Doran Gallery in Tulsa has plenty of local and national contemporary art that will impress. The Aberson Exhibits strives to showcase local, unknown artists in a sleek and simple environment, while Joseph Gierek Fine Art boasts a wide variety of media, like glass and clay, for a unique and surprising visit.
Paseo Gallery One in Oklahoma City cultivates originality with its exhibit and with programs that encourage local artists to create more art. For a contemporary and intellectual experience, try IAO Gallery. And although the Howell Gallery of Fine Art began as an endeavor to focus on local artists, it has since grown into a national gallery with great significance.
Casino
If you love to gamble, you'll (hopefully) hit the jackpot at one of many casinos in Oklahoma. Hard Rock Casino & Hotel in Tulsa has endless table games and electronic play that will entertain you for days. For a sprawling venue with plenty of fun, try River Spirit Casino with its 200,000 square foot space. The Osage Casino has several enjoyable locations across Oklahoma with blackjack, poker, electric games and more. And don't count out Downstream Casino & Resort in Quapaw; it has plenty of slots that anyone will enjoy.
For entertainment in Oklahoma City, look no further than Riverwind Casino for heart-pounding machine and table games. If you're looking to win big, head into any of Choctaw Casino Resorts' eight locations, or visit WinStar World Casino and Resort for themed rooms and endless ambiance. Or you can take a trip down to Shawnee and stay at the Grand Casino Hotel & Resort for Vegas-style slots and luxury lodgings.
Concert Venue
From small, indie bands to world-famous rock stars, Oklahoma has a venue for every musician. The BOK Center opened in 2008 and has welcomed the biggest musicians in the world to its Tulsa stage. Cain's Ballroom is a Tulsa staple and world-renowned venue that has rich historical roots, and the Brady Theatre offers an intimate feel, allowing fans to get close to their favorite artists.
From Thunder games to sold-out concerts, the Chesapeake Energy Arena in Oklahoma City always has an event you want to attend. The Civic Center Music Hall highly values acoustics, so the quality of your visit will be top-notch. And for outdoor entertainment on a scenic hillside, look no further than the Zoo Amphitheatre.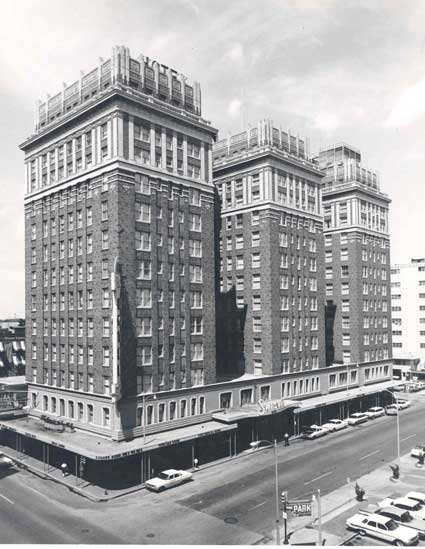 Hotel
You stay in a hotel to alleviate stress and pamper yourself, so indulge in some of Oklahoma's most decadent lodgings. For years, The Mayo Hotel in downtown Tulsa has been incomparable with its sprawling event spaces and exquisite decor. The Hard Rock Hotel & Casino will keep you occupied during your stay with shopping, dining and gambling, and the Ambassador Hotel is the perfect hotel spot in both Tulsa and Oklahoma City to explore the heart of downtown.
For luxury, art and delicious cuisine in Oklahoma City, look no further than the Skirvin Hilton Hotel. For a more antique feel, the Colcord Hotel has been around for over a century but does not sacrifice quality for ambiance.
Local TV Station
Finding a reliable, local new source is important for plenty of reasons. In Tulsa, tune in to KOTV Channel 6 for pertinent and quality information. For weather, traffic, or crime, KJRH Channel 2 offers the best of the best. And KTUL Channel 8 never fails to deliver the most important stories for its Tulsa residents.
In Oklahoma City, locals rely on KOCO Channel 5 to keep them safe. KFOR Channel 4 and KWTW Channel 9 are also excellent stations to get the news you need when you need it.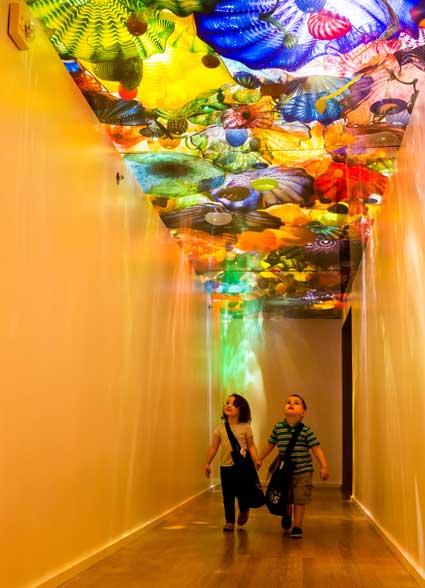 Museum
Nothing relaxes the mind like taking a day to explore an expansive museum. In Tulsa, Philbrook Museum of Art has numerous exhibits with world-famous artists and a gorgeous garden you could get lost in all day. The Gilcrease Museum possesses the world's largest collection of art and artifacts of the American West. The Woolaroc Museum displays stunning Western and American Indian art, and the Will Rogers Memorial Museum in Claremore pays tribute to the humorist, cowboy and actor Will Rogers.
For art culture in Oklahoma City, visit the Oklahoma City Museum of Art for plenty of exhibits ranging in genres. For a taste of Western heritage, the National Cowboy & Western Heritage Museum is the place to be. And if you ever find yourself at the University of Oklahoma, stop in at the Fred Jones Jr. Museum of Art for varying exhibits from world-renowned artists.
Night Out Without the Kids
Nights out are a rare occurrence the older we get, but certain locations across the state will give you a night you won't soon forget. Visit the BOK Center to cheer along with 19,000 other fans at a concert or downscale to Cain's Ballroom for a more intimate performance. You could also try your hand at a game of bowling at Dust Bowl Lanes and Lounge in downtown Tulsa, where you can sip on a cocktail and unwind.
For upscale dining and a chic environment in Oklahoma City, try the Meat Market Refectory. You could also walk around Bricktown and stop in at one of numerous shops or restaurants there, or visit Main Event Entertainment for a ropes course, laser tag and full bar.
Oklahoma Weekend Getaway Location
If you want to vacation without leaving the state, there are several scenic places to visit for some well-earned R&R. For Tulsa residents, Grand Lake is the summer weekend getaway that will leave you relaxed and possibly a little sunburned. Oklahoma City is also a perfect escape, along with Beaver's Bend State Park, where you can rent a cabin or park an RV for some quiet time with nature.
Oklahoma City residents love Tenkiller Ferry Lake, a reservoir that has beautiful, clear water and plenty of activities to keep you occupied all weekend. Head to the Arbuckle Mountains for stunning views and a great workout, or try the quaint Medicine Park for a quiet weekend with friendly faces and plenty of activities.
Place to Catch a Flick
Finding a great movie with perfect snacks, screens and selections can be difficult, but plenty of quality movie theaters in Oklahoma are just the ticket. In Broken Arrow and Moore, the Warren Theatre has a retro feel, complete with a diner and sweet and savory treats to make your movie experience even better. The Cinemark in Tulsa has excellent recliner seats and an option to purchase tickets ahead of time for convenience. Circle Cinema offers limited release movies for the hardcore movie fan, and the staff members honor local talent by screening resident filmmakers' movies.
AMC in the Oklahoma City Penn Square Mall offers comfortable seating for optimal enjoyment, and the Harkins Theatres Bricktown 16 mixes independent and blockbuster movies to please every customer.
Place to See and Be Seen
Networking and socializing are important staples in good business, and several hot spots around the state provide ample opportunity to mingle. Utica Square has everything you need for a fun day out, and make sure to stay for Summer's Fifth Night, a live music session every Thursday during the summer. Brookside has options for every occasion: restaurants, exercise locations, bars and shopping stops. And Guthrie Green boasts an eclectic variety of things to do, from festivals to fitness classes.
Every Oklahoman has to go to an Oklahoma City Thunder game at least once – the energy of the crowd will draw you in every time. To entertain business clients or relax with family, visit Mickey Mantle's Steakhouse for fine dining and great service. And lastly, you can't go wrong in Bricktown with their endless entertainment options.
Professional Sports Team
Oklahomans loves their sports, and we have several professional teams that bring pride to the state. The Oklahoma City Thunder is Oklahoma's prized team, with their loyal and enthusiastic fan base and beloved players. For a breezy night outside to enjoy America's favorite pastime, head to downtown Tulsa to watch a Tulsa Drillers game or Oklahoma City for an Oklahoma City Dodgers game.
Pub/Brewery
A good pub has to have excellent beer, but a great pub offers much more than that – food, music, and ambiance. In Tulsa, McNellie's is the place to be for arcade games, delicious food and excellent drinks. Kilkenny's on Cherry Street is the ideal pub to unwind after a long week, and Pickles Pub has a quaint neighborhood vibe where everyone feels like family.
If you want more beer choices than you can wrap your head around, head in to TapWerks Ale House & Cafe in Oklahoma City. For comfort food and a relaxing atmosphere, pop in to Henry Hudson's Pub, or for local flavors and passionate people, try Bricktown Brewery.
Stop on the Radio Dial
Your commute to and from work would be way less entertaining without local radio stations amusing you along the way. In Tulsa, tune in to 1430 AM for all things sports. 100.9 KXOJ is the perfect choice for the entire family, with contemporary Christian music and easy listening. And if you'd prefer to get down to some country on your commute, try 106.1 KTGX.
For even more contemporary Christian tunes in Oklahoma City, make sure to check out 88.9 KYLV. Mixing '90s throwbacks with today's top hits, 98.9 KYIS delivers eclectic music choices with plenty of nostalgia. And for some rock to wake you up, tune in to 100.5 KATT.
Unique Cocktail
A classic gin and tonic always hits the spot, but if you're looking for a more adventurous drink experience, there are plenty of locations in Oklahoma that concoct interesting and unique drinks. At Valkyrie in Tulsa, no two cocktails are exactly the same and endless choices are waiting for you. Make sure to try Hodges Bend with friends – there are delectable adult punch options to share and plenty of cocktails you can keep all for yourself. And if you fancy extra hospitality and drinks with witty names, head down to MixCo to quench that 5 o'clock thirst.
Ludivine in Oklahoma City has a chic, trendy feel with a wide array of combinations that will satisfy everyone's specifications. And for a nostalgic 1950s vibe with endless cocktails, head in to R&J Lounge and Supper Club.
Wedding or Party Venue
Finding the perfect place to host your big day is one of the toughest choices to make, but Oklahomans know the ideal spots. For an intimate, rustic feel with scenic views and calming ambiance, the Dresser Mansion is the ideal choice. For an upscale and modern place to say "I do," the Mayo Hotel offers several venue options for your perfect fit. And POSTOAK Lodge has outdoor and indoor locations and stunning views along their sprawling acres to make your day magical.
For a fairytale come to life in Oklahoma City, book your event with the Skirvin Hilton Hotel – you'll be assisted by attentive and warm employees in their chic and modern setting. And planning an event with Vast in the Devon Energy Center means high-quality food, service and views.
Winery
There are over 50 wineries in Oklahoma, but a few produce the most mouthwatering, crisp and delicious wines. Girouard Vines in downtown Tulsa boasts a tasting room with Tulsa Deco wines and a family vibe. Summerside Vineyards is a favorite for Tulsa and Oklahoma City readers alike, although it has closed its Vinita location. Not to worry, though – its beautiful, extensive venue in Tuttle will be opening soon. And for a tour of its grounds and tastings galore, head to Whispering Vines Vineyards & Winery.
For the most local and authentic tastes in Oklahoma City, Tres Suenos Winery & Vineyard has two decades of experience. And for a playful and friendly atmosphere without the stuffiness, try Girls Gone Wine in Broken Bow.